I want to overseed a dying lawn



Answered
The front lawn I had enough $$ to lay good local new sod. I don't have the money to do the back...besides the front has inground sprinklers not so much the back.

Last year I tried all of the hints and helps and did everything they asked and NOTHING! This year I did my own thing...I want to take wagers on if you think it will take or not..

Seed is Scott's Hardy grass seed (given to me by someone locally who has used it and worked perfectly)
I took a garden weasel sort of thing (or my friend did I should say) and roughed up the top 2 inches or so of the current whatever is there (mostly dead after weeding and feeding 2 weeks ago)
Then I went over it with some good fertilizer for excellent soils nothing special just no weed killer.
Then I took some of my leftover decent soils etc from other things I have gotten from (old purchased pots with potting soil and extra soils) and did a light coating of that over the seed, the fertilizer and the seed.
Then I watered it in really really good..... and will do so for about a week.

OK who wants to take a bet on whether I will end up with another mostly dead lawn or something that looks fun to play on? Extra information...the extra heat is supposed to let up for about a week will be In the upper 70s and lower 80s no moisture from the sky to speak of, and nothing more to be done to it except water.... So here is your turn

1. you think it will do great be perfect and lush and all the lawn I want
2. you think it will do good, have some good spots but much better than I had
3. You think it will do ok...will be better than before.
4. you think it will do not very much
5. you thin k I wasted all my time and money
6. you're wondering why in the world I would ask such a silly question...

Ok pros and friends here's your chance to get your vote in..... The attached picture was before the weed and feed about 1/2 of what was there is now brown..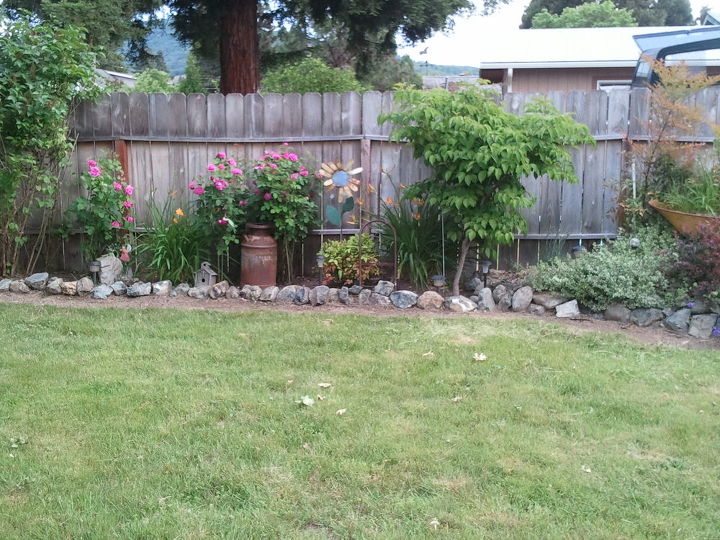 Related Discussions

Abby
on Nov 29, 2021
How to grow ginger in water?

Jackie Byrd
on Nov 04, 2016
Just moved into a new home. There was a huge thorny bush dragon devouring the mailbox. I slayed the dragon but it is trying to rise up again. How can I make sure it's... See more

Sherry Kurtz
on Feb 23, 2015
We have the worst neighbors ever! They complain about everything! They hate dogs so they complain every time our dogs bark one time (not exaggerating) they have fabri... See more

Amy Ward Stanley
on Jun 10, 2013
grass will not go because of the pine trees. Any thoughts or ideas would help me so much. Sent from my iPad

Jean Blakeley-Cook
on Feb 18, 2015
I have 3 large dogs in a backyard. They wrestle non stop and have literally either trodden down every blade of grass, dug it up or, in the case of shrubbery, chewed i... See more

Kimberley Mouser
on Nov 19, 2016
Desperately need ideas to cover up my side fence.It has a very ugly sheet metal fence.I just want to cover/hide it. Please help

Bonnie B
on May 13, 2013
Does anyone know if it is at all possible that a Blue Heron or an Egret would be able to take "5" Koi at one time? Then come back the next day and take 4 more; the n... See more