Suggestions for inexpensive walkways and patio in sideyard? Answered
My side yard leading to the back yard is fairly large, so I want to create some walkways and a small patio area. The entire area is about 40' long and 16' wide.
While we would also use it to sit in the cool afternoons (not exactly cool in Missisippi, but shady), I also want it to "beckon" visitors to open the gate and come into the backyard. I can't spend a fortune on it, nor can I hire all the help to get it done. The picture shows the sideyard from the edge of the parking pad. I need to start a walkway there.
Please give me some good, solid suggestions that I can probably handle myself. Thanks!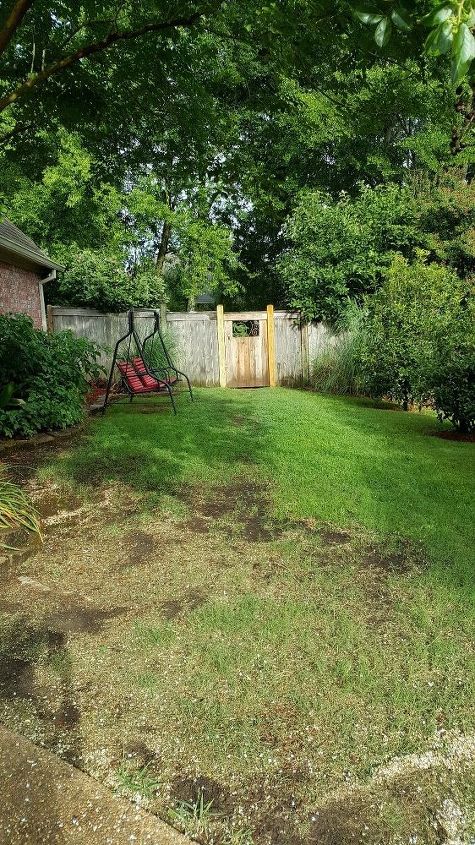 Related Discussions

Abby
on Nov 29, 2021
How to grow ginger in water? Practical
on Apr 18, 2017
We have an ugly dirt driveway between our house and the neighbors house that cannot be paved due to utility lines that run underground which require accessability. G... See more Abby
on May 12, 2018
I would love to have suggestions about the middle part of my circle drive. It is very outdated...

Jackie Byrd
on Nov 04, 2016
Just moved into a new home. There was a huge thorny bush dragon devouring the mailbox. I slayed the dragon but it is trying to rise up again. How can I make sure it's... See more

Sherry Kurtz
on Feb 23, 2015
We have the worst neighbors ever! They complain about everything! They hate dogs so they complain every time our dogs bark one time (not exaggerating) they have fabri... See more

Amy Ward Stanley
on Jun 10, 2013
grass will not go because of the pine trees. Any thoughts or ideas would help me so much. Sent from my iPad

Jean Blakeley-Cook
on Feb 18, 2015
I have 3 large dogs in a backyard. They wrestle non stop and have literally either trodden down every blade of grass, dug it up or, in the case of shrubbery, chewed i... See more