Tip: One of the easiest tips on lightening up a space! Couch makeover!



Answered
After reading many posts on Hometalk over the years and seeing what a difference a single change in a room can make, I was hooked and had to try it for myself. This makeover tip is the easiest thing you can do to brighten up a room. We have a cottage/mobile home by the ocean as a second home and though it was in tiptop shape and decorated nicely, it had a city feel with all the dark browns, taupes, and greys in the living room and bedrooms. I wanted to feel differently when I walked into the living room and those colours were just not helping me feel like we were at the ocean!
One tip I read that has made a huge difference is to use drop cloths to cover furniture or make drapes. They are light beige, almost like a pale sandy beach, and when I bought a large sized drop cloth at Home Depot and laid it over the dark brown and lighter brown couches, it created instant light in the living room! It helped me change other things in the room to create a light, airy feel, but this was the easiest thing I did. Do try it if you feel like a room or area in your home needs some light. It cost me all of $30 for the drop cloth and I had enough to cut in half for each of the two couches. I do still have to hem one of them before I wash it again or it will fray quite a bit, but if you don't sew, you can use hem tape to finish off one of the edges. All other edges are already hemmed. How great is that? :)
We have put the dark brown couch/futon in a small bedroom, since these pics were taken, but it is still covered with the light drop cloth and we bought a comfy reclining love seat to take its place. Guess what? It's also dark brown!! LOL Yep, it will get a light cloth put onto it too, somehow.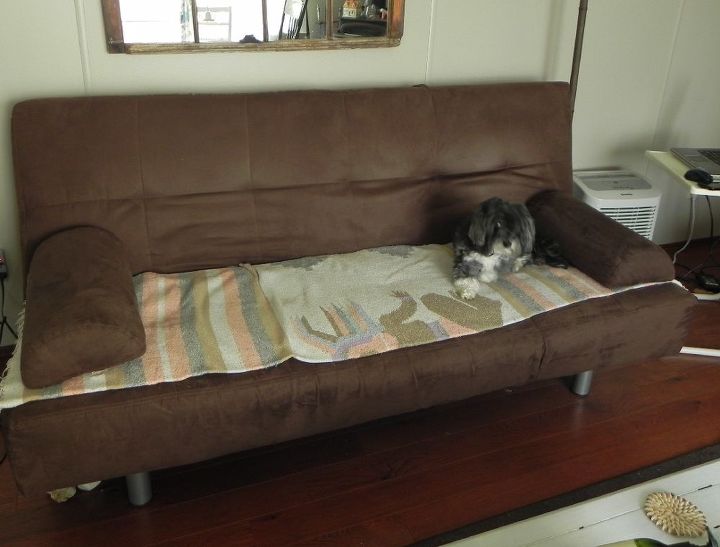 One of our two Havanese pooches modeling the darker couch we had before.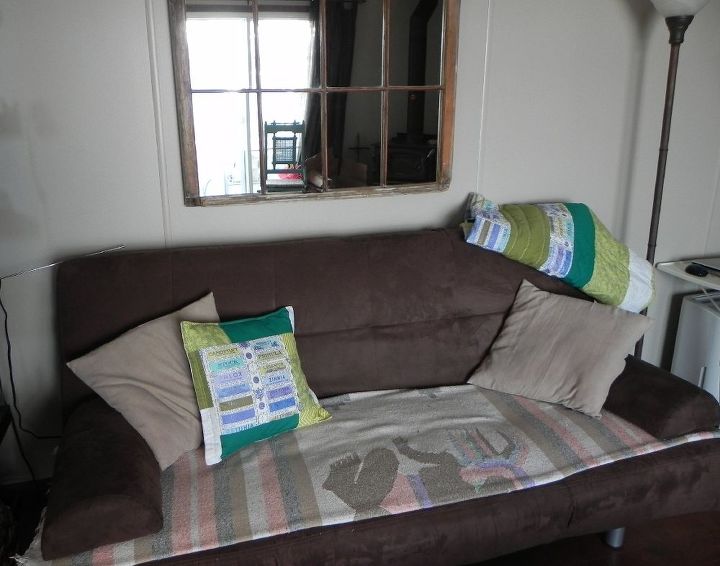 Adding a mirror to reflect the outdoor light and the water in the cove has helped make the room seem larger and much brighter!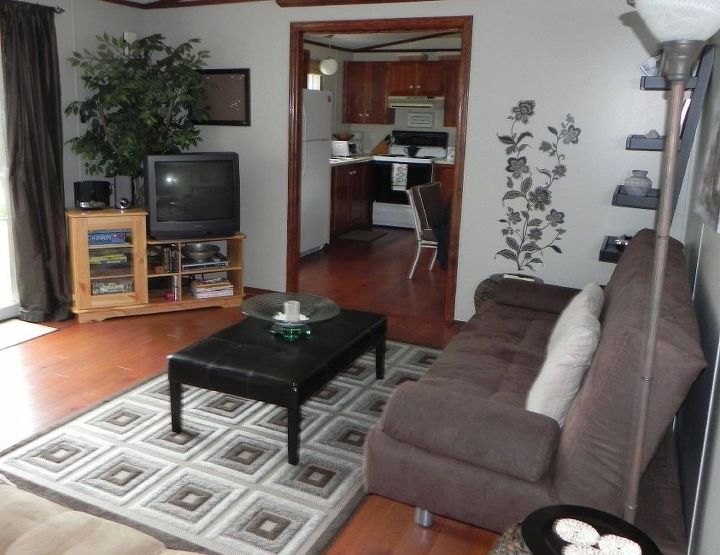 The space was okay, but not at all beachy. I had dark furniture back at our regular house and definitely was (and still am!) a bit tired of that. We have since changed the area rug, the coffee table and shelving on the right and got rid of that wall sticker and fake tree. This year, we'll be getting a new tv so I'll paint the tv stand and use it elsewhere, maybe.
If you want to see what we did to those kitchen cupboards in the background, have a look at this thread I posted: http://www.hometalk.com/diy/kitchen-dining/kitchen-dining-furniture/painting-kitchen-cupboards-25260024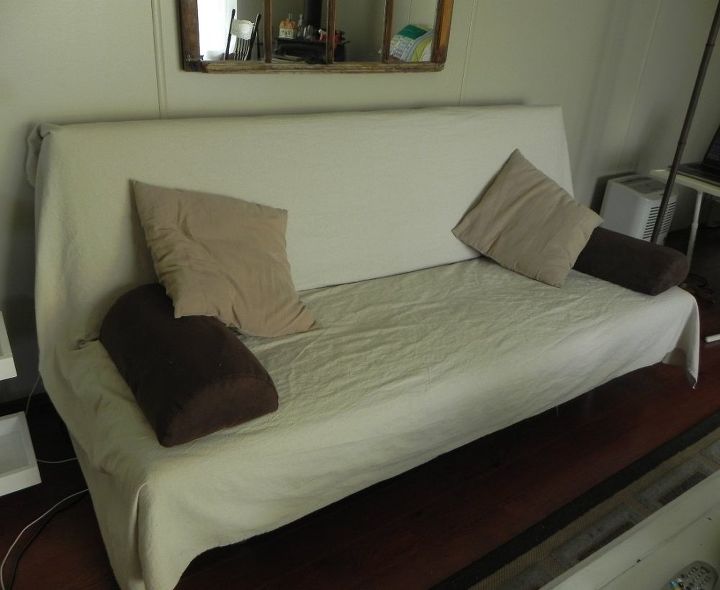 I cut the large cloth in two. It was already hemmed on all four sides, and had a thick hem in the middle. I cut along one side of the middle hem and so had a ready-to-use cloth for this couch. The other couch's cloth still needs one side hemmed, but having only washed it once so far, it frayed a bit, but is still fine. This coming spring, I will have to hem that unfinished side so it can be rewashed.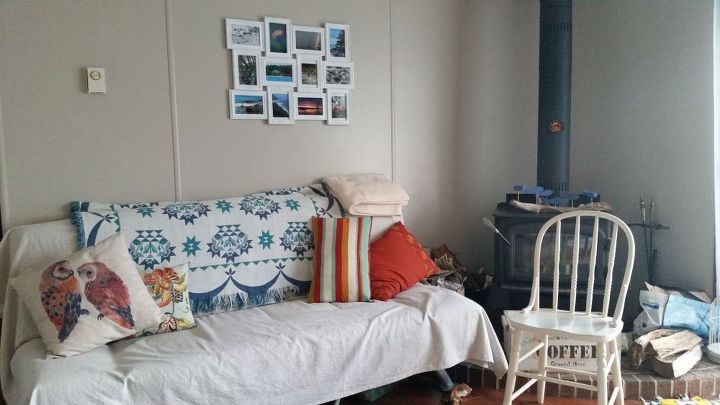 Here is the couch on the other wall. Easy peasy makeover and I love the result!
Related Discussions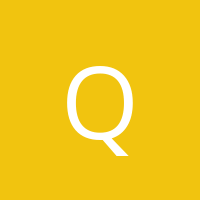 Quilter2
on Sep 18, 2017
Does having a paint over a popcorn ceiling change how I'd remove the popcorn ceiling? Sin26299313
on Jun 21, 2018
I have a killer 70s bathroom with bland yellow countertops and white cabinet with layers of oil paint And an old glass door shower. Need a makeover for them or at le... See more

Alicia Gillentine Carr
on May 21, 2014
I found this in the curb this morning on my way to work. Needless to say I'm late :) does anyone know anything about this piece? What would you do with it? Paint? Res... See more

Lynn Ware
on Apr 13, 2015
We're remodeling this 1930's house. We have a new red metal roof & plan to keep the white siding. What would you suggest as a front door color? I love bright, bold co... See more

Briana
on Feb 06, 2017
I found a GORGEOUS singer sewing table that I'm dying to bring some life back into, but I'm terribly afraid of ruining the original charm and character. Here's the ma... See more

Barbara R
on Feb 09, 2014
I have 3 of these, this round one and 2 square end tables. They all have marble tops and fruitwood colored wood. They are outdated and need updating. I don't like cha... See more

Carrie Barnett Duffner
on Sep 16, 2014
This antique bed has been in storage for the last 20 years. I recently pulled it out and it's seems so damaged I'm ready to throw it away. It's cracked, warped and di... See more