Can I remove or thin wax on stained/painted wood panels? Answered
Let me start by saying I am new to staining and painting wood craft and furniture projects. My husband replaced the side door on our house; and I wanted to keep a couple of the original wood door panels to decorate. I figured this would be a good and inexpensive starter project. I thought I could strip off the old paint, give them a grey finish, and then apply some wood appliques.
Problem 1: I used paint stripper to remove 3 layers of paint, only to discover there was stain under the paint. I then used a palm sander to completely take the panels down to the bare wood. Problem 1 solved.
Problem 2: I wanted to turn the wood a weathered grey using a vinegar and steel wool stain. After reading several tutorials on this, I learned that this method works well on hardwoods like walnut and oak. Hardwoods have a substance called tannin in them that reacts with the steel wool. Softwoods like pine do not have tannin in them. The door panels were spruce, so I figured it's like pine. You can put tannin in softwoods by brushing brewed tea on the raw wood. So, I brewed some tea, brushed it on the panels, and let it dry. Problem 2 solved. (But, not exactly)
Problem 3: I have read so many tutorials on making the steel wool and vinegar stain, that I wasn't sure what strength or ratio to mix. So, I settled on a pint of distilled white vinegar and half a 0000 steel wool pad. Opinions seem to vary on how long to let the mixture sit before using. I let mine sit for 3 days, then filtered it and brushed it on the panels. My panels turned black!!!! I really couldn't solve that problem. Should I not have used the tea? Did I let the vinegar/steel wool sit too long? To fix this, I first sanded the panels with some steel wool to tone down the black. Then, I mixed a white wash with about 1/2 acrylic white paint and 1/2 water. I painted this on the panels in small sections and immediately wiped it off with an old sock. FINALLY...the grey color I was trying to achieve.
Next, I very lightly dry brushed some white paint on the appliques and distressed them a little with steel wool. (I had also applied the vinegar/steel wool solution to the appliques. They turned a dark brown, which came through nicely after distressing with the steel wool.) I glued them on the panels and was satisfied with the results.
Final Problem: I wanted to put something on the panels for protection, but wasn't sure what to use. I decided to try paste wax. I have never waxed a project, so I followed the instructions on the can. I applied with a clean cloth, in what I thought was a thin layer. I was working in my kitchen, which has awesome lighting. After allowing the wax to dry around 20 minutes, I buffed it with another clean cloth. I was happy with the results....while still in the kitchen. When I hung the panels in our bedroom, which has very soft lighting, they look too dark. I can also see dark spots around the appliques, where I either applied too much or too little wax.
Does lighting normally impact the look of waxed wood?
Is there anything I can do to lighten, thin out, or remove the wax?
Any other suggestions or tips would be greatly appreciated.
NOTE: While I probably botched just about everything I tried here, it was a fun learning experience!!!
UPDATE: It's been about 3 weeks now. Once the wax had cured longer, my uneven application was less noticeable. The dark spots above the medallion on one of the panels did lighten after giving the wax 3 weeks to cure. I did a light sanding with 400 grit paper today on the panels. I sanded those dark spots a little more than the rest of the panel. Then, I buffed with a clean cloth. It seemed to make those spots look darker. But...there is a streak of darker wood grain there, so that's probably the reason.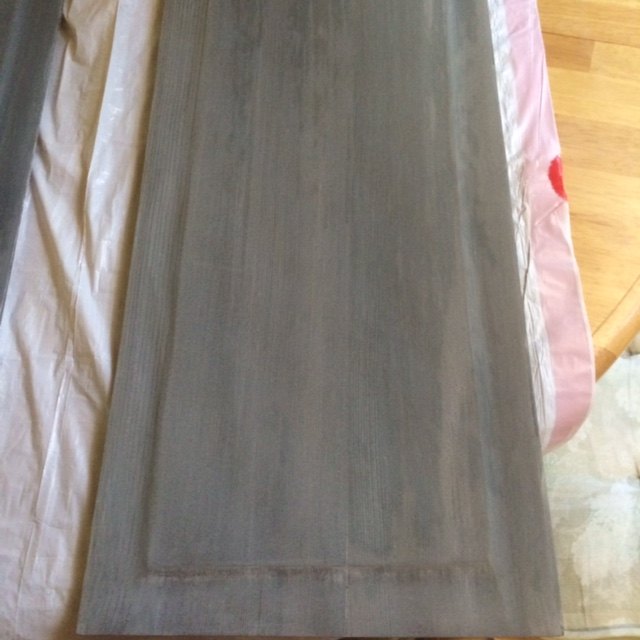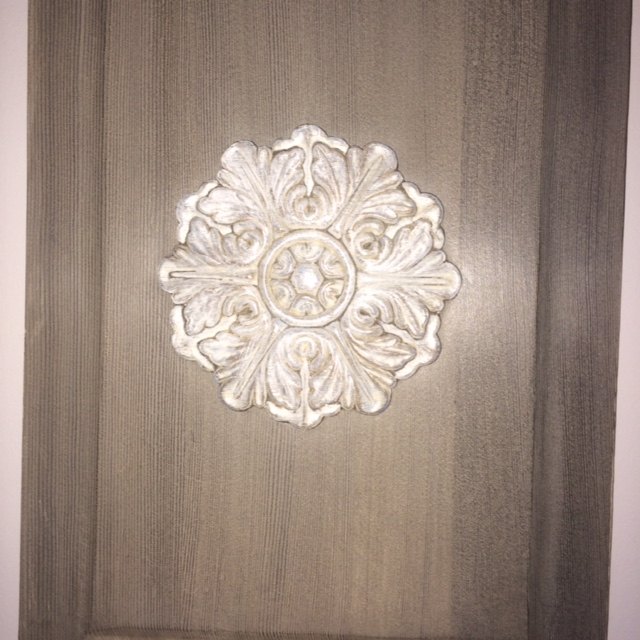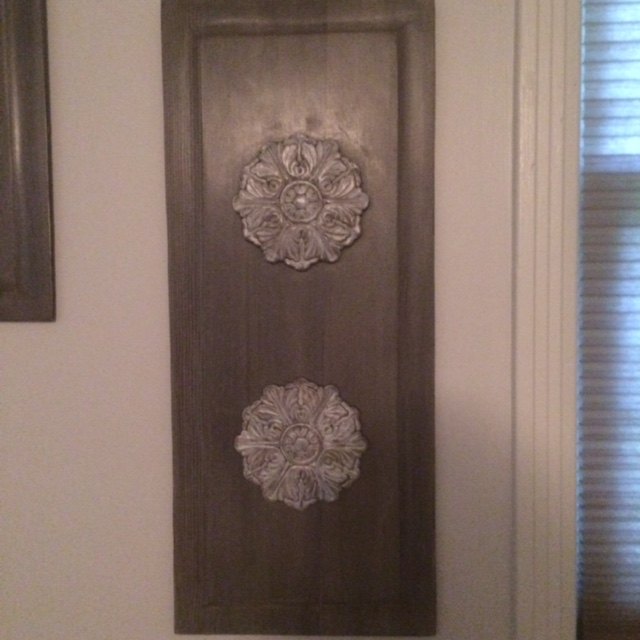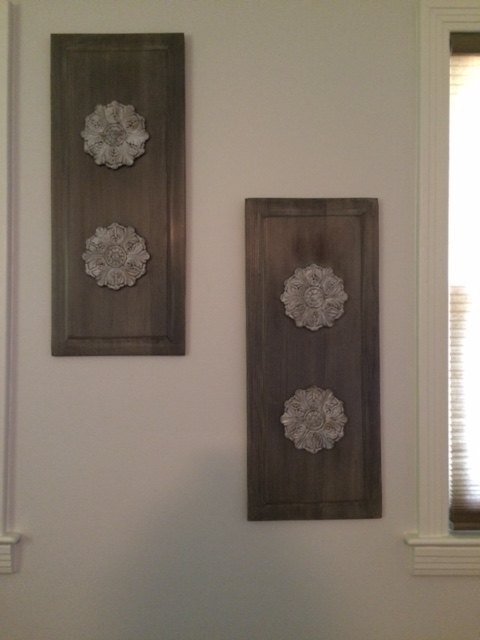 Related Discussions

Lauren of Mom Home Guide
on Aug 06, 2016
I was wondering if you could help me with something -- I have an entirely oak kitchen. I know it's the rage now to paint or gel stain cabinets. I've been considering ... See more

Ginny Wathen
on Sep 03, 2018
How do I paint my front door? It's metal. Ann7680670
on Jul 20, 2016
How do I paint grout to change the color? The grout is in great shape, but the color - meh.

Lisq
on Mar 21, 2018
Can I paint a tile floor?

Paula Feingold- Newman
on Feb 27, 2017
Can you paint bathroom floor tiles?

Megan
on Dec 14, 2017 Linda Victorine
on May 18, 2016
I'm not happy with coverage of the antiquing wax I put on a project this morning. Is there something I can use to remove some of it? Thanks.