The 8 Best Watering Tools Every Gardener Needs
January 31st, 2023 7:05 AM
By Corrie Pelc
If you're trying to grow anything — whether it be your lawn, flowers, or fruits and vegetables — water is one of the most key ingredients. You can have the best soil, best seeds, best plants, and best fertilizer, but without the right amount of water, your plants are doomed to fail. Too little water and your plants will dry up and perish. Too much water and all the nutrients in the soil will wash away and your plants won't make it.
This is why every plant grower — whether a novice or professional — needs a set of proper watering tools in their gardening arsenal. These tools can help make sure whatever you're growing gets the right amount of moisture they need for success.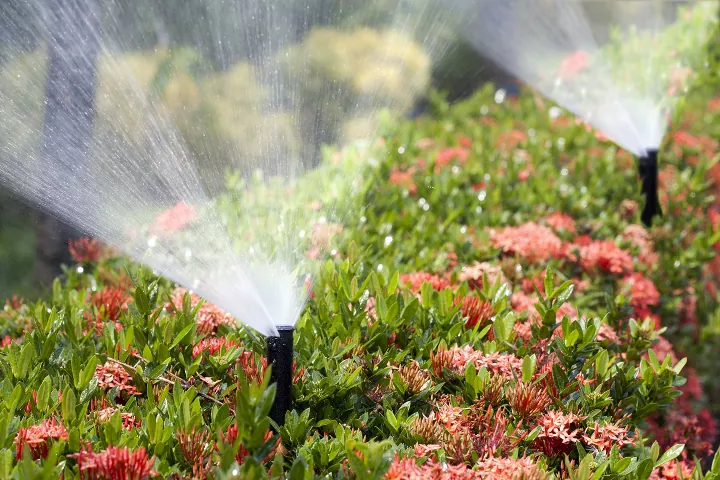 Best Lightweight Garden Hose: Flexi Hose Lightweight Expandable Garden Hose
As any gardener or landscaper will tell you, there is nothing worse than having to lug around a heavy, cumbersome garden hose. The beauty of the Flexi Hose Lightweight Expandable Garden Hose is that it is super lightweight and when there's no water in it, it shrinks down and retracts to a manageable size for moving about. When water is turned on, the hose automatically expands to three times its size. This tough garden hose is built from an inner tube of four layers of latex and an outer covering of high-endurance elastic to help protect it from being punctured. The hose comes with ¾-inch solid brass connectors that can fit the majority of outdoor garden taps and is also kink-resistant and comes in three sizes: 50, 75, and 100 feet.
Pros
Available in three sizes
Flexible, light, and easy to move
Cons
Cannot be used in freezing temperatures
Types of Watering Tools
There are a ton of different watering tools available on the market today. Here's a look at some of the main ones:
Lightweight Garden Hose: While you can still wrangle with the heavy water hoses of yesteryear, today's lightweight hoses make moving them around way easier. Lightweight garden hoses can be made from a variety of sturdy materials, such as vinyl, rubber, or different plastics, and when not in use look like a standard hose shrunk down. When they fill up with water they expand to what you would normally think of as a hose, and when you turn the water off they shrink back down for easier storage.
Hose Nozzle: This is a handheld sprayer, to place on the end of your hose, that water comes out of. There are a ton of different options of hose nozzles, all at different price points, materials, and uses. The most important thing you want to look for in a hose nozzle is that it's comfortable for your grip so it's easy to use.
Watering Wands: Designed to attach to your garden hose, a water wand is a great alternative to a nozzle as it gives you a bit more length to properly water hard-to-reach plants, like hanging baskets. Water wands are designed to provide a gentle shower of rain, making it a great option for delicate plants where a pressurized nozzle may be too harsh.
Watering Can: Watering cans have been around since the dawn of time, and not much has changed with their technology. However, there are lots of different materials and handle styles to choose from, allowing you to find one that fits your hand and your gardening style the best.
Lawn and Garden Sprinkler: If your property doesn't have a home sprinkler system, or if your sprinkler system doesn't reach your garden, purchasing a standalone lawn and garden sprinkler can be a great option for gentle watering.
Drip Irrigation System: If you're finding it hard to keep up with constantly watering your lawn or garden, a drip irrigation system can help. This tool's purpose is to slowly provide water to your garden or lawn over time through a tube dripline system, helping to make sure it does not get too much water.
Self Watering Stakes: Another way to provide a constant gentle trickle of water to your plants is through watering stakes. The stake is placed in the ground near the plant — When a filled water bottle is applied to the stake, water is provided directly to the plant's roots at a slow pace, providing consistent watering. Watering stakes come in different shapes and sizes, but they often look like upside-down funnels with the pointed part in the ground.
Garden Rain Gauge: A garden rain gauge is a tool that measures how many inches of rainfall your outdoors has had, either by a measuring tube or digitally. With this data, you can start to predict how much total rain your garden or lawn will see on average each week, month, and even year.
Here is a look at what we consider the quintessential watering tools that all plant growers need.
Best Hose Nozzle: Gardenite 10-Pattern Garden Hose Nozzle
For gardeners who like lots of watering options in one tool, the Gardenite 10-Pattern Garden Hose Nozzle provides 10 different spray patterns with the easy turn of a dial. What's more, the nozzle also allows you to adjust the water pressure for each of those 10 spray patterns through its flow control knob on the back of the nozzle. So depending on what you're watering, you can adjust from a soft shower to high pressure with just a quick knob turn. Made of solid metal with a baked-on protective enamel coating, the nozzle is designed to last many seasons compared to plastic nozzles on the market. It also features an ergonomic grip made of soft rubber for a comfortable place for your hand to hold and operate the nozzle without tiring out or cramping.
Pros
10 different spray patterns offer lots of options
Water pressure is adjustable through the nozzle
Backed by a 100% customer satisfaction guarantee
Best Watering Wand: Melnor 65045-AMZ RelaxGrip Showerhead Watering Wand
The Melnor 65045-AMZ RelaxGrip Showerhead Watering Wand adds up to 48 inches of length to your hose to make it easy to water hard-to-reach plants like hanging plant baskets and back-row plants in gardens. Made from durable stainless steel, the watering wand features natural grip handles to make operating the wand comfortable and easy on the hands and wrists. The grip also has an easy-to-use thumb control for keeping water flow at the pressure you want. The wand's head pivots angles and provides eight spray patterns from a gentle shower perfect for delicate plants and new sprouts, to a powerful jet good for hosing down tools.
Pros
Choose from eight spray patterns
RelaxGrip handle makes for comfortable operation
Backed by a two-year limited warranty
Cons
Only extends up to 48 inches in length, and some people might need more than that
Best Watering Can: Behrens 2-Gallon Steel Watering Can
Now, some people may think watering cans are all the same. However, when you see a watering can like the Behrens 2-Gallon Steel Watering Can with over 3,000 ratings and 4.5 stars on Amazon, you realize there's more to this watering tool than meets the eye. For starters, this vintage-inspired watering can is made of hot-dipped steel, making it super-sturdy, rust-resistant, and built to last for many seasons. Weighing less than 20 pounds once it's filled with water, the watering can is easy to move around the outside of the home. The can's head is a large rosehead (or sprinkler head) for excellent water dispersal. And the Behrens 2-Gallon Steel Watering Can is also resistant to weather and rodents and is recyclable.
Pros
Made from hot-dipped steel
Rust, weather, and rodent resistant
Weighs less than 20 lbs when filled with water
Cons
Watering can head cannot be changed out for a different water pattern
Best Lawn and Garden Sprinkler: Aqua Joe SJI-OMS16 Indestructible Metal Base Oscillating Sprinkler
If you don't have a built-in home sprinkler on your property, or maybe your home sprinkler doesn't have the capacity to reach all your plants, then the Aqua Joe SJI-OMS16 Indestructible Metal Base Oscillating Sprinkler with Adjustable Spray is a must-have. With almost 13,600 reviews and 4.5 stars on Amazon, this lawn and garden sprinkler can water up to 3,600 square feet of lawn, gardens, and other plants. The sprinkler features 16 clog-resistant nozzles and a base made of solid metal for excellent durability. The sprinkler's coverage pattern is also completely customizable, so you can set the exact width and range you need to ensure water is not wasted and there's no overwatering. This oscillating sprinkler is compatible with most standard garden hoses and comes with a leak-resistant connector and a two-year manufacturer warranty.
Pros
Covers up to 3,600 square feet
Width and range are fully customizable
Nozzles are clog-resistant
Cons
Might potentially need a connector if you have a non-standard watering hose
Best Drip Irrigation System: Raindrip R560DP Automatic Watering Kit
If you need some assistance in making sure your potted plants and hanging basket plants are getting enough water, then you'll want to check out the Raindrip R560DP Automatic Watering Kit. This set-it-and-forget-it drip irrigation system kit comes with everything you need to easily set up a drip irrigation system for up to 20 plants, including tubing, metals stakes, and pre-assembled feeder lines. The kit also includes a timer that automates the watering process for you. The entire system sets up in three easy steps, and the system can be customized and expanded as needed. According to the company, using a drip irrigation system can help you save up to 70% in water usage by eliminating water run-off and evaporation. Raindrip also makes specialized drip irrigation system kits for different garden setups like flower beds and vegetable gardens.
Pros
Full drip irrigation system in one kit
Easy setup in just three steps
Helps water bill savings
Cons
Will need to purchase additional kits to water more than 20 plants
Best Self Watering Stakes: Remiawy Terracotta Plant Watering Stakes
When you go on vacation or need to be away from your plants for a few days, how do they get watered? The solution: Remiawy Terracotta Plant Watering Stakes. Available in four, six, and eight packs, these self-watering stakes are made from terracotta, which is a very porous material. When the stakes are inserted into the soil near a plant and a full water bottle is inserted into the open top of the stake, the terracotta allows the water to slowly seep through and into the soil. This process keeps the plant watered while not flooding the soil, helping to keep vital nutrients in the soil. A one-liter bottle of water will keep a plant happily watered for seven to 10 days depending on the type of plant, soil, and climate you're working with. And these Remiawy plant watering stakes can be used with any long-neck bottle, even wine bottles, making them a great way to reuse empty vessels.
Pros
Comes in four, six, and eight packs
Can be used with almost any long-neck bottle
Can keep a plant happily watered for 7-10 days
Cons
Water may not last as long depending on the type of plant, soil, and climate you have
Best Garden Rain Gauge: AcuRite 00899 Rain Gauge
Take your garden rain gauge high-tech with the AcuRite 00899 Rain Gauge. The system features a weather-resistant rain-collecting vessel that is placed outside and an indoor display unit with an easy-to-read LCD screen. The rain gauge vessel not only measures rainfall in inches or millimeters but continually provides updates on rain measurements every 16 seconds to the display unit. The rain gauge can also provide data such as your area's rainfall history, and you can even set up a customizable rain alert if you're monitoring specific amounts of rainfall or a potential flood. The AcuRite 00899 Rain Gauge is also self-emptying, so you never have to worry about it holding on to all the rain it collects.
Pros
Outdoor rain gauge is weather-proof and self-emptying
Indoor display unit is easy-to-read
Can program customized rain alarms
Cons
Rain sensor limited to transmitting up to 100 feet away from the display unit
Do you have a watering tool that your lawn or garden can't live without? Tell us about it in the comments below!
Enjoyed the project?
Published February 6th, 2023 7:20 AM
Comments
Join the conversation
Sven fennec

on Nov 02, 2022

thats amazing i have a pinwheel to keep birds out of my tomato garden.

Sven fennec

on Nov 02, 2022

and it sprays water to
Popular Project Book
Popular DIY Questions