Feeling proud: Have you ever made an Animal Rescue Sign?



Answered
i made this sign for a friend who just rescued a dog and this is the way I thanked him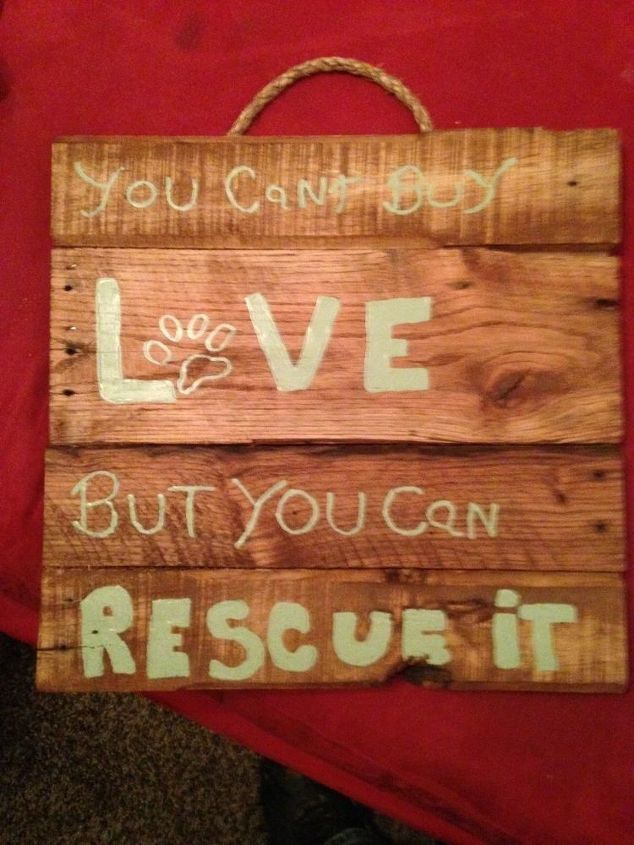 it just came to
me i said I have to do something nice for this person
Related Discussions

Joann
on Jan 13, 2019
I have a raised ranch house, in the foyer above the door there's so much wasted space. Is there any way I could put my television or something in this area?? Any ot... See more

Linda
on Jan 13, 2019
What to do with my old metal swing set

Maria F. Mendez Densmore
on Jan 13, 2019
I would like to make a acordian door for my hall way any ideas are welcome I like to upcycle David
on Jan 13, 2019 Kimberley
on Jan 13, 2019
I want to paint my ceramic floor in the kitchen. It is a horrible green colour but the grout is a lovely grey of which I would like to keep as I am changing the tile ... See more Linda
on Jan 13, 2019
We have water damage on the two foot by five inch high bit of drywall that is beneath the kitchen window, and behind the tap. It's from seven people, over time, splas... See more Patricia
on Jan 13, 2019
How can I get super glue off my eye glasses? The frame broke so I glued it and a little got on the lense. I tried alcohol..no help at all. Is it hopeless?