Cherry Tomatoes growing, BUT no FRUIT??



Answered
I have large tomatoes growing UNDER the hanging planter and Cherry Tomatoes growing on top. EXCEPT NONE of the Cherry tomatoes are growing yet. Plants look like they are doing well, but no fruit yet. Is this normal? I'm watching many online videos and pics, but I just can't find anything that talks to how long it should take for growing and fruit.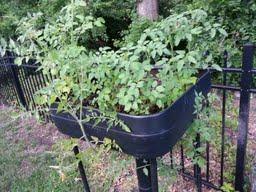 Related Discussions

Chubby58
on May 04, 2018
I spilled a 4 ounce bottle of essential peppermint oil. It went all over the counter, down the dishwasher and on my hardwood floor. I have cleaned it all up, but the ... See more

Cathy Chandler
on Jun 06, 2018
How can I stop my Microwave from sliding on the counter top every time I open the door to microwave something. I tried putting a towel under it but it still slides An... See more Bracha Moskoff
13 hours ago
My young daughter, in her quest to decorate, has covered all the mirrors in the house with stickers. Now, I'm on a mission to restore the mirror's reflective beauty a... See more Kathy
on Mar 27, 2018
Cannot get the price stickers off my mirrors without scratching. Bracha Moskoff
on May 25, 2023
The countertops in my apartment are just cheap laminate. I can wipe them down well enough, but sometimes I get marks like this stubborn coffee ring or at the edge of ... See more Dustin
13 hours ago
Hello everyone!I'm facing an issue where the lights in one room of my house have stopped working. It's a bit puzzling as the breaker did not trip. I would appreciate ... See more Dustin
on May 28, 2023
Hey folks,I've got a dishwasher issue that's flooding my kitchen (literally)!Recently, my dishwasher has started to overflow during its cycle. Water spills out onto t... See more