 Answered
Thank you Hometalk Team! It was wonderful to find this little goodie in my mailbox. I'm thinkin mAHgaritas.....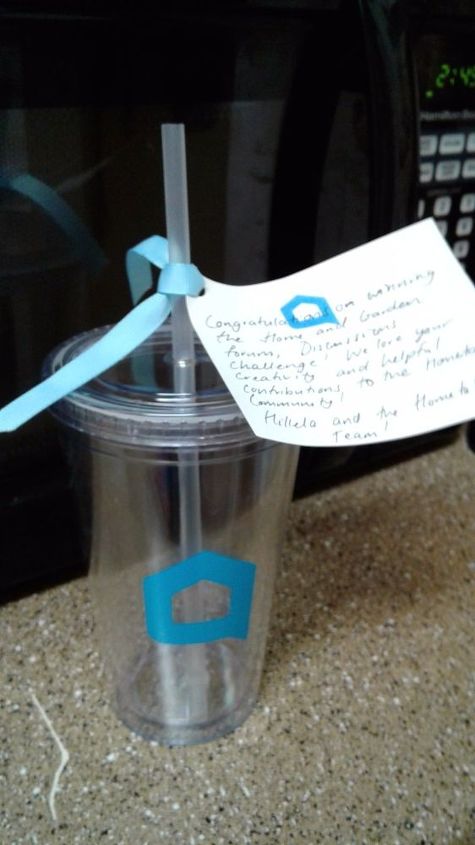 My prezzie for winning in the Hometalk survey

Related Discussions Tanya Thompson
on Jul 02, 2018
I love the crafts, even done some myself, but couldnt without all the talented DIY ers....please keep sending me more.... I love DIY crafts. Thanks

Culpepper Carpets and Interiors, Inc.
on Mar 26, 2012
Just turn them upside down and open them, then insert a roll of paper towel and tada, you have yourself a brand new paper towel holder that is not only beautiful, but... See more

Jessica
on Dec 06, 2017
I got a great deal on Spectrum's Macklin storage bins ($5 each!) and bought twelve to put in two cube storage organizers. They'll look great for kitchen storage IMO... See more Linda Valentine
on Mar 29, 2017
First one fell off in the bathroom - okay, maybe moisture. In the kitchen - fridge, inside cabinets and on tile walls. All fall off. Everyone else seems to love t... See more

Amy Poulton
on Jan 23, 2023
Lately, it's been taking my dryer two cycles to dry the laundry and I have no idea why. Any advice on the problem and how to fix it would be greatly appreciated.

Alicia Gillentine Carr
on May 21, 2014
I found this in the curb this morning on my way to work. Needless to say I'm late :) does anyone know anything about this piece? What would you do with it? Paint? Res... See more Juliana
on Feb 12, 2018
My contractor created the countertop template measuring the cabinets not following the wall. It was clear that the wall was uneven because the cabinet guy had left sh... See more