Need an effective way to "antique" this three legged jewelry box



Answered
Found this old box at a garage sale and thought this should be a quick little project. Not the color turned out really bright and I tea stained the graphic images and distressed the edges with sandpaper but I want to dull the bright color. I tried putting stain on and then wiping it off but it barely worked as you can see. Did I do it wrong? Is there a better way to tone it down and make it look aged? Any ideas?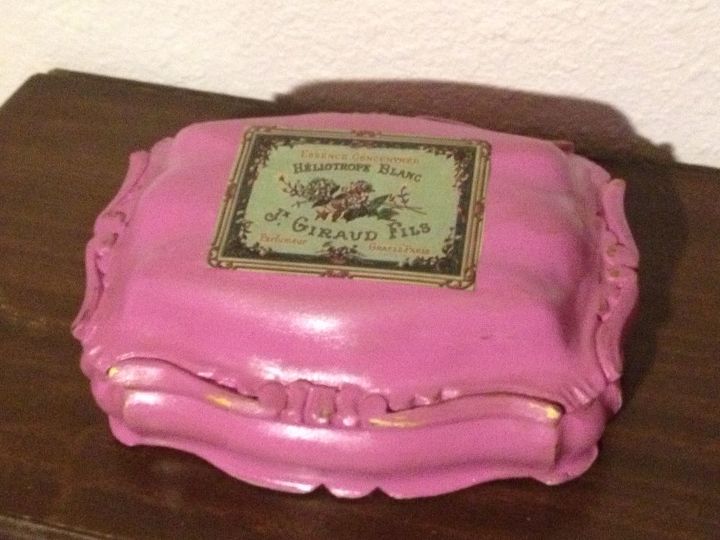 Related Discussions Belinda Ayewoh
on Mar 08, 2018
Due to smoking in garage for years, the interior insulated panels of the garage doors are yellowed. Getting the house ready to list, but want to clean or paint the p... See more Pat Pizza
on Mar 08, 2018 Mejosp
on Mar 08, 2018
I have this silver ring, which unfortunately has "fake" small round pearls. As you can see from the picture, the white coating is coming off of them. I really love ... See more M.L. Friel
on Mar 08, 2018
There are Red Bud Trees in my neighborhood, their seed pods blow around, & "Volunteer trees" sprout up all over. Some have grown next to my fence, their tap root is ... See more

Joni Murphy
on Mar 08, 2018
I was trying my hand at wine bottle repurposing and messed up so I was curious how to get the paint off so I can start over. JAD
on Mar 08, 2018
My house was built in 1924 and has a stucco exterior. The existing door has many added on dead bolts and the original Brass Door Handle and lockset is no longer usabl... See more