Should I tackle floors or walls first? Does it matter?



Answered
I enclosed a long thin upper deck which had sliders onto it from my master and another bedroom and turned it into a sunroom. It is not heated and still has the original deck floor and outside siding on it (and mansard roof shingles). I would like to refinish it and turn it into a 4 season room. My question is about order: should I start with the floors (I will need to insulate, level and then I would like to put in radiant heat floors), or do the wall first, remove the shingles? Any ideas?
I could really use some help.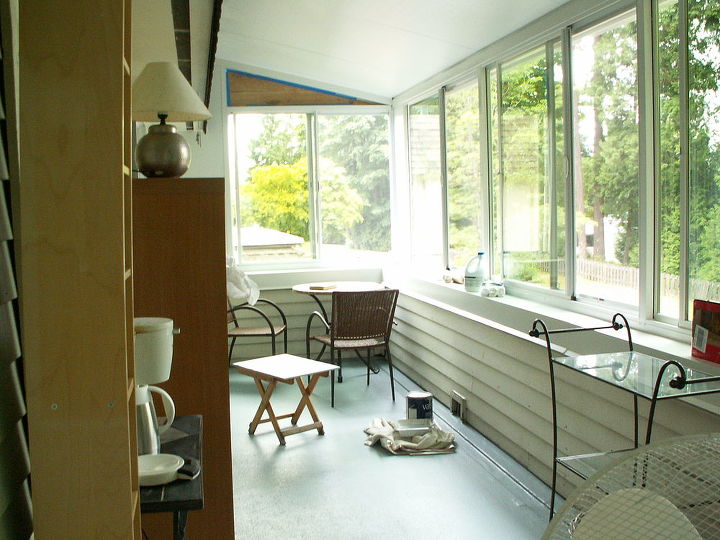 Related Discussions

Peggy
on Feb 06, 2018

Bonnie
on Nov 12, 2018
I was hoping to refinish my wood floors and stripped off the cheap fake stuff the previous owners thought looked good and this is what I found!! Should I get someone ... See more

Anthony Goad
on Mar 01, 2014
We bought a house and the walls in the basement were stuccoed by what I would believe was a five year old. It is very thick and its not level. Its so "pointy I have a... See more
DeeAnna Nelson Price
on Mar 12, 2017
The brick retaining wall that we put around the oak trees in front of our house are falling down. Need suggestions on what to put around the trees. the trees were i... See more Bob
on Apr 25, 2017
I am installing these register for the floor vents next to the wall and baseboard. Do I need to have it flush against the wall or the baseboard. Thanks! Mary
on Sep 21, 2015
Apparently my nephew busted a green ink pen and managed to get it on my walls which are painted with a semi gloss interior paint and my laminate flooring. I have trie... See more

Ann Rossi
on Nov 13, 2017
I have light colored walnut wood paneling on wall and I want to get rid of my carpet and put pergo flooring down should I go same color or darker then paneling?