Answered
To
my gardening friends: Do you know what kind of plant this is? The
blooms look like Salvia to me, but the plants are 3-4 ft tall. I found
it growing in a creek bed behind my house.The mature leaves are long & pointed. The "baby" leaves at the base of the plant are round & ruffled.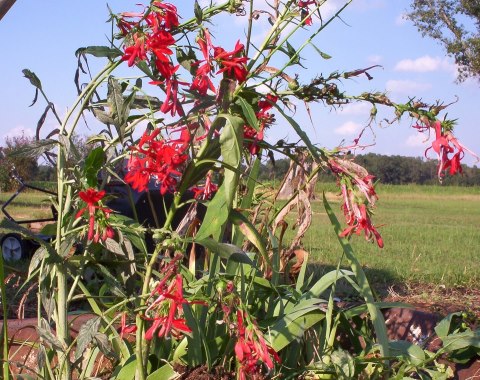 Related Discussions Juan C Martinez
on Apr 27, 2016
In what planting zone is Sacramento, CA [zip: 95842}? I need to know what plants thrive in both direct sun and in full shade in my zone.

Debpegoli
on Jun 27, 2017
I have the area that the sump pump sprays water from the basement. This area stays extremely wet and I need a plant that will grow in very wet area.

Angelica Rodriguez
on Jan 22, 2018
What plants can I plant that spiders don't like and are safe for dogs

Adria Whitford
on Mar 22, 2013
We completed the top portion of the water feature last year and just added the lower part to the pond. It's now time to focus on the landscaping around it and I don't... See more

Darnell Moonda Fugate
on Jan 21, 2019
What kind of plants are best to plant beside, or even in, a dry creek bed? Sometimes it does have water in it when it rains hard. I have plenty of Border Grass to ran... See more 7536271
on Feb 18, 2018
i LIVE ON THE 2ND FLOOR APARTMENT - FACING EAST, JUST A LITTLE TOWARDS NORTH......HAVE PLANTERS....NO DRAINING........WHAT CAN i PLANT? i SPENT $50 LAST YEAR AND THEY... See more