what to do with vintage masonry stars?



Answered
I picked up several in different sizes. 2" up to 9" and wondered what to do with them. They are very rusty. I have to admit that I didn't know what they were until I looked them up but they just look so primitively cool! Any ideas?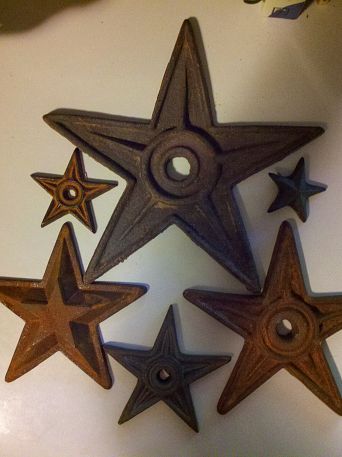 Related Discussions

Judy Clark
on Sep 11, 2015
I had this red gum ball machine in my storage building and decided to pull it out and use it for something. What am I filling it with? BUTTONS - All white of course!
Kathryn F
on May 10, 2015
Estate sale find. A hardware cabinet, early 1900's 80 drawer (10 on each side), octogonal, rotating cabinet. Original hardware. What to do with it? Sell as is? Refurb... See more

Susan Mortimer
on Oct 10, 2014
I inherited this great vintage dresser and marching chest that my parents got when they were 1st married. I plan to use it- it is extremely well built. Buy. the blo... See more

Xena Nierobisz
on Jul 30, 2013
my mom gave me some old buttons. I think they are very nice and wanted to use them for cool crafts but I just went blank. I need an advice on an interesting crafty pr... See more
Jane
on Nov 16, 2013
Well here's a problem I haven't seen before but is totally legit. I inherited a real fox fur wrap from my grandmother...from what I remember back in the 1940's and 50... See more

Sfg178760
on Oct 24, 2013
I'm thinking bird feeders...but do any of you have any other suggestions? Some came out of our 1964 home and some we bought for it, but never used them! As you can se... See more

B.J. B
on Jul 11, 2013
I found this pale blue baby scale in a vintage resale store and fell in love with it. It has a nicely aged patina so I don't want to do anything to destroy it. I just... See more