How to use these plastic tops? Answered
I buy these paper cups often, for drinks,
not using the plastic covers that come with them.
Does this community have any craft ideas or uses
for these TOPS that are never used?
Thx much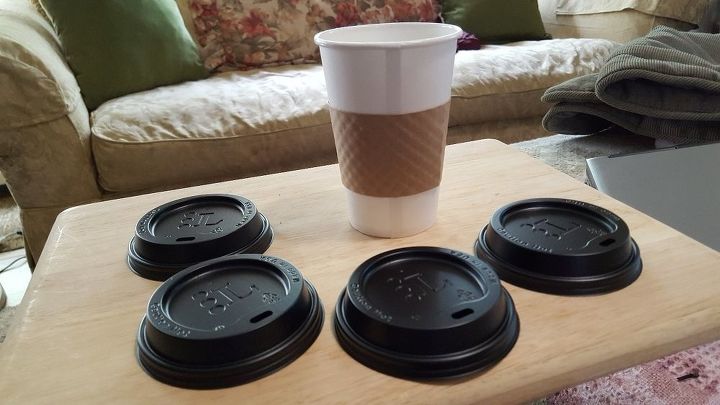 Related Discussions Lateforthetrain
on Aug 01, 2016
I hate to throw away those plastic coffee creamer containers. They certainly have the beginnings of something useful. Any suggestions, anyone? Marie
on Feb 14, 2016
I have about 4-5 plastic cutlery trays. Any suggestions for use other than the usual (jewelry, crafts, hair accessories, etc.)??? Any point in attaching them together... See more
Holly
on Nov 11, 2017
My aquarium is near a window and cannot be moved due to its size . The plants which are made of plastic get a lot of algae on them. Bleach is out of the question beca... See more Katerwall
on Jul 23, 2017
Jnet
on May 07, 2015
I have heard of using Styrofoam pellets at the bottom of pots, has any one used crushed up plastic grocery bags the same way, does this work as filler and drainage? Kyg8061159
on Nov 28, 2018
We go through so many if those sturdy red plastic coffee containers, there surely should be a way to repurpose them.

Carla Harris Bourg
on Jan 20, 2016
I do volunteer work for the Salvation Army and we get tons of earrings and so many do not have matches. Does anyone have any ideas on crafts that we could do to repur... See more