Answered
Here's a pair of end tables my dad pulled out. He can't remember how long ago he bought them and I was surprised at how heavy these were. I really like the look of the legs on these and the double-handed drawer pulls.
They stand 21" tall. They're 28" long and 20" across. They need updating and I need ideas. I'm open to using them as end tables or turning them into something for other functions. Any ideas out there?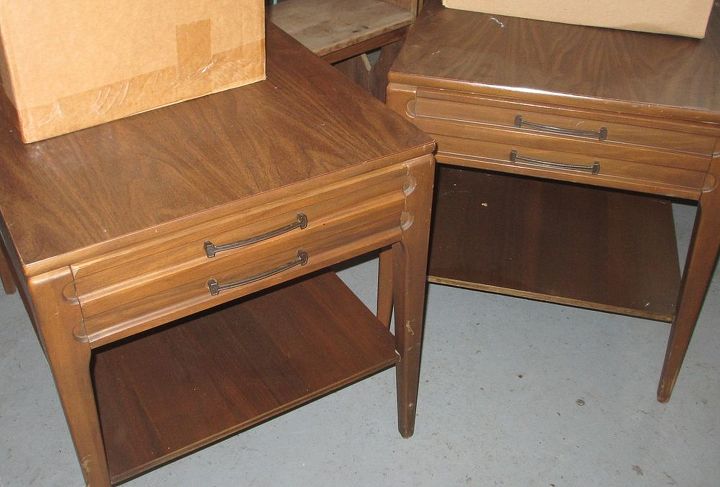 Related Discussions Ann Walaszek
on Mar 16, 2018
I have a mahogany dining room set in exceptional condition. The set includes a sideboard, corner cupboard, six chairs and a large oval table. The brass hardware on ... See more
Amy Wassell
on Aug 09, 2014
Old 90's cabinets white with wood trim and no pulls or handles. Should I just reface the cabinets which are in good shape or repaint the doors? If repaint what color?

Blu99
on Jun 12, 2015
I purchased this worn out little table that has side pockets for magazines at a sale. I am thinking about sanding it down enough to possibly repaint it but am stumped... See more
Beth Hall
on Mar 09, 2014
I found this table and four chairs at Goodwill for 40.00- the chairs were easy to spraypaint, but the table top has "blisters" from the underlying particle board. Any... See more Eva
on Feb 05, 2018
Does anyone have any ideas on how I can bring these lamps in to 2018 from the 1990s? They are large, huge pastel colored plaster lamps with textured, porous surface. ... See more

Lou
on Jul 26, 2015
We use the table for camping and the top is peeling. It is used outdoors so I would like to refinish it so it stays nice for a long time. The table is 18" x 4'.