Wine barrel wood, what to do? Answered
I was given several wine barrels. One I cut directly in half, the other I made two cut saving the wood that was between the inside metal bands. It is great strong wood, but has a gentle rounding to it. I would like ideas on what to do with it. Various widths, all about 10.5" long.
Thank you,
Barbara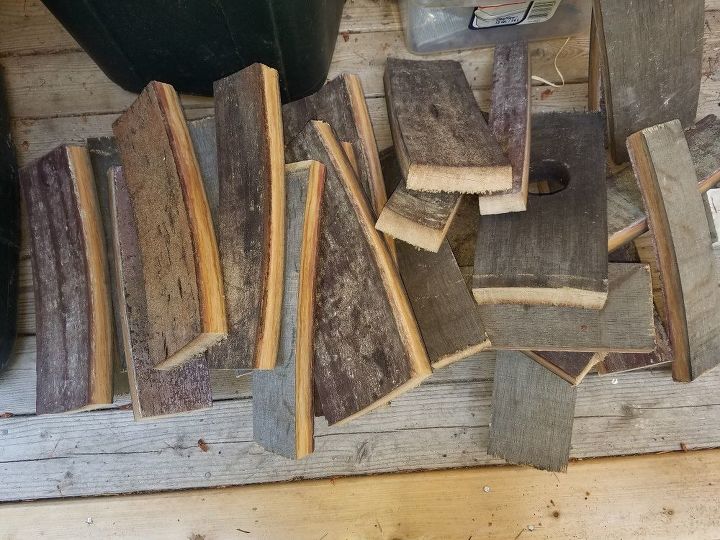 Related Discussions

Heather McKinney
on Mar 23, 2016
Very rarely do I have an original idea. Most of the time I am inspired by something that I've seen done already. Case in point: I found a wine bottle that was painted... See more
Jim Reed
on Jul 26, 2017 Kathleen MacLeod
on Mar 04, 2016
What can I make with extra wood molding? I have about 40-50 feet left.

Valerie Metcalf
on Nov 04, 2016
I'm looking for ideas to use up the broken and cut pieces that are left over. They are porcelain that look like wood with an actual grain in the tile. Mosaics is one ... See more

Dori Souter
on May 30, 2019
I'm making a wine barrel sink I'm going to cut it so it fits flush against the wall and need to screw the bands before I cut. I bought #10 1" self threading bolt head... See more

Susan Mortimer
on Jan 16, 2015
Hey you wonderful creative Hometalkers. I need your inspiration. I inherited this cool, very old wooden barrel. I don't need another side table which is the obviou... See more

Cyn R
on Oct 05, 2014
I have this well made wine rack I came across next to dumpster. I had to take it home because I know there's potential for it to be something awesome. I just need a l... See more