Choosing Shutters for your Home Answered
The most important aspect when selecting shutters is to make sure that they fit your style and represent what you are attempting to represent, be it traditional and meeting historical designs, or truly showing off your personality and interests.
With so many possibilities, there are some guidelines that may influence your choices such as colors, styles, and options.
Traditionally, shutters were purely functional in nature, before screens and even paned windows, so protection from the elements, privacy and security were a focal point. For this reason many homes had panel shutters on the downstairs to allow for a solid closure of the window opening. These homes would then often have louvered shutters on the upper floors to allow for the same sort of protection, but the functional louvers improved the ventilation and light.
While many homes are still built to a single style, more and more are becoming eclectic and modern, and even when adding on, styles become meshed. At Timberlane, we know that certain styles of homes seem to demand a specific type of shutter. And although we almost always recommend you to allow your own personal preferences to prevail, we've provided an architectural style guide, shown below, to help with your decision.
What kind of style home do you have and what type of shutters will you be placing on your home?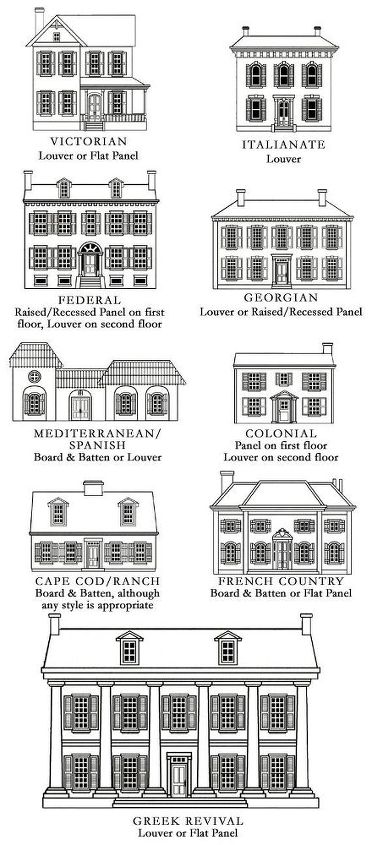 Related Discussions Diane
on Feb 03, 2016
I have two 6' patio doors, and I want to add blackout curtains to keep the sun/cold out. What is the best way to hang them, and what can I use to push the curtains ba... See more Noemi
on Apr 01, 2019
Does anyone know how to make a balloon garland or a balloon arch?

Bobbie Hudson
on Nov 02, 2016
I have the french doors in my living room. The living room is separated by a large fireplace. It goes out into a sunroom.

Kristolyn Elizabeth
on Dec 02, 2016
We have this hideous window in our dining room (exterior anterior wall) and have been racking our brains with what to do with it. It's a double pain window and the gr... See more

Mark Montano
on Jan 15, 2017
I need to replace two unsightly shutter doors in my kitchen and I have no idea what to use instead. They hide the washing machine and pantry so they do have to open c... See more

Julie
on Feb 13, 2016
I have a huge window in my living room. All three windows measure 112 inches across. The two on the ends are 25in. across. The one in the middle is 51.5in. I want to... See more TM
on Dec 26, 2017
I was planning to install bamboo blinds in our newly purchased home by mounting them inside the window and hanging curtains on the outside, however the quarter round ... See more