Paint color for a bathroom with old yellow & black tiles?
Currently, the bathroom is painted white but I would love to change it. There are yellow & black tiles halfway up on the walls. The tub, toilet & sink are white. What color can I put in this room? Thanks.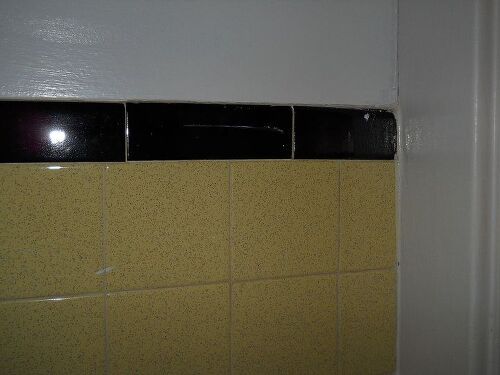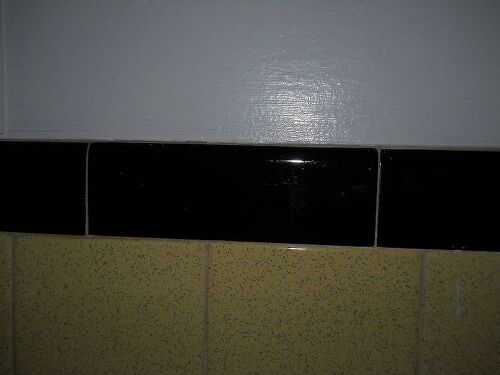 I would paint the tiles white, shiny white. Unless you love the yellow, which is fine, but you will be stuck with it and decorating around it for the rest of your life in that house. I have painted many tiles and always with great success. Right now for instance I have the white tiles, black wallpaper above and have used tourquoise as an accent. I have white fixtures so the black is almost an scent, but with very little work, I can change the look with red towels or silver or light blue etc. It seems the older I get, the less patience I have to "deal" with it, I just change it. :)

Seek assistance in the paint department at Lowe's for proper paint to use on the tiles, but it can be done. I agree, gloss white would be gorgeous. Add color with your linens.

I know adding enamel over tiles is an idea but the expense may be more than you want to spend. If so, you want to try to make the tile look deliberate in your design and not like something you want to hide. Therefore, you can use the color to your advantage. Take a picture of the tile and print it out, make note if the print comes out darker or lighter. Take the print to the paint store and match it, as close as possible. Once, you find the color on a sample card go down the color scale maybe next to the bottom or bottom color. You can accent with complimentary colors in your shower curtain and pictures. Also, use touches of black in accessories. I hope this helps. I grew up with a pink and black bathroom, I understand,

First, thank your lucky stars you did not inherit the pink or mint green of the area. The yellow/black is actually quite awesome. Make it work for you. Instead of just painting your walls, why not stencil them in a bold geometric balck or charcoal on top of your white. If you haven't done stenciling, it is not difficult, only time consuming but so worth it. You can buy large stencils at Hobby Lobby for about $10 with their 40% coupon. If you do decide to stencil, by two stencils. One for the large areas and one to cut into smaller sections for partial and small areas. Then use black/white/gray accents--towels, picture frames, etc. Add a low light green plant-even a small one on the counter.. If your vanity is paint grade material, paint it a dark charcoal. Your yellow/black tile becomes the standout pop of color in a statement making bath.

I would agree with Debi53 - stencils would be the least expensive way to go. Instead of painting the tiles, I would "go with the flow". Additionally, there are are many nice wallpaper prints or even fabric that could be a style or thematic solution - maybe only do one wall. Take a walk thru a sampler book or a fabric store for inspiration. I've put up fabric as wallpaper in a bathroom, sealed it & it lasted for many years & really easy to strip off.

I love vintage tile - just ask Nicole Curtis...lol - I would wallpaper or paint to accent the tiles and not cover them. We had an older house in the Chicago area with the 50's teal tile - I wallpapered, added towels and accessories and loved it for years

I inherited pink plastic tile when we moved into this house. I do not like pink and couldn't afford to replace it. I gave the tile a light sanding, primed it with Kilz, and painted it with a gloss bright white paint, except for the top two rows. The top was painted in gloss black, and on the second row, I alternated white and black. On the top wall with no tile, I painted the bright white again. Trimmed out with chrome accessories/fixtures, it looks like an art deco bathroom. It still looks good ten years later.

Just go with it...it can look awesome...very retro! Paint the walls a much lighter version of the yellow tiles. Decorate with black and white pictures, accessories and maybe a vase with some yellow flowers or a large picture with black, white and gold/yellow colors and some coordinating accessories. Play around with it...it can be striking!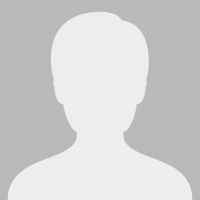 PREV
NEXT