Paint color for a bathroom with old yellow & black tiles?
Currently, the bathroom is painted white but I would love to change it. There are yellow & black tiles halfway up on the walls. The tub, toilet & sink are white. What color can I put in this room? Thanks.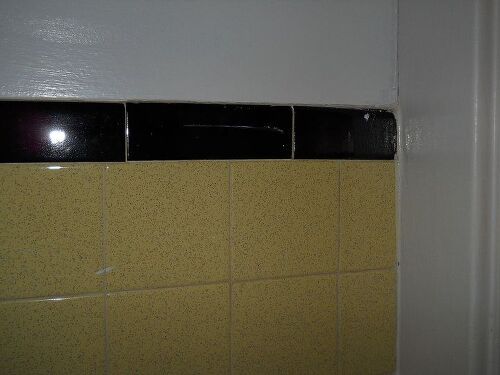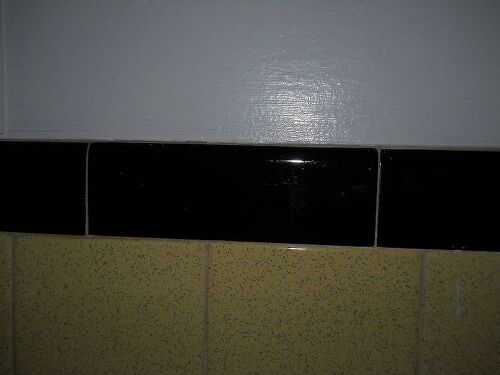 I've been working on a home where one of the baths is is a "grey" theme. It has grey tiles about half way up the walls. with a dark grey ceiling and white crown molding. I find it kind of snappy and modern.

There is paint you can use to cover the tiles with some other color. I would check with the paint store for the right type of paint to apply. just suggesting

You didn't say what style you'd like to achieve. If you want glamor then paint the walls black. I saw some on Canada's House and Home magazine website that were amazing.

@Lisa Van Wyk Borzi there are some posts here about painting ceramic, but I couldn't find them quickly. Here is a site online that shows a before and after pic and instructions http://www.miraclemethod.com/painting-ceramic-tile.htm If you are unsure about this you could put a paint colour on the wall that mimmics the yellow or compliments it. That should make the black pop as an accent colour. This will likely mean bringing a bunch of paint chips home - you may even want to try some yellow green shades. You can accessorize the walls with some black wrought iron and maybe put in plack toilet paper holder and towel racks. If you are lucky you may also find some black and yellow towels. If you can't find it you can buy either colour in a solid piece and sew some trim on each of ends of the towel in the colour opposite to the towel colour. You can also try framing your mirror in black. Shower curtains can be in either colour, you will know which colour as you progress. It is hard to give a lot of advice without knowing the look of the rest of the bathroom Hope it goes well for you and would love to see updated pics. Thanks for posting :)

a nice soft gray with a fine sparkle dust added to it,then use the plastic bag dipping method with a satin or gloss black,soft or high gloss ,then definitely finish it off with that ever popular perfect finishing touch...crown molding !!!!!

I agree with the grey paint also. They are showing a lot of yellow and grey accessories out there currently. A friend of mine has a fabric shower curtain that is white with grey and yellow designs from Westelm.com

Since this black is up on the wall and will not get a lot of wear, it is a perfect spot to paint the tile. I would paint the tile white and go with yellow and white theme. Or you can cover the tile by putting a wider board down over it which is connected to a shelf...all painted white. This would be an offset "T" with the offset being just enough to cover the black. Then add fancy molding to dress it up. This would also add storage. And in convenient places, make the shelf area deeper to hold baskets, etc. Only the limit of your imagination limits your possibilities!

Gray may seem a little boring, but you can play up what you have. It's a very contemporary color combo. Put down a fun patterned or chevon rug, and paint or find a fun piece of art, using the same colors. I purposely used these colors in my living room and painted a couple of simple tulip paintings myself to help tie everything together. If you don't feel comfortable painting, find a fabric you like and frame that. A few mustard colored accents in the form of a lotion dispenser, trash can, etc., and I think you'll love your space!

@Leslie D I love your art work. You are one talented painter! Love the 3D effect you have given the art :) Will have to try my hand at this - is the technique posted anywhre?

Thanks, Gail. I didn't take pics as I did the paintings. I used oil paints, which are very smooth and easy to work and just troweled on the background colors with a 3" plastic drywall spackle knife in a cross-hatch pattern, adding just a little black and white as I went to graduate the colors to the edge. I used full-bodied oil paint and blobbed on the flowers right out of the tube, added a few more highlights to the flowers, sort of "denting" the center to make them into tulips, then painted the stems. It took them about 4 weeks to dry because the paint was so thick. Once they were dry, I found a brush-on very fine silver and gold shimmer powder at the art supply store and lightly added some glimmer to them.

Very good point that your post brought to mind, William. When we did our gray walls, it was amazing how different all the shades of gray were. There are blue-grays, green-grays, and red-grays, and it makes a huge difference in how the tone of the gray looks against your existing colors. We found that with the mustard/yellow color, that the green-gray worked best, but pick up several paint chips, or sample size containers of gray and try them. Sometimes, the other colors in the room will make what you think is gray look purple, blue or green.

@Lisa Van Wyk Borzi leave the bottom alone, that can be made to be very pretty. I would take that mustard yellow/gold color in the bottom back ground, and match it up to paint and paint the top that color. And go with the colors of gold, black and white for there. using a pattern in the art and rugs of the same colors. I think those colors are pretty.

They have folks who come to your house and enamel coat (resurface) the tiles with any color you like. I'd invest there first and then paint the walls anything I liked. I had a tub redone and it was marvelous to see the absolute clean, shiny look the bathroom had again. PS - you could coat the yellow with white and even leave the black ones alone.

I think the grey would look sharp... so many modern vibe shades of that color right now... I'm guessing its a late 1940's early 50's....our area is all like that..I have the mint green! neighbors black and mint, another is maroon........depending on what else you have in there..

In my daughter's bathroom in one of her house renting days she had yellow tiles that looked very much like this. I painted the black tiles white to match woodwork, then did a faux denim blue paint using glaze and a fine comb. It looked amazing!

I would paint the tiles white, shiny white. Unless you love the yellow, which is fine, but you will be stuck with it and decorating around it for the rest of your life in that house. I have painted many tiles and always with great success. Right now for instance I have the white tiles, black wallpaper above and have used tourquoise as an accent. I have white fixtures so the black is almost an scent, but with very little work, I can change the look with red towels or silver or light blue etc. It seems the older I get, the less patience I have to "deal" with it, I just change it. :)

Seek assistance in the paint department at Lowe's for proper paint to use on the tiles, but it can be done. I agree, gloss white would be gorgeous. Add color with your linens.

I know adding enamel over tiles is an idea but the expense may be more than you want to spend. If so, you want to try to make the tile look deliberate in your design and not like something you want to hide. Therefore, you can use the color to your advantage. Take a picture of the tile and print it out, make note if the print comes out darker or lighter. Take the print to the paint store and match it, as close as possible. Once, you find the color on a sample card go down the color scale maybe next to the bottom or bottom color. You can accent with complimentary colors in your shower curtain and pictures. Also, use touches of black in accessories. I hope this helps. I grew up with a pink and black bathroom, I understand,

First, thank your lucky stars you did not inherit the pink or mint green of the area. The yellow/black is actually quite awesome. Make it work for you. Instead of just painting your walls, why not stencil them in a bold geometric balck or charcoal on top of your white. If you haven't done stenciling, it is not difficult, only time consuming but so worth it. You can buy large stencils at Hobby Lobby for about $10 with their 40% coupon. If you do decide to stencil, by two stencils. One for the large areas and one to cut into smaller sections for partial and small areas. Then use black/white/gray accents--towels, picture frames, etc. Add a low light green plant-even a small one on the counter.. If your vanity is paint grade material, paint it a dark charcoal. Your yellow/black tile becomes the standout pop of color in a statement making bath.

I would agree with Debi53 - stencils would be the least expensive way to go. Instead of painting the tiles, I would "go with the flow". Additionally, there are are many nice wallpaper prints or even fabric that could be a style or thematic solution - maybe only do one wall. Take a walk thru a sampler book or a fabric store for inspiration. I've put up fabric as wallpaper in a bathroom, sealed it & it lasted for many years & really easy to strip off.

I love vintage tile - just ask Nicole Curtis...lol - I would wallpaper or paint to accent the tiles and not cover them. We had an older house in the Chicago area with the 50's teal tile - I wallpapered, added towels and accessories and loved it for years

I inherited pink plastic tile when we moved into this house. I do not like pink and couldn't afford to replace it. I gave the tile a light sanding, primed it with Kilz, and painted it with a gloss bright white paint, except for the top two rows. The top was painted in gloss black, and on the second row, I alternated white and black. On the top wall with no tile, I painted the bright white again. Trimmed out with chrome accessories/fixtures, it looks like an art deco bathroom. It still looks good ten years later.

Just go with it...it can look awesome...very retro! Paint the walls a much lighter version of the yellow tiles. Decorate with black and white pictures, accessories and maybe a vase with some yellow flowers or a large picture with black, white and gold/yellow colors and some coordinating accessories. Play around with it...it can be striking! PREV
NEXT