Window opening between kitchen/living room
Looking for ideas of how to decorate or options to update or change this opening that is over sink. It looks into the living room. We are redoing the countertops with spreadstone and general finish Java for the cabinets and looking for ideas to modernize this opening...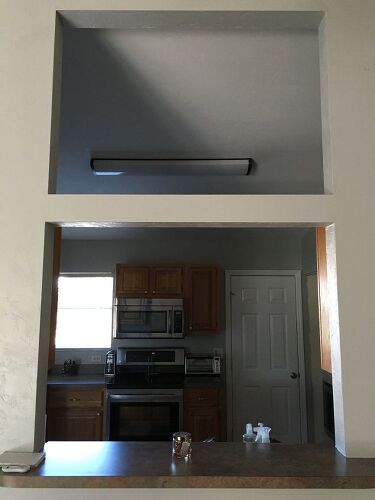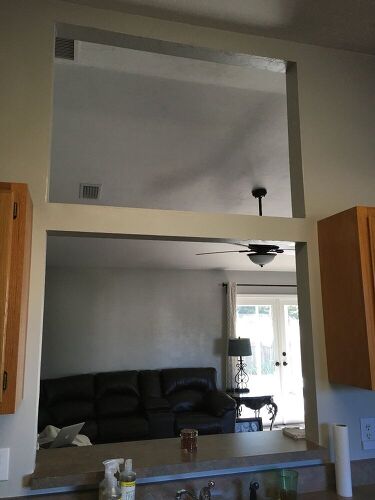 I'm not sure if you mean both parts or just the top. Top: reeded or frosted glass panel, or glass shelves with glassware: martini/ wine glasses/bottles or mercury glass (more for display), you could then turn the bottom into a bar set up.

On the expensive side (unless a friend works with glass) is a stained glass piece for the top. Or perhaps some of the metal decor for garden walls in your local hardware store could be retrofitted in. If your husband does woodwork he could carve a design for there. There are also some places that make decorative lattice. You could also take a decorative carved rubber door mat, paint and place. Take a look at some boards and keep an open mind.

Ironwork or a metal piece of some sort. It looks like a big space that shouldn't be completely filled in. Something that would allow airflow and light to still move through it.

I love/appreciate the suggestions so far :) and never thought of having an iron or glass design in the top portion. That's an interesting idea...

After sitting here looking at it. I can see closing the top portion off. I just don't see how it would look good from the kitchen view closed off. It wouldn't give enough room for adding extra cabinets or anything like that.

I do not think it would be that big of a deal to remove the center piece? can still support the upper with bracing on each side?

You actually could add a row of cabinets above the ones you have. I don't know what your ceiling height is, but I have 12' ceilings, but in the kitchen I have a 1' soffit that lowers it to 11'. My cabinets extend to the ceiling. I'm short (5' 4") so I have to use a step stool to reach things at the very top so I store things I use less often up there to free up space in the lower cabinets. They sell the shorter cabinets like the ones that go over the refrigerator and you have the widths of your existing cabinets. If you can't find ones that match you could opt to gel stain them all the same color or paint them.

I think a piece of etched glass would look great as a transom. Find a design you like that goes with the style of your home, frame it in like a window. Would still let light in both rooms. A friend did that in her new home using clusters of grapes. Looks stunning.

You could take out the center piece and put in boxed lights, two or three hanging lights or track lights.

Take out the center piece, if its not weight bearing. And add some swinging doors ,louver ones or sliding in wall ones of your choice.

Or you could bridge between the cabinets with a shelf and put a big beautiful floral arrangement in the opening. Add moulding concealed strip lighting and use the entire area for display.

If you can take the beam out, do that. If you can't I would hang a spring loaded curtain rod and then hang seasonal ornaments from it. Hearts for Valentines, bunnies and eggs for Easter. It could be simple or it could be complicated. It would also never get boring because you'd have fun switching it around! Good Luck

If you can't take the beam out try a large cutout wall dividing panel in the the square hole. It would be nice visual.

To add flair to the opening perhaps using corbels in the corners or other trim work would add interest to an otherwise bland pass through. The idea of some frosted, etched or stained glass would be beautiful in the top opening.

I agree. A stained glass or etched glass window. You know, you could also find an old window and clean or replace the glass. Then you could paint your own painting on one side of it. You could find a picture to trace and then paint it. There is also a plastic type of system you can use. I think Plaid makes it. It has what looks like leading and you fill it in with the colors you choose. You can find it in Michael's or maybe Hobby Lobby (if you are not boycotting them--I am) and possibly Amazon. I used it in my old house on bay windows in my dinette because I wanted the light to come through. It is easy and you can trace it out before you apply to your window. Whatever you decide, good luck. It will be great!!!

Stained glass or etched glass sounds very good. You could also put floating shells in the top section and put blown glass geegaws on them.

Do you use the hatchway to pass things through? They were very common in some places/times between the kitchen and dining room to save people walking around with hot food. I've never seen anything like the upper hole, though.

My suggestion, seeing it as two holes in your wall, is to hire a professional drywall person to close up that top opening and make it a solid wall with the pass thru only on the bottom where it should be...it also shows your flourescent light thru that top opening which seems awkward to view this from your living room...

Hello again! I just left a comment above, but in looking at your view into the living room from the sink, I see you have liquid dish bottles that can be seen from your living room...I have another suggestion, have you considered closing up both of those large holes to make your kitchen separate from the living room? I see there are two cabinets, one on either side of your sink and bottom hole, what would be a really nice classy look would be to connect those two cabinets with open shelving, your choice how many, and stain or paint to match cabinets or wall...this way you will be doing the dishes, kitchen chores without having anyone in the living room seeing you, and you will gain more storage space over your sink area, or just display some nice decorative plates, or anything you choose! All of this is just some alternative ideas for your consideration as opposed to just focusing on the one hole on top! Think about this....it will look great! Best of Luck!! PREV
NEXT