Do you enjoy outdoor fireplaces to extend your patio spaces to cooler times of the year?
I enjoy being able to use our outdoor patio and garden more than the few comfortable months, it is hard to cool it down in the summer but it can be as easy as adding an outdoor fireplace or fire pit to extend the comfort into the fall and earlier in the spring. This fireplace was on a penthouse roof terrace and made the patio usable almost all year long. We designed it and had it built of stainless steel. The design with the hollow backing causes air to heat and warm air to be expelled through the vents at the top so you do not have to be right at the fireplace to feel the warmth.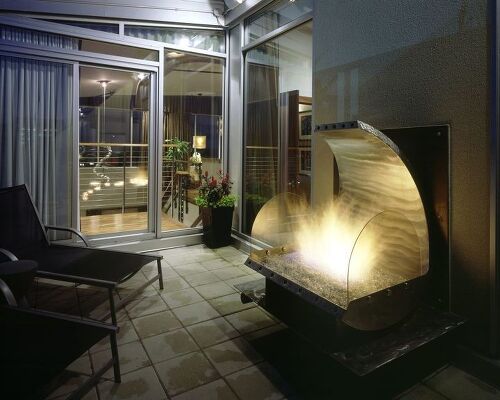 To me a fireplace needs to have real burning logs...Pinon...is one of my favorites...but in urban and air quality sensitive areas the gas may get the job done to

I am a big fan of outdoor fireplaces. Have to agree with KMS though, real wood fire is the best to me.

well when you live in a condo bringing in real wood is a bit of a chore and getting rid of ashes is a hassle. This is a roof terrace on a penthouse apartment so gas is the only way to go.

If I lived in CO like KMS I would adore a REAL outdoor fireplace with REAL real burning logs. That would feel cozy and nice and I would want one. But I live in Florida so I would rather spend money on a koi pond or a pool that I can enjoy most months of the year.

This looks great. I think an outdoor fireplace can make space so much more user friendly like you said Pedini. This took a space the client used almost never to a place that can be used almost year round. Also being a roof terrace job the gas was a good choice.

Yes! And your solution here is so beautiful, creative and functional! Sounds like this is the perfect solution for this client and site. I have many clients with modern homes that would love this style. Every site and client is unique and that's why I'm always looking for the design solution that works for each unique situation. Thanks for the inspiration. PREV
NEXT