Need Ideas for Kitchen Space Under Cabinet
Need some ideas for this empty space under this cabinet. I was wanting to save on the back splash material by not using it here. I will be using it from countertop to ceiling to the left of this cabinet and of course under the rest of the cabinets. Any ideas?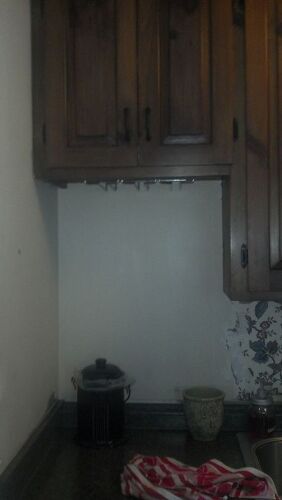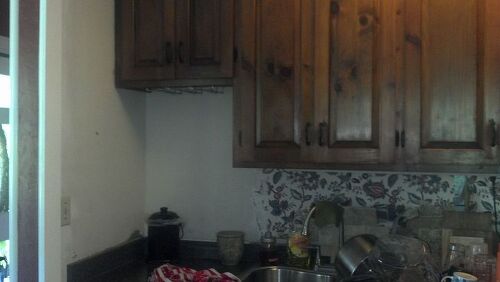 Is the space next to the sink? I am not sure if you have seen my cabinets that I redid, and in the middle I used #Krylon chalk board and magnetic paint in the centers of each. I have those next to my sink and I find it handy. You could paint one of the walls with the chalk board paint and hang some fun hooks or a cute DIY project, or I have in my office three clip boards on my wall that I had my girls decorate. I use them instead of the fridge to display artwork.

Great idea, yes this is next to the sink. I have not seen your cabinets so I will go to your site and take a look. Thank you

You could use cork (like a message board, photo holder, for pinning recipes, etc). I don't know if this area is ideal for knives or a spice rack? Coffee station or baking centre?

thanks Shelley. cork and message board is a good idea. Wrong side of kitchen for spice rack or knives.

why not add a built in shelf here? You could use it for displaying pretty dishes or anything, really:)

I would go with open shelving and use it for cook books or anything for that matter. I also like the chalk board paint idea. So many ideas to choose from. Lets us know what you end up doing here.

Appliances such as microwaves can be hungunderneath cabinets to save counter space. You can also create an illusion ofspace with under cabinet lighting or under the counter. I think with the propertype of lighting the kitchen can be made to appear larger and more pleasing.

Under the cabinet I would install a wine glass rack made of either wood or metal and underneath those attached to the wall a wine bottle holder. These items can be found anywhere at a good price. Even thrift stores...

Put in a plate rack! I drilled holes @ half way through a shelving board ( already painted at Lowes) @ 1 1/2 inches apart, the same to the underside of existing cabinet, and bought regular dowels painted and cut to size and walla! I love my plate rack! It looks great too

I like @Joe Romero idea of a small microwave location. We used to have a large one that lived on the counter (in a corner) it was an average sized unit. When it died I ended up getting a much smaller unit and built a custom hanging shelf. Freeing up the counter space was one of the best things ever. we only rarely use the microwave any way...heat up some milk for hot cocco are defrost some freezer item now and then. It looks like the space has some of those inverted wine glass racks installed...If you are wire drinkers you could retain those. The space in question is only about 2 sq feet or so...so even at $10 a sq foot your looking at an added $20. Not really that much considering the overall amount you need for the rest of the kitchen.

I agree that is a great space for a microwave but if that isn't needed I like the idea of a shelf, for cookbooks!

An idea that I used in my kitchen (my sink is on an inside wall to keep the pipes from freezing) was to put up a painted "window with a view". I put family pictures or pictures of the outside with the animals and birds in each of four panes. Install a light under the top cabinet and it looks like sunshine!

try painting a back splash and covering with glass or a chevron pattern and making sure the paint in mildew and water resistant acrylic paint and save on cost. of tiles

In the picture the corner looks a little dark. If you put shelves on the wall or wine rack/glass rack. put a mirror between the shelf and the ceiling to add light to the corner and even a small decorative light might work. note: If you put the mirrors lower they would be a continuous cleaning job.

It's perfect for frequently used cookbooks! I love books on cooking, homemaking, decorating, gardening, etc. I'm always looking for places to put them. All you have to do it put in a shelf. PREV
NEXT