I have this thing growing up through an azelia. I know it has to go, but (esp. @Walter Reeves) what IS it? Anybody?
It looks kind of like a holly of some sort, but the leaves are more broad than any holly I've seen! Also, if you know what it is, just what are those berries going to do? Flower? Change color? Stain my clothes?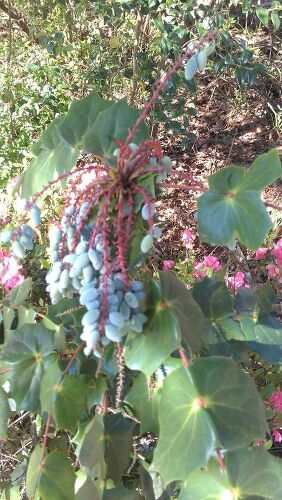 Jason, Both Margaret and Deborah have it right! That's a Mahonia! They are pretty common plant here in GA. The berries will just fall off when they are ready to fall. It will flower a yellow bloom and to my knowledge i don't think the berries will stain unless they are crushed I am assuming. Hope this helps!

I have one of those too. I don't know much about it. But, the flowers were there, then turn into berries. It grows long, yellow strands of small flowers that bloom late winter/early spring, add a nice color when most is still brown. But, mine is intruding on a well established rosemary bush which I prefer to keep. I look forward to hearing what others have to say about it, both good or bad.

Some consider this to be a noxious weed as it is spread by birds eating the seeds. There are some really beautiful cultivars with very bright fragrant blooms.

Thanks, everyone! Margaret was quick on the draw, but the information from Cultivators Design is very helpful. Even though it likely won't persist in my yard, I prefer a thorough understanding of what I'm keeping and what I'm eliminating before I take action!

My grandad has 10 or more of these they are pretty and easy to care for, the berries just fall off and songbirds seem to love landing on this plant as it gets larger.

Mahonia. You should move it to a place where you don't have to brush by it. It has very fierce stickers, but the smell of the flowers is heavenly.

It is a leatherleaf mahonia. I think they're just beautiful. They grow really large, and have sharp points on the leaves like holly. I wish I could come dig it up for you. I'd bring it home with me. I love them.

Okay, okay! After enough of you have gushed over the beautiful mahonia, I'm not sure I'm just going to kill it off. Maybe there's a corner of the yard that could use a new plant. If anyone is in the Smyrna, Powder Springs, Marietta area and would like it for themselves, let me know. Also good to know: when is the best time for a transplant??? Keep in mind that digging this out will stress the mahonia and the intertwined azelia that I'm trying to keep!!!!

Good question Jason! With all of these answers I still can't decide what to do about mine hovering over my rosemary...and the Mahonia is about 6ft tall. Would it be easier to move the rosemary, which is about 3x3ft?

Sometimes you just have to choose between damaging one desirable plant over another less desirable one. Even though many of us love Mahonia....its not a rare plant and would not be a great loss to just cut it down. If the azalea is the plant you want most, then protect it. Or...you can very carefully cut it out below the soil line...getting a few roots and pot it up until it can be given to someone or safely transplanted with healthy roots. Same with your Rosemary, Caitlin.

Thanks, Beth! I'm goint to see how badly intertwined the roots are and then try your potting suggestion. If it survives my horrible gardening skills, I know I'll find a place for it!

Oregon grape is not only decorative, but useful. the berries can be picked for jelly. The variety growing in our area is hardy to Z3

This is an Oregon Gold Grape Holly. Wonderful Plants and quiet expensive. The need morning sun with shade in the hot afternoons. I had this plant and loved it! PREV
NEXT