How do you get rid of nut grass permanently?
We have a problem with nut grass. (My mother bought dirt from a nursery and it was in the dirt) We pull it and its back in back in a week. She has used Roundup and it doesnt work. She bought a " nutgrass killer selective herbicide" by a company called Monterey this also had no effect. As you can see from pics below.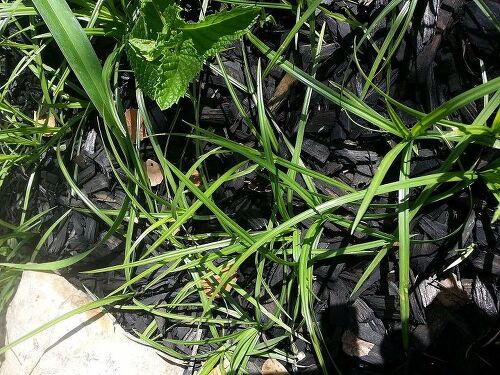 Hi Kathy! I'd let the "Nursery" know as well. They may give you a 'deal' on something else when you need it.

I'll try to use the vinegar but there are lots of other plants around so I'll try in a limited area Thank you. I did let the nursery know as soon as I figured out it was the only place it could have come from. Unfortunately they denied it could have possibly come from them and I no long purchase anything from them.

Ugh, this is THE hardest weed to get rid of in my book...best thing is to stay on top of pulling it up, making sure you get the root, bc it spreads BY root, and pull it up as soon as you can. its going to take a while to get rid of it all. Problem is by the time its big enough to pull it up, the roots have spread too. Its a tough battle. is it localized enough that you can try digging it up with a spade? We had this in our garden growing up and battled it constantly...good luck and that sux about the Nursery, very unprofessional!!!

I am not sure you can ever get rid of it. A few years ago the County put in new water meters. The grass they sowed was AWFUL! That was at least 12 years ago and I still find a piece of this now and then. I think it must blow over from the neighbors' yards because we have had sod replacing seeded grass at least 12 years!

We farm, and this is the hardest weed to control. Even in my garden, I too, pull and pull and pull. Stay on top of it and maybe you could slow it down with putting bender board around the area. It is the little nut on the end of the roots, thus the name "nut grass" which you need to get rid of. Once you pull it, burn it and be extremely careful where you put it because chances are, you will have nut grass where it lays. Birds are notorious for helping to spread this lovely noxious weed.

I've battled it too. My MIL sent me some plants from her garden including some "ornamental" grass. I took one look at it & said "That's Nut Grass! Take it to the burn pile & burn it!". Too late, it's been coming up in the spot where it laid ever since. Karen is right, you need to get the nut on the root as well as the weed & that can be hard to do. If it's not too close to other plants that you want you might try smothering it with black plastic & mulch.

Nutgrass is one of THE most difficult weeds to treat in the landscape. Here is a link to a two pronged attack that has proved effective in Goergia. http://www.ehow.com/how_6510287_kill-nut-grass-lawn.html Good luck!

The best way I have found to get rid of nut grass....is to soak the area really well...and slowly pull them up. If you pull slowly they won't break...and you'll get the roots and all. I have completely cleaned out a bed that was covered up in nut grass. There are some products on the market for nut grass only...but I didn't find them terrible effective.

Depending on how much room there is around the other plants, I would suggest putting black garbage bags over the nut grass. The heat and lack of light should kill anything under the plastic. I use this method to kill of any grass when I'm building new flowers beds and it kills of everything.

My grandfather, who was a farmer, said the only way to get rid of nutgrass is to MOVE! We have a really good crop of it every year, sorry to say....

Heather is on the right track but I'd suggest pulling the nut grass before putting down the plastic then covering it with a layer of mulch. The lack of water & light will kill most any plant.

Is Nut Grass the same as Nut Sedge? If so, my understanding is that they thrive on water (especially over-watering) and it grows like crazy by my pond. If yours is in an area where you can let it really dry out for a long time, that might do the trick. Good luck!

I too battle this grass and found the best practice is to use a spade and run it deep enough to pull out the entire root. If you pull on it and just the grass comes up I found that it will multiply on you. I don't cover anything in black plastic anymore as I had a new invasive weed that thrives under the plastic and the roots ran deep. So now I have a regular hand weeding program that works well for the plant and for the exercise.

When I had it I had to pull it all out and use round-up on the area. You can plant 2 weeks after round-up is used.

About 15 years ago, I had the same problem from a dirt yard. They also claimed no responsibility. I tried all of the above and nothing got rid of it. In the "off" season, I dug up the whole bed about a foot deep when it was soft and sifted all the stupid dirt and re-planted my dormant plants. It was back breaking work, but I was so mad it made it a little easier! The sifting got rid of the nuts and the roots (and many other weeds) so my bed was finally free of it. The down side was that it stirred up other dormant seeds that took a season or two to get rid of, but in the long run, it was worth it! Good luck!

I am convinced that if we could find a good use for it - Nutgrass tea, Nutgrass mats, Nutgrass salad, It would be suddenly scarse. I keep working on this concept but keep pulling and digging out the 'nut'. Wet ground is easiest. Good luck Kathy.

I can tell you what doesn't work...I have it around my rose garden. News paper and mulch does not work. I saw it on Pintrest and tried it. Weeds still came through, especially the nut grass. I tried the weed killer designed for it and was not impressed. I think I may let it grow then just keep it trimmed...you know, if you can' t beat it...etc IF anyone has a suggestion that would work I'd appreciate hearing the miracle cure for nut grass.

I do landscaping and have had some success using the chemical "Image". It is somewhat selective, but must be used while the nut grass is actively growing before the leaves harden off. It is absorbed better through new growth and sometimes takes 2 treatments. Pulling has little effect unless you are extremely vigilant and roundup only kills the top. Comes back quickly from the nut.

Dale B. Tyler TX thank you for your comment, but we are wondering where we could purchase the Chemical "Image"?

Kathy, I have seen IMAGE at my local Lowe's Home Improvement store here in Texas. Do you have them in CA?

I also had this "turn up" last year in my back garden. Is there really a "nut" that this grows from? What does it look like? I weeded and weeded last year and saw nothing but roots. I don't know where it came from, but I'm blaming my husband as he has horses and I think it must have been in some hay or straw! The pasture is upwind from the back garden and I'm always getting odd weeds because the wind blows the seeds down into the garden. PREV
NEXT