I have this item in my storage and i thought i can use it for something...Can anyone give me an idea what to do with it or hoe to make it look better ? Ideas will be appreciated....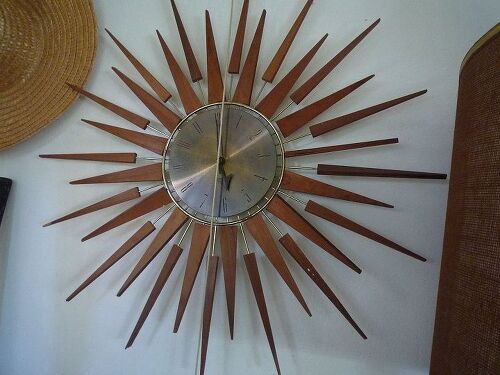 I think it is pretty funky! Do you have something like a small buffet table that you could hang it above? I would definitly use it in my home.

I would like to use it in my home but i need to make it look better, repaint maybe ? and do something with the center...

Lita you can get a box of round mirrors at Target for around 25.00 I think there are 6 mirrors in the box all different sizes, one should fit in the middle where your clock is. I actually like it as the wood but you could paint it to go w/your decor!

I would paint the whole thing with Krylon looking glass paint http://www.amazon.com/Krylon-K09033000-Looking-Mirror-Like-Aerosol/dp/B003971BAY/ref=sr_1_1?ie=UTF8&qid=1370560225&sr=8-1&keywords=krylon+looking+glass+paint then paint the hands shiny jet black (or replace them if possible) and add some nice rub-on numbers... it would be like a shiny star hanging on the wall

Lita, you can put it in a box and mail it to me. Seriously! I love that clock just as it is. That being said, if you really want a mirror you should carefully remove the hands and then clock mechanism and then head to your local Hobby Lobby (I checked and you do have one) and buy a round craft mirror to fit. They have them on sale quite often or you can go to their web page and get a 40% off coupon. Though they are very reasonably priced every day. http://shop.hobbylobby.com/search/?keyword=craft%20mirror&perpage=12&match=AND&F_Sort=2

I would paint it white and put a round mirror where the clock is and little mirrors at the end of each point...I would love to find something like this!

It would be adorable to paint a yellow and create a sun or ice blue and create a star and put it in a child's room for decoration purposes.

THANK YOU for all your inputs ...you have given me lots of ideas . I will come up with something to make it more presentable. What kind of pain should use, flat or shiny?

I would remove the clock's hands and spray paint it a color you would like to pick up in your room or go with a black or bronze, shiny or flat which ever you prefer.

Much as I like some of these ideas, I agree with DTA. Many folks would pay for this 50's 60's clock just the way it is. It's a classic.

I'm in total agreement with Victoria. Spray painting or removing parts isn't a good idea. Check on etsy, people pay hundreds of $$ for a sunburst clock. I'd probably pay that much myself :-)

If you're going to alter (and it is super cool right now) why not go the ceiling medallion route by removing the clock face? Ceilings need love too....walls get all the attention. ;)

Depending on your family I would put a picture of your parents/grandparents in the middle, then on the outside points add smaller pictures of the family. Thus making a "family circle" with room to add more as needed.

-Living in Palm Springs CA (arguably the Mid-Century capitol of the U.S.!), I fully appreciate and totally agree with the comments to not destroy this lovely piece by altering it. This is DEFINITELY e-bay marketable. Then you can take the $$ you get and run over to Hobby Lobby or Michaels for all the supplies you would need for a few new crafts.

this is a clock similar to yours is you do anything to it you ruin its value this 1 is priced at $500 http://www.ebay.com/itm/Vintage-Mid-Century-Eames-Era-Atomic-SETH-THOMAS-TEAK-SUNBURST-STARBURST-CLOCK-/370804650269?pt=Antiques_Decorative_Arts&hash=item5655adf11d

I would go with what April has said. The link she provided for you on ebay is the exact same clock. I would sell the clock for big bucks, and then use the money to buy something similar in shape or another item. Wow you could buy so many things after the sale of your clock. Retro is in big time.

Thank you @Aprilfor finding that. When I saw @Lita had asked what kind of paint to use, I was ready to search when I saw your link. PLEASE Lita, rethink what you'll do. Sell it and buy some items to make a similar mirror or leave it as it. You have something of value there.

Remove the clock, paint each section a different hue, use as a door or wall wreath, or lay flat on a table as a centerpiece or stick a large candle in the middle. Even a plant in the center or silk flowers or ceramic cherub would work!

I agree with the others who said not to change this clock and just sell it and go buy yourself something nice.But if I did want to do something with it, I see a very cool chandelier in the making.Think how great the light would look shining through the rays.The area where the clock is currently at would be facing the floor.I'm not quite sure how to do the actual lighting part of it but I would check with a lighting company and see what I could come up with.But of course that is only if you choose not to sell it.Let us know what you decide to do.:)

Wow, it's so cool-please post it to me, I love it just the way it is. I am in NZ but I will pay you the shipping costs no problem! crazyredhen@gmail.com

Hmm what about making it part of the centre piece for a coffee table with a glass top. at least you'll get your guests talking happy DIY ;D

Ballard designs is one of my favorite places. They have something similar to your clock! http://www.ballarddesigns.com/suzanne-kasler-sunburst-mirror-234/wall-decor/suzanne-kasler/15125?defattrib=&defattribvalue=&listIndex=5 What's so funny is I see so many people that re duplicate this. PREV
NEXT