What to do with triple dresser mirror sides?
I have refinished an oak dresser and decided to remove the side panels from the mirror. Any repurposing ideas?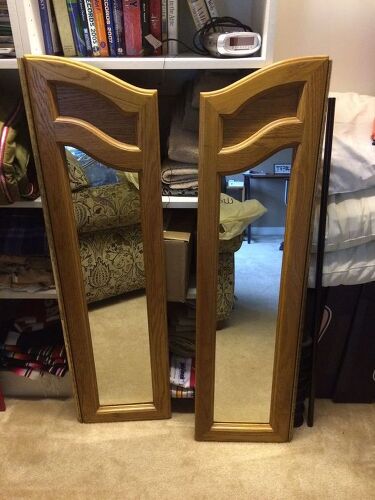 how about putting a big picture frame in the center and put these side panels sans mirrors to make a fireplace screen that would be decorative for summer. add what ever fancy's you to decorate it (fill in panels any way you wish.)

If you replaced or covered the mirrors with wood or something and put them with long sides together, I think it would make a cute "gnome house" door, like this one : http://www.hometalk.com/16042919/magical-garden-doors-for-fairies-hobbits-gnomes-and-more

We have a similar pair that we're planning on using in place of doors to cover the recess over the mantle and fireplace that holds a flat screen TV. We have a second pair that will be used as medicine cabinet doors when we remodel our small bathroom. I, personally, prefer to leave the mirrors in unless one is cracked or broken.

Kids Message/Chore/ Reminder Board Remove the mirrors & sand and paint the wood a nice off white. Lightly sand the painted finish when good and dry if you want an aged look In the small top section paint the background and add a child's name to each. Seal with Minwax satin sealer (water based). Return the mirrors into the frames; Now you have a great surface to write chores or events involving the child named at the top. Use a white board pen to write right on the glass.(Windex or alcohol will remove messages as needed). Hang the panels wherever the messages are best located for your kids. Hang them with your choice of edges touching. Use nice picture wire hangers and two nails each to hang so that they do not swing (only one nail and they will swing like a pendulum!) You could connect the 2 panels with small straight metal or wood braces so that they hang as one piece...use 2 nails again to prevent swinging when you hang them up, lol.

I'd use these in the bathroom on each side of your flat mirror. they would be made so that you could turn them toward the mirror so that you could see the back of your head while you are styling your hair. PREV
NEXT