Raised bed over chicken wire?
I have 2 dogs and a fence that is wire over rail and does not quite reach to the ground. we just bought this house but we will only be here for a couple of years so we don't want to put much money into it. I was thinking to keep the dogs from digging out I would bury chicken wire around the perimeter. I also thought that I could maybe put a raised garden bed over the chicken wire so it isn't so ugly, and plant pole beans, corn, sunflowers around the edge to hide the wire fence. Thoughts?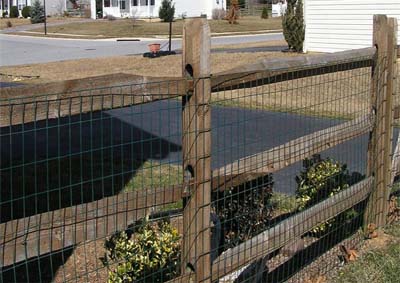 I too steered away from the wire for fear of injury. The concrete pavers I mentioned before could be set a couple inches below grade and then some bark mulch of other such cover could be used on top for "cosmetic concerns" .

Have you considered using some straw bales with plants in them? Check out my straw bale garden pics, and those others have posted here.

I know this sounds gross, but I have tried it and it works: pick up their poop (dried) and grind it up and spread it where you don't want them. They can't stand it on their paws.

What the picture shows looks like 2x4 welded wire probably galvanized or vinal coated. it wont hurt it to cover the bottom with dirt. land scape timbers or stake it down. Tension wire is another option.

Sherrie ...cinder blocks would really well as they would be hard to "dig up"...more work to install though.

Nail or lag bolt 2x6 Treated along the bottom., you can sink into gound a bit if needed. Then you can staple or use U-Nails to secure the fence to the back of the 2x6. The 2x6's can be cut so the joints line up on a post.

Yes you can plant raised beds atop the chicken wire. I recently built some raised garden beds and laid down some diamond mesh underneath. It's s normally used for plaster & concrete projects. It's comes 27"X96" , and only costs about $9, which I bought at Lowes. I used it to keep out burrowing animals. I poured the dirt right over it into the raised beds. Works like a charm. My veggies are doing very well. Sounds like you have a good idea. Hope this helps. PREV
NEXT