Mosquitoes love me. Last weekend I was eaten alive while doing yard
work, so today got smart and sprayed repellent all over before going out. BUT, since I often open the door to let my dogs in and out, it seems that the little monsters (the mosquitoes, not my dogs) feel free to fly into the house. Big ones I can see and swat, but there are often TINY ones hovering around that are sly enough to evade discovery. What's the best way to keep them out or to eliminate them once they get inside? The tiny ones bite just like the big ones do. :-(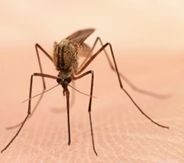 Make sure you're draining or emptying out any containers or clearing areas that hold standing water, which are mosquito breeding grounds. And the lemon grass is a great idea as well.

I keep a spray bottle with mouthwash in it at all times which I spray on my front porch, decks and around my doors. It hasn't totally eliminated them but has cut done on the bites we're all getting!

Does lemon grass need sun? Neither my front nor back door get much sun. I'll Google lemon grass and look into it. And TinaLouise, do you spray the mouthwash on the doors, decks, etc., or in the air in those areas?

I just looked up lemon grass and it takes a lot of sun. Any other ideas since I have very little sun around my entryways? Big bummer. :-(

Avon Skin So Soft Original Bath Oil, mix a little in water in a spray bottle, works GREAT! www.yourAvon.com/ddyar for yours today.

Use a fan inside or out to blow them away from the door. Its hard to kill the little boogers once they are in the house. They always seem to find your ear while your sleeping! lol

Dawn, I tried Skin So Soft yrs ago and it didn't work for me. And while it smells VERY nice, it was very oily and not suitable to wear 24/7. My repellent works just fine when I'm outside, but I want to keep the mosquitoes out of my house.

Do you have to buy pre-grown lemongrass, or can they be grown from seed? If so does anyone know if they grow fast? I tried citronella last year and it kind of worked, but the plants started to look unattractive in the deck planters I bought for them.

I saw this the other day on my fb feed. I thought it was interesting... http://www.peoplespharmacy.com/2013/06/13/joint-remedy-wards-off-fleas/

I use skin so soft works for me as far as oily it is quickly absorbed and I do not like the feel of repellent or that my body absorbs it.

The best defense from any bug or insect bite is B12, I take it every day since I use to feel like a human pin cushion, now I NEVER get one single bite and bees, yellow jackets etc. don't bother me. I've tried the messy Skin so Soft and all types of repellents only to still get bit, the B12 really works, all my friends and family are believers and use it too.

Wow! I didn't know that about B12. I'm supposed to be taking that any way. One more reason I should. Thanks.

Roxann, I've used high doses of B12 for a few years. The mosquitoes must not see it on my shelf because it hasn't deterred them on bit (or, one bite). :-)

Louise I'm sorry it doesn't work against those Georgian mosquitos, it sure works in Seattle area. I know that me, my family and friends swear by it. A few ladies I know were having issues getting bitten up on the golf course and now they are bite free due to B12....

Maybe I'm just so tasty they can't resist me!! I get teeny tiny ones in the house and they bite. Medium, large -- no matter what size, I'm a delectable meal. :-(

I have been on B12 for months now, but the little buggers still bite me. I have been using Off skintastic and it seems to help alot, plus it doesn't leave an oily feel on your skin.

I don't like oily bug spray either but will spray the new deep woods off "Dry" works well. Also I plant geraniums around doors. It is what they used over in Italy or Rome I've read and keep the door open no screens.

I've learned to spray myself with commercial mosquito repellent when I go outside for more than a minute or so, but they also come in my house and attack me. I want to find a way to avoid that.

My bug spray I use is really Listerine (the golden one). I fill a spray bottle with it and then when I am weeding or mowing or working outside, I spray myself with it. It evaporates quickly and the scent of it keeps the mosquitos away. I don't mind smelling like mouthwash. It fades and its better than using DEET on your skin.

Hmmm. I'll try it when my Deet spray is gone. I'm also going to make some of those homemade mosquito traps from soda bottles that I've seen online. I don't drink soda, so am asking neighbors if they'll save theirs for me.

When we traveled abroad, we stayed at a friends house in an old part of Seoul. The windows did not have screens and we often left them open at night for a nice breeze. The mosquitoes came in with the breeze. Our friend popped a mosquito coil on the sill and voila, not a singe mosquito to bother us.

@Louise mosquito coil Here's a link to some coils. There are certain things to consider, just as you would with citronella candles, since it is something that you burn. You wouldn't want to burn them inside either. I'd recommend placing them just outside the open window, on a metal tray of some sort. This will ensure the area around your window is mosquito free. They are not for everyone though, and may not work for you.

Thanks. After seeing your message about the coil, I looked them up and see there are many of them. I'd really like something to use in the house, too, since some drift inside -- mainly tiny ones. And since, when I'm outside, I'm not in one area, I'm not sure if the coil would do the job I need. I guess I'm going to hope for a very early winter --- not that we really have much of a winter anymore :-( . Maybe THAT will knock out the little suckers. :-)

Fantastic suggestions none of which I knew and will try- but my major problem is flies!! Whenever my husband knows a fly is in the house- he simply waits near where I am and sure enough- it will come directly to me- I HATE FLIES We too have dogs in and out and resulting flies- gonna try!!

*Maybe this willwork Louise. I have not tried it. I do like using natural ingredients ratherthan chemicals on my skin. Super StrongInsect Repellent Recipe Fair warning: thisstuff stinks when it is wet, though the smell disappears as it dries. It worksincredibly well though, and this is the one I use when I'm going to be in thewoods or in tick infested areas. It is based on a recipe that was supposedly usedby thieves during the Black Plague to keep from getting sick. They used itinternally and externally to avoid catching the disease and to keep the fliesand other pests away. According to legend, it worked and they survived… but itdefinitely makes a great insect repellent these days! Its also very inexpensiveto make and you probably already have the ingredients in your kitchen! Vinegar of theFour Thieves Insect Repellent Ingredients: 1 32 ounce bottleof Apple Cider Vinegar 2 TBSP each ofdried Sage, Rosemary, Lavender, Thyme and Mint At least quartsize glass jar with airtight lid How to Make theVinegar of the Four Thieves Insect Repellent: Put the vinegarand dried herbs into large glass jar. Seal tightly andstore on counter or place you will see it daily. Shake well each day for 2-3weeks. After 2-3 weeks,strain the herbs out and store in spray bottles or tincture bottles, preferablyin fridge. To use on skin,dilute to half with water in a spray bottle and use as needed. Use whenever youneed serious bug control! Source:wellnessmama.com

Unbelievable but I buy on internet as it is not in our stores here. Made in Iowa City area called Bug Soother. At first I didn't believe it could work as there is no Deet, oily or any kind of residue, just a pleasant smell on your clothes, can be sprayed anywhere on body and clothes. Works 100%. Now I can garden in the evenings bugs are no longer a nuisance. Safe for kids too. . No other bug spray can be this good.. Works well on gnats too. PREV
NEXT