Gardening: What Kind of Tree is This??
This tree is located in Utah. It was in bloom only a short time. I was there a week and it was in full bloom until my last day. One day it looked beautiful then after a windy day and night, all the blooms had gone by. The blooms are in clusters. Each one looks like a little orchid. The Leave are very large heart shaped.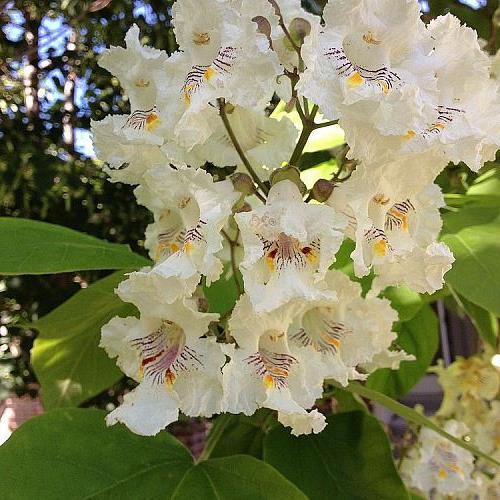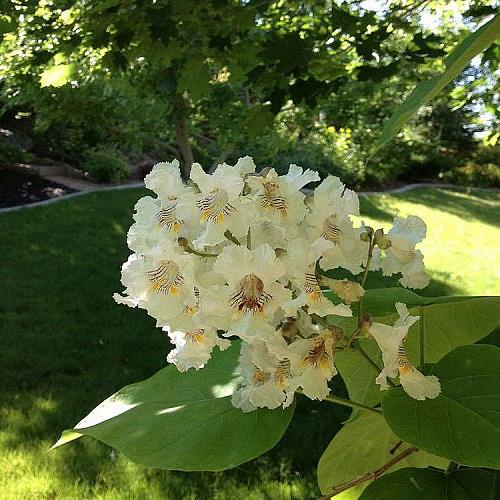 Linda, I believe your timing was right for discovering the beauty of the catalpa (Catalpa speciosa).

I believe it is also called a patagua tree. The one that was in our back yard when I was young had long bean shaped seed pods that came on after the blooms. It is a beautiful tree!!.

Its a catalpa tree and the best thing about this tree other than the blooms is if there ever are any worms on it , they make the best fishing bait , called Catalpa worms . Only a certain kind find this tree , not sure how or why . We have these in abundance here in the South

I was just gonna say,the catalpa we see has worms that fish LOVE! (great minds think alike,maybe cuz it's 2 Sharon's ?)

The catalpa tree is right. They are beautiful when they bloom. My kid and I make flower people with the blooms, toothpicks and buds. So fun!

Another bonus of a catalpa tree is that it attracts the cuckoo bird, who likes the worms it attracts. I think they are tent caterpillars.

Warning! I had a mature one in front of my house. Do yourself a favor and plant something else. Catalpas are the tree equivalent of kudzu. They grow super fast and have to be trimmed every year. Those pretty flowers are an unbelievable pain to clean up after, as are the pods that follow, and the giant leaves that follow the pods. Their roots rapidly destroy sidewalks, and their giant branches have a disconcerting habit of breaking off and falling on your roof in a storm. The city of San Jose, CA which has a ridiculously protective tree ordinance, actually gives homeowners incentives to remove them.

Yes; I have to agree with Doug, it is a Catalpa Tree I have a few in my yard; I love it when the bloom fall off it looks like it snowed under the tree; but the blooms do not smell good to me they smell like hominy! PREV
NEXT