I found this gem on craigslist and would love all of your help in refinishing it! What would you do? I would like to turn it into a coffee table. suggestions? comments?! Thanks!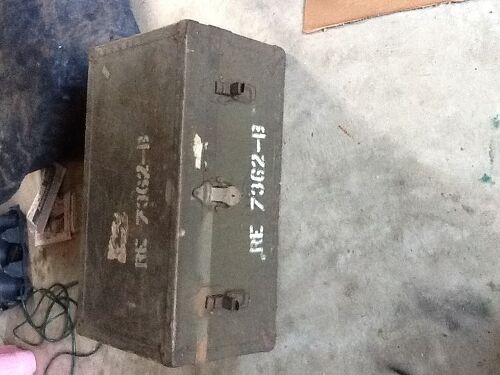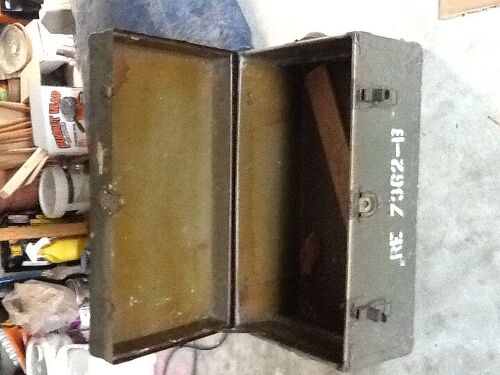 Short legs and a glass top so you can put pictures or fabric under the glass depending on the season.

If you can Just clean it deodorize with an open bowl of vinegar inside. I did this one two days ago..love it. If you need a different color or look use chalk paint and try and save the stenciling by taping over or even using vaseline to keep paint from sticking to it..that is if it is your style. I personally love the old look as is but I paint most everything to look this way :) Here is the link to my how to but I think your trunk is taller so you might want to go with 4 inch legs depending on what you want. :) http://shabbypaints.com/suitcase-coffee-table/ What a great find..can't wait to see your after. ..Shannon

Old Naval Trunk

Where would i find legs for it? Also! how do i clean the outside? I've been using a copper scrub thing, no soap, to clean off the edges, which are brass. But what else can i use? i love the pictures above! Thanks, everyone, for your ideas!! Keep them coming!!

I got the legs at Lowes. They are about 7.00 each and then the brackets are under 2.00 each. Make sure you get the straight ones. My trunk was falling apart and flaky, yours looks like solid wood or particle board? If so try a vinegar water mixture. I sealed mine with VAX(wax varnish type sealer) so no more would flake off. I left my edges aged looking. If you want the edges back to brass try a brass cleaner...here are few options: http://www.mnn.com/your-home/at-home/stories/how-to-clean-brass-naturally Tag me when you share :)

That's an awesome chest! Another idea for legs would be curtain rod finials as shown in the photo below of a project of mine. I bought them at Ls unfinished for about half of what legs would cost. I'd use Brasso, to polish the metal parts whether they are brass or not. They look more like nickel in the photos. As for the rest what about trying Dawn dish soap?

Oh Shabby..I've been wanting to try the Vax...Do you know if there is anyone near me to get it from?

If you wanted to go for a more industrial look, you could put casters on the bottom instead of legs. That's a cool look, too.

Fabulous trunk! I saw a trunk with old doorknobs for legs. Also saw a trunk with a stand made of old pallets and reclaimed wood. The trunk just sat in the stand so that the trunk doesn't need to be drilled into so it can maintain its original integrity.

Years ago(Try 70"s) I painted a trunk like this White. Trim in gold, and then at that time, I found a spray paint that looks marbleing, (webbing) and I found in in a auto parts store.Now they have the Krylon that comes in Black. White, Silver and Gold and other colors,that looks like marbleing . I used the spray webbing on top, and the trunk came out beautiful. This technique is making a come back!

Webbing Spray Wisps of color spray on fast and easy to recreate the elegant look of marble. •Permanent, textured finish - even on fabric •Fun and easy to use •Apply over a contrasting color for more impact •Acid-free Dry to touch: •5 minutes Dry to handle: •1 hour For use on • Wood, Metal, Glass, Plaster, Ceramic, Paper Mache, Plastic, Craft Foam, Fabric - See more at: http://www.krylon.com/products/webbing-spray/#sthash.d5Uv1Cci.dpuf

This is a counter top done with webbing.(Not mine) Just wanted to give you an idea of the possibilities. This was done on the Hometalk website.

How about drilling a few holes in the bottom, filling it with potting soil and planting flowers in it? The open top will add interest to the arrangement. Coleus and dragon wing begonias would be gorgeous and could take sun or shade. Because it looks like military issue, you could also add an American flag. (Obviously, this isn't a coffee table solution--sorry!)

I think it is awesome the way it is. I would clean and disinfect. Then build a base with legs or casters, and put a glass top on it to protect it. The base would allow you to raise it up a little but this way you would not have to drill or disturb the trunk keeping it original. Good luck

Old military empty gun shells or cannon balls glued on would be different or fence post tops for legs. Or ...

For brass or copper cleaner try a paste of lemon juice and baking soda. Let it sit for a while and scrub. Then rise with clear water and dry with a cloth. My mother used this method 50 years ago and it still works.

Hello Mary! You might want to consider decoupage. Here is a pic of a lovely trunk.I also think that due to the weight of the trunk that you might want to think about putting casters on the bottom so you can move it around more easily.

I love it as it is!!! It has history written all over it! I feel if you paint it or whatever you would lose it's 'life'. :)

love these ideas! I have an old trunk from my grandpa who traveled back and forth from India and I didn't want to change the look since it has his name on it and traveling stickers. Now I have some ideas of what to do. Thanks! PREV
NEXT