Dark purple, with natural wood still showing too. What do you think?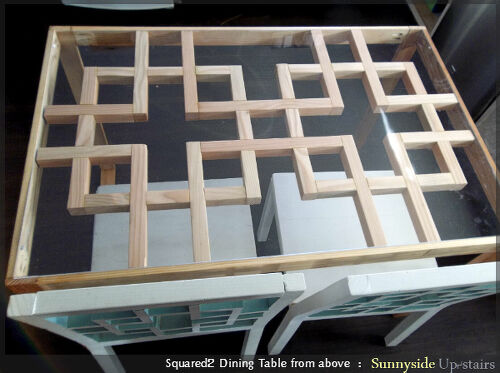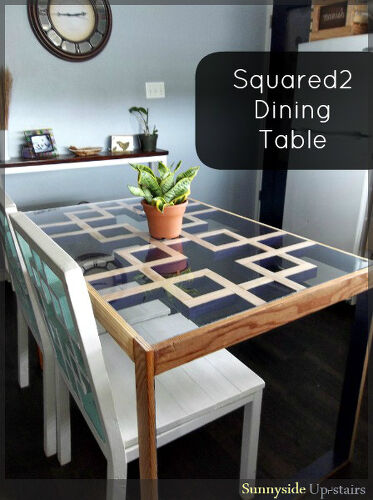 Great job building that table! If the first pic background is the room the table will be in, I would definitely say black is the way to go.

black would be awesome, but Ido like the sea shade colors too.. Would like to see abetter pic of the room to make a better guess

I think the sea color would be best.. To break up the black.. Sometimes too much black can weigh a room down.. Hope that helpshelps

Hi @Yvonne What a fabulous job you've done in creating a very custom piece!! Is this made from maple? It matches your new drawers and such very well. Why not use the same treatment that you did on those to this fabulous piece? You can then add some black cushions and accessories to the top. Your kitchen appears in the pictures to have a dark floor. If you paint it black it will blend in and 'disappear' in a sense. And as @Jamala pointed out, it may be a wee bit too much for this charming little kitchen.

@Yvonne @ Sunnyside Up-Stairs what talent you have. I love the set you have created. Lots of creativity also displayed in your kitchen. I like your idea of the sea shade of blue is a great one and would accent not ony the kitchen but your chairs as well - however the pics are unclear, in one they look unfinished (3) and another they look white (1&2). Did you make the chairs too?. If hubby doesn't like that idea, maybe explore at the paint chip counter what colours he would like to compromise on. Then I would accent the colour chosen with tea towels, curtans etc. Having said that I also like the idea of staining the wood, but if the chairs are white I think a nice light colour would accent them beautifully. Thanks for posting the question and do be sure to update this pic of you completed project. :)

Geesh, what an awesome kitchen, small area but so much custom to the space. I would like to see the table painted black. Please update when you are finished.

@Fran - Thank you, Fran. Our electrician built the cabinets, but he didn't finish them (I'm still waiting on the doors and some of the bottom drawers 6 months later). I decided I would build everything else we needed in our home because it's too hard to rely on someone else who is busy with their own life. I guess in a way, our kitchen is totally custom because it is totally hand-made and installed by myself or our electrician. Thank you for your input. My husband is probably secretly cheering inside. =D Haha.

Great job with that table. You are very talented. My suggestion wouldn't be black, you already have a lot of black and neutral colors. I personally would add a bright color to the room. My own personal pick would be red, but that may be too strong of a color for most people. :-) Try any bright color that appeals to you.

So far, it seems a fairly even split between black or a bright color. I do so appreciate all the wonderful feedback we've received in trying to reach a decision. I'll post the table once "complete" back here to show everyone what my husband and I decided after weighing all this good advice. =D

Yvonne, sometimes I think husbands are worse than little kids. LOL Purple door, huh? Maybe that's what you should give him. hehehehe Let's see how long he's willing to put up with that. ;-)

With the black and silver Red wold look smashing. But then it depends on what the rest of the rooms colors are

i like your idea of a fun shade to add color to the room. Go with the color! The kitchen looks great! If you painted the table base an accent color you will add more pop to the kitchen. Black would look good too, but a color will make the room stand out more!

Black is a formal color, a color would make sense if you would want to paint other elements as well "_"

I would go with a Bright sea glass blue, robin's egg blue, or a shade of pumkinish orange ; very "in" right now.. You have done a great job!

What color(s) do you have in adjacent rooms? I try for a continuous flow in attached rooms. So if you have highlights of blue or even red in the next room, you might consider using that same family of color on the table. The table is really great, by the way!

@Gretchen - Thank you for bringing up a great point, Gretchen. Our "entryway" has a deep purple door and a painting my toddler made with purple, teal, light blue, yellow-green, and green. There are pops of teal and blue and tans (pasta/natural wood) hues in our kitchen currently. The living room has pops of deep purple (same paint as door), but it does not stand out, and appears subdued. I'm leaning toward picking up colors from my daughter's painting to tie everything together in the space. =D

My 3 year old's painting in our teeny, tiny hallway. :)

I love the idea of a fun shade of orange. It would be the statement piece in this great space. If you dislike it once its painted its only paint and subject to change. What a great table. Have fun with it!

I noticed that you have a dark floor. If you paint the table black or even dark brown it might be too much unless you put a light coloured small area rug underneath. I would go for the sea shade of blue that you like, and also make sure there are other decorative accents if the same colour. If you do that I would also make or buy chair seat pillows the same colour if you are going to leave the chairs white.

@Kim Dagenais - Thank you, Kim. The chairs are white with teal accents, but my husband dislikes the teal. I'm leaning toward blue, maybe a blue stain so that the wood grain is still showing? Would blue clash with this teal? Adding a photo of the chair if it helps.

The dining chairs I built are white with teal on the inside.

I'm going to propose to my husband that I use a blue stain on the wood piece to give it a pop without loosing our view of the wood grain. I have to fill the pocket holes on the inside of the frame, so I'll sneak in the teal already on the chairs to coordinate them. If he disagrees, the table will stay natural, and I will paint the inside frame a blue/teal color to add a pop of fun. =D Thank you all for your input. I will update within the month. (Working on our bathroom this month too, so the table will be a "side job"). =D

I know this might be a pain in the buttski, but what about putting a punch of color on the sides of the wood and leaving the top natural? I think it would look awesome!

If your husband doesn't like the teal, then I would do dark blue and change the teal seat covers to match the dark blue stain. Or do the centre of the table white, and the exterior dark blue with dark blue accents. I like dark blue and white. If it was my table I would personally stain the whole table espresso brown, and maybe leave the centre natural. Then I would strip and stain the chairs to match. I would make or buy removable beige seat pads/cushions. I know that might sound like alot of work to you, but if you have the time and like doing furniture refinishing then it would be all fun. Can't wait to see your table set done if you post the pics.

Nice table very good job, you have a lot of black already in your kitchen I would use a teal or similar stain to pop out the black.

If you love the seeing the grain of the wood try this, I painted an outside table A light green, but as soon as I put on the paint I wiped it with A wet rag. It took almost all of the color off but it kinda white washes it but it thins it out enough so you can still see the grain. I did little areas at A time, and you can keep it as light or as dark as you want.

To me is almost has an oriental flair. So perhaps something bright like RED with a touch of gold over the top, or as a pattern down the sides. Could have fun even and write something in one of the languages.

@Marci N - What a creative idea, Marci. It does have an Asian look, now that you mention it. The theme I want to strive for in my kitchen is "Sea Garden," so I'm going to try blue first. I am starting a local furniture service though, and if anyone requests this table, I might be able to try the Orient look!

Thank you all for your help. After a long time, my husband and I decided on... dark purple and natural wood. We chose dark purple because our entry door is painted dark purple, as well as other furniture I built for our living room, even the canvas floor cloth we painted. I originally painted the accent parts blue, and although it looked nice with the chairs, it didn't seem to coordinate with the rest of our space. What do you all think? Should I paint the chairs differently now? PREV
NEXT