Potting more than one Christmas Cactus in the same pot
My sister bought me two small Christmas Cactuses as a gift for Xmas. I'm debating on whether or not I should place both in the same pot... I'm thinking that they may over crowd one another as they grow.... What do you think??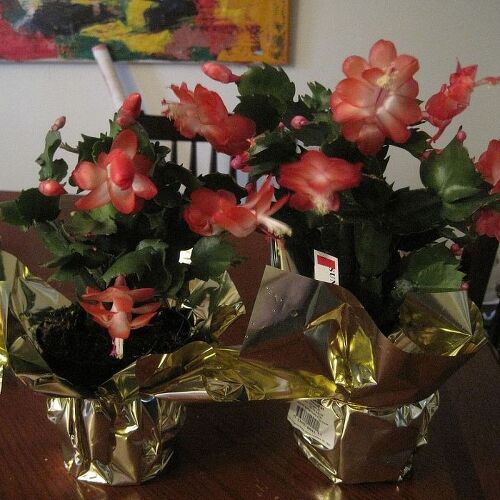 @Marilynn..... Hi Marilynn..Yes I have heard and have read that these plants can bloom anytime of year if conditions are right.... I have had mine bloom in May.. I tried to find that post and I have also searched my Q&A on this particular subject and for the Life of Me I Can't find it! Anyway..... In Denise's case if her's is still blooming she will have to wait until they are finished because I have heard that they don't like to be disturbed.... Never-the-less someone else here may have had a different experience... Thank You so much for posting your experience.. with your plant it helps us all learn and pick-up tips.

i had a bunch of succulants in small pots, so i bought one of those long planters and planted them all together, including my christmas cactus and they are thriving!!! i've got buds on it already!!!! and one flower so far this year...

Christmas/Thanksgiving/Easter cactus - there are different kinds - all like to be pot bound, that is, shoved in there tightly. So, putting two together would be fine. Just don't overwater!

I have about 4 Christmas cactus in one pot, they were small to medium size, now huge! I heard that if you put them outside in the summer they will blossom more once moved back inside. Also, they don't like to be moved around too much. I use Miracle Gro liquid plant food in the water and only water it when it is totally dry. I have numerous flowers on it right now! It is a cactus which is a desert plant, I know it likes the heat & the sun. It always seems to bloom before Christmas or after never during!!!

This is so refreshing to see so many folks that still enjoy these plants. My Grandmother alwys had one in the corner of her sun porch that she pretty much ignored. Didn't move it, Just watered it from time to time. It was HUGE and covered with blossoms. But she always did have an exceptional green thumb and that sun porch wasn't very deep and had a short overhang so was very good for plants. Another plant that she had that always fascinated me that I haven't seen in decades was a Gloxinia. It was dark burgandy-red with a white throat and looked like velvet. Gives me a 'warm fuzzy' just thinking about it.

I also keep mine outside spring thru fall. I have read the colder temps set the blooms. I leave mine out maybe a bit below 50, not sure. For those who do keep them outside I have to warn you what happened to mine last summer. Dagnabbit squirrels bit off several long stems. It ruined the shape of the plant. It is rather cock-eyed now. I have no luck discouraging squirrels on my deck because I love birds and feeders unfortunately bring on the challenge for this rodent. What ya gonna do? Suggestions welcomed.

I have planted two different colored Christmas cactuses together and they are still growing and looks so cool when they bloom one is red one is pink!!! PREV
NEXT