Need help with table pedestal
I got my table for $12 at a yard sale. The top is in very good condition being a light oak veneer. The pedestal and 'legs' are black wrought iron (?)
Any ideas on how to 'trick them up' to look more elegant? Or do I just need to get a longer tablecloth?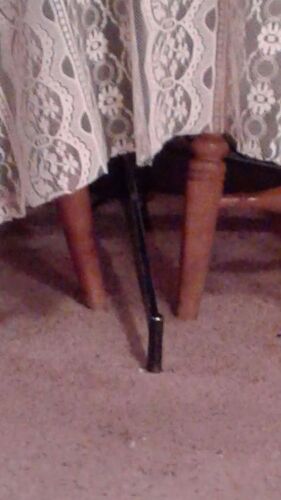 Great score! What is your decor style or theme? You can always paint the wrought iron. What about an antique gold, silver or bronze? Copper is back in too, and one of my favorites. Can you post a picture of the room it is in to better assist you?

Here's what it looks like now. It cleans up well...lol

supposed to be a dining table but crafts have a way of invading

my really shabby and not-so-chic loveseat

"supposed to be a dining table but crafts have a way of invading"

Never were there truer words!

I love what you ended up doing with the table-it looks great!!

ok Shoshana, you be stayin up too late hun? haven't done anything with the legs yet...LOL trying to decide if I want to go gold or antique white. I will be milk painting my coffee table (the printer is on it) and trying for a shabby chic cottage thrift shop flea market theme. The only thing I cannot paint is my grams secretary---I spent $400 to restore it and even though I have seen some really cute pink and blue painted ones identical to mine, I can't bring myself to paint it. The entertainment center is light oak and I will eventually whitewash it along with my black lamp poles. All in good time, but I will post a finished pic of my table when I decide which way to go.

I would paint the legs and make the table cloth round. Yes, we all stay up too late and if I hadn't chosen to make my bedroom the "croffice" (craft room/office) they would invade my living room, too! Just so you know I sleep in the living room on a day bed. It means I can stay up a bit later and have the tv on so I don't disturb the lady below me. PREV
NEXT