How do I remove a hard water ring around the inside of a toilet bowl w
I just bought a new home. Trying to really give it a good scrubbing. One toilet bowl in the house has a bad ring around the inside of the toilet. How do I remove that ring without replacing the whole toilet?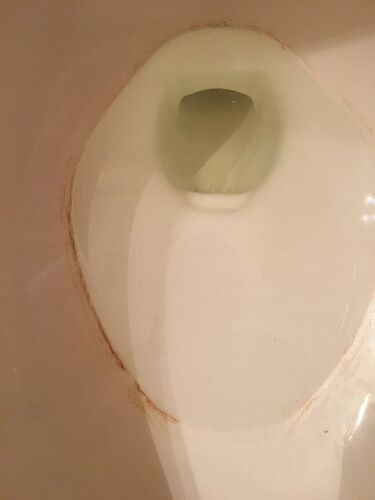 Buy Iron Out @Lowe's or Home Depot. Comes in powder or spray. I even put in tank (powder) of toilet and let it sit overnight. Gets rid of gunk in tank which washes down when flushed.

I've used CLR, pour into toliet until above the lime ring, let sit all day if you can. You may have to repeat a few times, I buy it at Dollar Tree so its economical.

The best easiest cure ever!!! Product called Wink. We lived in an area where the white clothes came out orange till we installed a filtration system but not until all our porcelain was ruined. This stuff WORKS , first time every time!!!!

I have hasn't success using citric acid! Commonly found in lemonade or lemon kool aid. Flush, sprinkle powder on ring and just let soak. I was able to brush & flush in the morning.

There is a special scouring stone good for your problem, should find this in the cleaning section of most stores.

Mine was far worse, Lysol Rust and Lime toilet bowl cleaner. It's with the regular bowl cleaners but the label is Black. Squirt in wait 30 min. And just scrub with toilet brush. Amazing. $2

Lysol rust and Lime toilet cleaner looks like ordinary toilet cleaner except label is Black. Its at walmart with the regular toilet bowl cleaners . I shut off water supply and flushed a couple times to get water level down below ring buildup. Squirt in wait 30min. Scrub WITH regular toilet brush

Worked first time no repeat. I was astounded. Wanted to ring doorbells and tell everyone. Mine were terrible for Two years. PLEASE try.

We have used wet sandpaper with great success! The key is making sure that the porcelain is wet at all times [to keep from scratching it].

Watkins toilet bowl cleaner, it's great. No long waiting and no hard scrubbing. it will clean the worst toilet. Yep men's room that no woman has stepped in. It is caustic though. PREV
NEXT