Will painting these cabinets depreciate the value?
I believe these are knotty alder cabinets and the kitchen itself is only 6 years old. I really want to paint these cabinets white but am afraid the value will go down. I think these are higher end cabinets, but I'm not really that sure. I just don't want to ruin something that may be super good or if I should just go ahead and paint the darn things already :) Any help on the value of cabinets would be much appreciated!! Or if you think painting them will help or hurt the value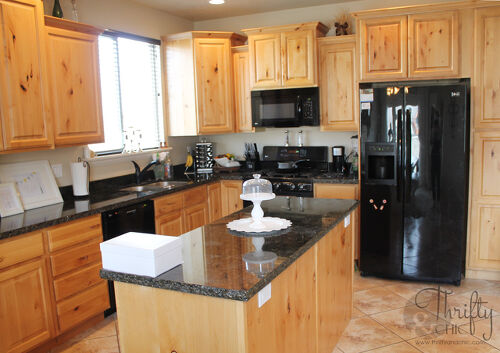 Those are beautiful wood cabinets! I agree with another poster - do a stunning backsplash & a soothing wall color, maybe a simple window treatment. Add some interesting pulls to the cabinets & I think you'll love the kitchen again.

You could just use a removable classy "cover up" for the main panel in the door such as a removable wallpaper or something. Then you wouldn't see the knots, you'd have a new look and can go back to the old when you tired of the cover up. If you have a friend in real estate, you could also ask him or her what the trend is, how it would affect the value if you paint the cupboards, etc.

They do not look too high end..they are not very tall..and I do not like the knots. Maybe paint or stain the top and leave the bottoms as they are? White would not look right though with that color of the bottom cabinets. I think you should do what you love..how do you really want it to look..go for it.

I think you should paint if that would make you happy. How long will you live in the house? If you do a good job and pick a nice color (white or grey?) then prime and paint, and enjoy. You will keep your value if you do a good job. After all, you may be trying to sell to someone who doesn't like the rustic cabinet look either? You need to love YOUR house. After all, you are paying for it! The issue that I think may be bothering you is that the "knotty pine" look is more rustic and then you have granite counter tops that are sleek and dhic. I think you go for it.

When ever you make a choice to paint such lovely pieces you can run that risk. Right now, painted cabinets are all the rage. I have clients ask me what happens when everyone falls out of love with painted cabinets? I suggest when people are on the fence about painted cabinets, but just can't talk their way into doing it, to stain the cabinets into a darker Java color. This way, if you ever change your mind, you can remove the stain by sanding and then proceed to what ever makes you happy, including paint. I myself love painted cabinets but paint does not do justice to all kitchens, which is why we darken with stain in those cases. The good news, if you paint them, they can be stripped back to the wood using paint strippers. If you are using a grade of paint like General Finishes, you will have no problem. If it's chalk paint, it can do damage, I have seen it happen over the years of painting chalk is pourse and collects grease more than a regular paint will. In the end, it's only paint. If you don't like it you can correct it, I always tell my clients do what makes your heart happy. That is my professional opinion. :-) Hope that helps you out. Bests, Linda @ Hello I Live Here Blog - check us out on Facebook or here on Hometalk :-)

If you are looking for a change, paint them. If you think you may change your mind down the road, give them a coat of shellac first - it will make stripping the pain off much easier (should you decide to "unpaint" them).

They do not look custom and the cabinets are only the value of if you like them... you can make the cabinets beautiful with paint. Make sure you prepare then correctly and if you are doing chalk paint do not seal them with wax..use Polyacrylic...wax melts in heat. People will use chalk paint on their cabinets and seal them with wax and wonder why they streak and get sticky. Use a matte poly and you will get the look of the chalk paint. PREV
NEXT