Will painting these cabinets depreciate the value?
I believe these are knotty alder cabinets and the kitchen itself is only 6 years old. I really want to paint these cabinets white but am afraid the value will go down. I think these are higher end cabinets, but I'm not really that sure. I just don't want to ruin something that may be super good or if I should just go ahead and paint the darn things already :) Any help on the value of cabinets would be much appreciated!! Or if you think painting them will help or hurt the value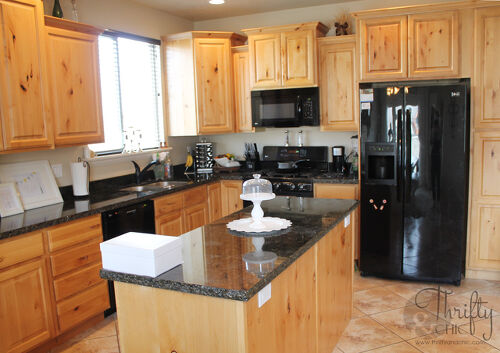 It is my opinion, if you choose the right color your resale value should increase. I would check with a local Realtor in your area and ask them. Mine told me that painted cabinets are the new rave so, I am working on brightening mine now - Stop over at The Magic Brush and see what Jennifer does to cabinets its amazing and she sells a DVD on how to do it right the first time. Also check inside to see if there is a manufacture of your cabinets - ours were not as high grade as I thought so I went for it! Happy painting! :-) Linda

I would definitely go with painting them white- to me it would make me want the house 10x more! I'm in love with white kitchens and personally think the wood on those cabinets is terrible haha

Hello is right- check with a realtor because painted cabinets could devalue your kitchen and cause a buyer to walk away. Your cabinets are beautiful. I painted mine only because they were mismatched finishes and fronts. As it has been stated, painting is a trend right now and trends can end... I would paint the walls! If you add a color to your walls that will dramatically change the feel of the room. Plus you need some hardware to go on those cabinets which will also help. I would go with a decorative black wrought iron. I paint a lot of things but your cabinets, if you should sell someday, will be a buyers' dream and in good shape will increase the value of your home.

White kitchen cabinets are pretty timeless and classic whereas the popularity of wood and the various wood tones wax and wane in popularity, depending on the decade and trends. Inasmuch as painted cabinets are definitely much more popular than wood toned cabinets right now, I would say as long as you do a good job, painting them white would probably appeal to prospective buyers even more than the wood would, at least in this current market. I get so frustrated with people who are afraid to make changes to something they dislike about their home because it "might" negatively affect the value of it. (It's a huge pet peeve of mine!) I'm a VERY firm believer that people should do whatever they want to make their home comfortable, appealing and enjoyable to them while they live there. Forget trying to please the next owners because no matter what you do (or don't do) to a house, you will never, ever appeal to all buyers. You know the saying, "You can please some of the people some of the time but not all of the people all of the time." Now that's not to say you should go wild and apply purple and yellow ceramic tile to the ceilings or something equally weird and ugly but painting the cabinets white...hardly a big deal....and probably not a deal breaker for most prospective buyers. Go ahead and paint the darn cabinets if you want to paint them! (So while the kitchen is a nice size, seems to have lots of great storage and a functional layout, these cabinets are definitely not my idea of a buyer's dream. If they were my cabinets, I would have already had the paint brush out! lol)

How long do you plan to live in the house? Do you plan to sell soon? If you're selling in a couple of years, check with a realtor. If you plan to live in the home for several years, do what YOU want with them. Staining would be another option. I painted the knotty pine in my office/craft room to let in more light and I'm happy with my choice. Just if you do paint, prep first. Make sure to put a primer on them, probably a couple of coats, before painting. Enjoy your home. If you decide not to paint, I'd definitely paint the walls.

P.S. I predict you won't even get a consensus here between the "paint" and "don't paint" opinions so it just goes to show you won't ever please all prospective buyers.

Realtor here…..I vote paint them. White cabinets are popular and are the current trend being built in new construction, so they will be 'in'.

If you aren't planning to sell in the next couple of years, it's kind of a meaningless debate. I'd keep the wood but I hate keeping white cabinets clean. Plus, I'm a woodcarver and that wood just begs for some quality time with my knives and gouges!

I have hickory cabinets (which are similar to yours) and sometimes get tired of the wood, but most people who see my home for the first time compliment how much they like my kitchen and keeps me from wanting to change them. If you are just wanting a change try adding some color with your accessories and maybe adding knobs or handles. Also another popular trend is painting the island and leave the main cabinets wood. A tile back splash would also add some interest to your kitchen and give the eye another place to focus on instead of seeing all the wood first. There are a lot of choices to pick from that could add color and texture to your kitchen. Good luck with whatever you decide to do. :)

I saw the most beautiful cabinets stained green on HGTV. I would be tempted because the black in that room is wonderful. Lisa's show, can't remember the title. I sure miss her.

If the cabinets were all wood construction you might have a high-end product. In many cases however, Alder is on the lower end of the wood spectrum and are very common along with Hickory and Red Oak, mainly because of the knots and imperfections to that species. That is why it is common to see Alder stained in a heavy, or solid color stain, or painted. In this case painting, staining, or glazing (depending on the color) would only enhance the value of those cabinets.

I recently painted my oak kitchen cabinets an off white shade. I can't believe how much better they look! Our house is 8 years old but they really made the house look dated. We have 4 bathrooms which were also oak and we painted them all. We recently had a realtor over and she said we definitely improved the value! She said that most people in our area really don't like the oak. You need to do whatever looks good to you. As always some people will love it and some won't.

I would check with a local realtor, especially if you are planning to sell within the next year or two. If you plan to stay, I would definitely paint the cabinets white or cream. We did that to our last home and the difference was amazing. When we put the house on the market two years later, it sold in 1 day. (We had three "back-up offers" as well as the initial offer.) We had painted the cabinets and put in new appliances and a new (high end) laminate countertop. We got full asking price for the house, and I'm convinced it was because of the kitchen. If you do the painting yourself, be certain to clean the cabinets well, sand and prime with a good primer. Then apply at least two coats of enamel, sanding lightly between coats.

Your question is flawed to begin with, since painted cabinets will appeal to some people more than others, and wood cabinets like yours would be preferred over painted cabinets for other people. You are never going to please everybody. A better question for a relator may be which is selling better currently in your area. As a furniture painter, I would say paint them!! If you are not planning on moving anytime soon, then you should do what you want. If they are done well, there will definitely be those who will consider it an update. Maybe slightly distressed with a glaze?

I agree 100% with rustic dutchess! They would look "updated" if you painted them. You can't please everyone.

I see beauty & character in your cabinets. I think if you introduced some color into the walls or décor would make your kitchen "pop." You have a lot of neutral going on.

Your cupboards are lovely and in really good shape. Could you live with a compromise? I suspect you just feel like a bit of change. Maybe you could paint your island (only), change your window treatment, add a new rug in your chosen colors and add some colorful accessories in your kitchen for the feeling of change? I believe that many people still want natural wood and you would have some people walk away from your home. I paint furniture and find that age 35-45 like painted furniture but those older still want natural wood. I can't tell if you have tile on your backsplash, but if you don't consider adding that to help your room to really feel new and fresh too.

Our kitchen was so dark, and even when friends said, "oh, don't paint those beautiful oak cabinets," I couldn't stand them. My husband did all the work himself and they are just beautiful, and brightened up the kitchen so much. We used a gray paint for background (it was beige) and he even put in white bead board halfway up! I just absolutely LOVE my kitchen now!

Do Not paint! If someone would want them painted they could have it done! We are in the busn . Styles usually last only 7 yrs.. A friend built a new beautiful home..painted all cabinets white..hates them! Said worst mistake they ever made!

Paint or not to paint. A universal question isn't it? And remember paint isn't always cream or white. Paint has been a staple in cottage kitchens for decades. You can see all kinds of cabinets side by side in do-over pics. Just Google it. You will be drawn to something. Almost every time. Test to see if it's is the wood or the love of a little color. My cabinets are red and cream. I have had hickory, oak, white, grey and pine. And I have had them all. But In every home It will be different for me. I adore my cottage kitchens and the colors which are so charming. sk

Don't paint knotty alder. Painted wood is usually maple or poplar. It will look like rustic white. Even oak painted is grainy, although painting oak would be an option. You can get them refinished to a different stain, but IMO, paint is definitely not the answer.

If nothing else get some pretty knobs/handles with some color to them for the doors and drawers. World Market is a good place to look.

I would paint them a nice grey that would look great with your counter tops. It is also a neutral color.

It must be that I am the only person whose kitchen gets dirty! My friend had a brick blacksplash put in from the counter to the ceiling! Old Chicago...EXPENSIVE! I cannot even comprehend trying to get tomato sauce off brick! (Don't tell me I am the only one whose spaghetti sauce bubbles a little and spits on the backsplash!) So I would leave the wood and look to add some accent and personality elsewhere...or just simply accept the fact that a kitchen is, after all, a WORKROOM FOLKS! If you work, you won't have time to keep white clean. If you have kids, it will never stay clean. If you are old, you won't want to clean. So there...eat out and close off the kitchen rather than add work to your already hectic life!

My vote is do what suits your needs...if you're planning to stay then enjoy your space and make it yours, otherwise, if you're planning to sell, then leave the painting up to the new owner. Much easier for you and they can choose the color they want. Go with the idea of changing other things like accents, wall color, etc. It'll feel good and fresh!

I truly believe keeping them in that knotty pine is so much better. Wood is so much more admirable and rich looking. I will tell you from my om's experience she went to white cupboards and said she wish she never did. They show the dirt., fingerprints and a constant battle to keep clean. Wooden ones on the other hand are not bad at all. If needed clean the wooden ones and apply a thin coat of Poly or if they are not finished in poly use lemon oil. There is amazing product to keep them looking good . Wood is in. I also had my bedroom doors picked out, when I built my house to 6 panel Pine doors in 1990. I still get so many compliments still. My Mom has the white doors and they show everything. This is my opinion,,White cupboards were popular years ago, and although some people may pain theirs, if you go to a Home Depot or Lowe's I think you will find wood is the popular one...I love your cupboards!!!

If you are planning to stay in this home for 5-8 years then do whatever you want with them. Who cares about any future owners and what they may like. Painting them would really give the room a brighter feel. You need to have the environment you are living/working in a pleasure for you to be in, not anybody else. The more people you ask, the more answers you will get and it will only confuse you. PREV
NEXT