What is the name of this plant?
I was given this plant 8 years ago or so and was told it was an "orchid plant"...not an orchid, but an orchid plant. I was told to keep it potbound and it would bloom. Well...it has and it only took 8 years! lol It looks like a spider plant and sprouts little baby plants from its leaves....not from a stalk. Anyone have any idea what it is?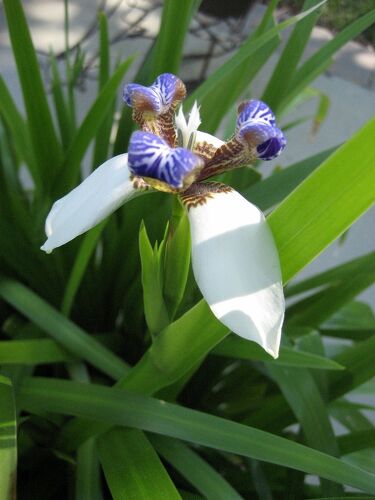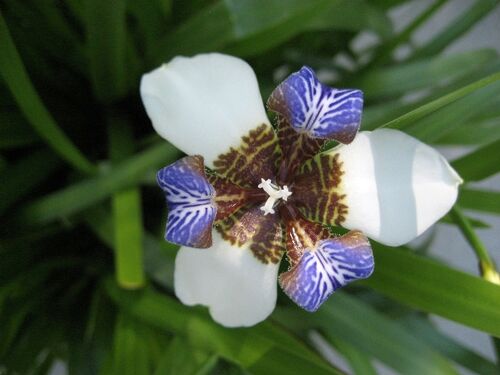 Debbie ~ Your pretty orchid is commonly known as Walking Iris or Poor Man's Iris. Its l Latin name is Neomarica Gracilis. Here is some information so you can read up on it! http://www.gardeningknowhow.com/ornamental/fl...

@Debbie @ Confessions of a Plate Addict I read the article and would just like to chime in and say certainly get them out of the pot the reason it took so long to bloom is the bulbs are too crowed to learn how look up separating Iris on YouTube it should be done in late summer or early fall after blooming every 3-5 years

Growing Walking Iris Plants – Tips On Caring For Neomarica Iris Walking Iris PlantsSo what makes this plant so unusual and how did it acquire its name? Well, because of its habit of propagating itself, the iris appears to "walk" throughout the garden as it fills the area with additional plantlets. When the new plantlet is formed at the tip of the flower stalk, it bends to the ground and takes root. This new plant then repeats the process. Thus, giving the illusion of walking or moving about as it spreads.The walking iris is also called the fan iris for the fan-like growing characteristic of its leaves. In addition, the plant has been referred to as the Apostle plant because there are usually twelve leaves in a fan, and most Neomarica will not bloom until the plant has 12 leaves.Two of the most commonly grown species of walking iris include N. caerulea, with vibrant blue flowers having brown, orange and yellow claws, and N. gracilis, with stunning blue and white flowers.How to Grow a Neomarica Walking IrisIf you're curious about how to grow a Neomarica walking iris, it's fairly easy to do. In addition to propagating themselves, the walking iris can be easily propagated through division of offsets or by seed in spring, which is relatively easy as well and flowering usually occurs within the first season. Rhizomes can be planted in the ground or pots just beneath the soil.Walking iris grows best in moist, well-draining soil in areas with light to full shade but will also tolerate some sun as long as they receive adequate moisture.It is hardy in Zones 10 and 11, but has been reported to grow as far north as Zone 8 with adequate protection during winter. In colder zones, this plant needs to come inside for the winter. Therefore, growing walking iris in containers is helpful.Caring for Neomarica IrisIn regards to walking iris care, the plant itself requires little in the way of maintenance with exception of providing plenty of moisture. You should water your walking iris regularly during its active growth. Allow the plant to go dormant in winter and limit its watering to once monthly.You can feed the plant every two weeks with a water soluble fertilizer in the summer, or use a granular slow release fertilizer annually in early spring as part of your walking iris care.Adding an ample amount of mulch will help with retaining moisture in the soil and insulating plant roots. This will also help with winter protection in suitable areas.Blooms of walking iris plants can be removed once flowering has stopped and the stems can be cut back in fall as well.Since walking iris tolerates a wide range of soil and light conditions, this hardy plant is quite versatile in the garden. Walking iris plants make an excellent accent along natural paths and pond edges. They look great when massed together and can be used as a taller ground cover in the shade. They can also be used in borders, beds and containers (even indoors).

Hope this helps, its the same plant. http://www.ebay.com/itm/Iris-Walking-Iris-Blu...

Wow! Thanks so much! I am loving your quick responses! I had no idea that it was an iris! Can I divide it and still have it bloom?

Listen to Barb Rosen! She is a professional & knows what she's talking about. From what I've read they can be divided like bearded iris or you can stick the little plantlets in soil & root them, just like you'd do for strawberries, or grow them from seed. http://www.gardeningknowhow.com/ornamental/fl...

You can plant some of the "babies"....they're very hardy just like airplane plants. I have several pots of these. Luv luv them! And the name of this is Walking Iris.

It's called a walking iris.Neomarica - Wikipedia, the free encyclopedia en.wikipedia.org/wiki/Neomarica Neomarica (Walking Iris, Apostle's Iris or Apostle Plant – names also used for the related genus Trimezia) is a genus of 16 species of plants in family Iridaceae, ...

I had a christmas catus that bloomed in April each year...it was a little confused...but something they take a while to bloom. I would have to get this iris you have!

These Iris usually bloom much better when they are not so bound together. I bet if you divided it you would get many more blooms and I would put some of it outside!

It is a walking iris. It will not survive outside in winter. The flowers have roots that grow on bottom and will make new plants. Think reason called walking iris is if flower touches ground it will root.

I was going to say some kind of bromeliad from the shape of the flower and the leaves, but I'm no expert!

I have a mess of these all growing alongside my house. It only took a year to bloom, never tried them as an inside plant. They come in all colors, they multiply greatly and have to be divided every few years or they stop blooming and are perennials. I should dig some up and bring them in the house! Very pretty, aren't they?

I had a plant that looked a lot like this and it was very old. I got it from my sister-in-law who got it from an elderly neighbor lady who passed away. It blossomed at least once, maybe twice. I remember being shocked when I saw it blossom. I never knew what it was. i finally put it to rest, it got too big. Now, maybe I should have kept it. Too late now.

i thought it looks like some type of day lily. i have one called naked lady that looks similar to this one.

Since you are all so knowledgeable about iris plants, does anyone know about one called Louisiana Iris. I started off several years ago with about a dozen plants. They multiplied very quickly and bloomed every spring, usually around Easter time or just a little later. Beautiful blooms of purple with yellow centers. They have spread the entire length of our house, but they have not bloomed for the last two years. These are not bulbs. They are more like tubers that run just below the surface an inch or so. Any suggestions on how to get them to bloom again?:

someone mentioned Walking Iris, so i looked it up and sure enough, that's what you have! http://growerjim.blogspot.com/2010/05/walking... PREV
NEXT