Distressing this walnut hutch
What kind of paint should I use to cover this hutch bottom? I want to distress it white. Can I do it in one step then sand in spots?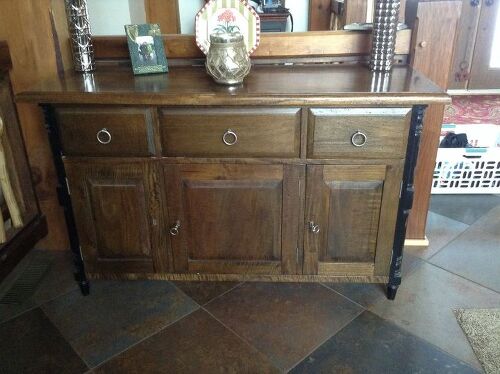 Yes you can. We had a chair that one of my many, many dogs chewed on. And we finished it in one step. Good luck.

It was a bit difficult. What happened to this hutch bottom? It looks like it had a fight with a cat, and the cat won.

Annie Sloan Chalk paint in Old White. You don't even need to sand. Paint it and then distress it with some sandpaper. It will look great!

I've used chalk paint (many different brands, including ASCP) to cover dark wood pieces, and usually the wood stain bleeds through the white paint. (The older the furniture, the more bleeding.) This can be avoided by first painting the hutch w/a clear coat of shellac. It seals the wood so the stain doesn't bleed through. Then you can apply your chalk paint (no pre-sanding needed), distress and seal w/wax. Also might want to consider leaving the top piece in the stained wood state, and just paint the bottom cabinet part. Adds a little visual interest to the piece. Have fun! :)

I would go with a CeCe Caldwell Chalk and Clay based paint. Try the Vintage White. First make sure the piece is clean. Paint the piece no sanding required. Let dry for 4 hours then use a wet rag to remove paint in the areas you feel needs distressing. Nice thing if you over do it you can touch it back up with the paint. Once you get the look you want seal the piece with wax or other finish they carry, I think they have 5 different ones depending on the use of the piece. Good luck. PREV
NEXT