Help! What do I do with this??
This is an addition on the back of our house, our bedroom. The previous owners never added the deck off the sliders and we won't be doing it soon. This is where our patio is and we entertain often. I need ideas on how to decorate this "wall", inexpensively! Ideas??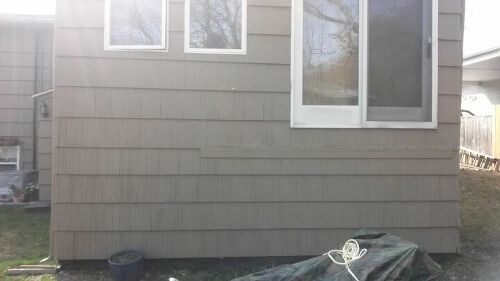 How about building a bar there ? It would be perfect for entertaining - and you could plants on the corner where the patio doors are so that you'd see them from your bedroom ! A few bar stools from Ikea ( 20.00 each ) and you could extend your entertainment area perfectly !

a slide? lol...for probably less than $100 you could buy lumber and build a temp stair similar to what they use for job site trailers on construction projects ...if you are only concerned with looks..I would infill the glass in the inside to show a picture of something different on the outside like maybe mimic the siding and the bottom and smaller window on top so it appears to not be there in a faux kind of way...or perhaps something more fun and creative that goes with your style of entertaining.

I don't know if it would match with your style or your neighborhood. I saw something cute that my neighbor did. She has her garden at the back of the garage, and the empty boring wall on the garage was just sitting there. She took an old antiquey large gate, leaned it up against the wall with a vintage type sign that said, "Herbs", and she had containers in front of the gate with her herbs in it. And she was, I think, going to plant moonflowers or sweet peas that climb next to her gate. So she had her herbs, some climbing plants, and a nicely decorated back wall on her garage. Nobody will probably see it except her family and me. But it looks really cute.

Rather than building a whole deck why not just steps? The runners and lumber is inexpensive it is not a large job, If you don't want a deck there at all I can see not doing it, you could have the step idea and use it as an herb garden, not really to walk up and down the steps but tier flower beds from the doorway to the ground. I would look very pretty and make more sense than a door that just drops your guests out to a broken ankle. PREV
NEXT