To Paint Ceilings White OR To Not Paint Ceilings White -- that is the question. Like or Dislike?!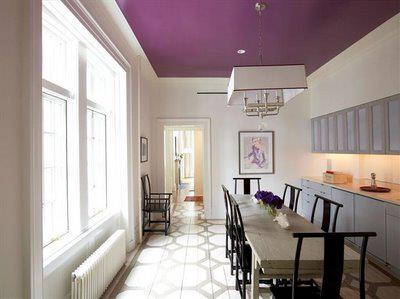 Unless you are working with a natural wood ceiling...they are almost always painted...the real question is...is it painted basic white, the color of the walls or something completely different. I have seen some great rooms done where the ceiling is painted a sky blue...I love that look.

This has been the "new" accent wall for several years. In the right room, with the right furnishings, we really like this. Especially with a faux finish and the color being brought into the room in a few other (sometimes surprising) places. A couple purple touches in the room pictured could really make this ceiling flow with the rest of the room. Even incorporating some mirrored furnishings can reflect the decorative ceiling color all around the room!

I love it! I have painted the ceilings a coodinating color in several of the rooms in my house, although I have't gone this bold. I agree with AK...bring a little more of that color into the room...perhaps in some drapes, or a runner on the table, or the floor.

SURPRISE to see this here, and I LOVE IT!!! I did the same thing and with the same color to the ceiling (of what was then my daughter's beauty salon) about two years ago. How IRONIC!!! Lol!!!

I've been the crazy one painting ceilings another color since 1980... I just did my kitchen ceiling a light yellow and it is so sunshiney bright! I like it so much I hope it does the same to my living room.

I love it! That color defines the whole room without over powering it! I don't like the look of an accent wall but an accent ceiliing, WOW!

I love It! And purple is one of my favorite colors...The color of prosperity and wealth. Remember it is called the 5th wall...so why not paint it

i think it looks awesome. it is about time there are other paints used on ceiling instead o just white

well, i'm a purple person so i absolutely love it!!!! I've seen porches in the south painted a pastel green or blue so I wonder why people haven't thought of this before?

I love it. I have two problems in my 70s-era home that prevent it - too little natural light and texture on the ceiling. When you don't have those problems, I say "Go for it".

Perhaps a Silhouette treatment on the windows would cut the glare for daytime dining, but not the view. KM Trainor Group, LLC Jupiter, Florida

I think this is dynamite!! There are actually six "surfaces" that influence the over all room - besides the obvious four walls. The ceiling is just as important and of course the floors and what sort of surface or carpeting is chosen. It all is a part of the room!! PREV
NEXT