Heavenly Hydrangeas - check them out :)
Is it just me or are the Hydrangeas particularly glowing this year?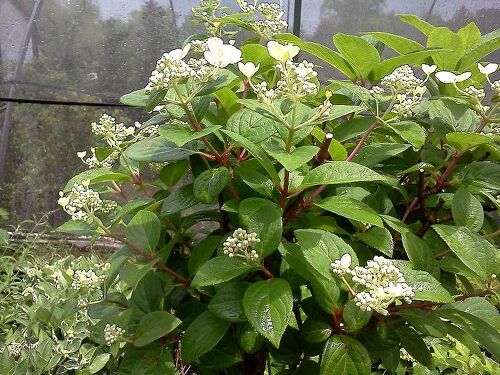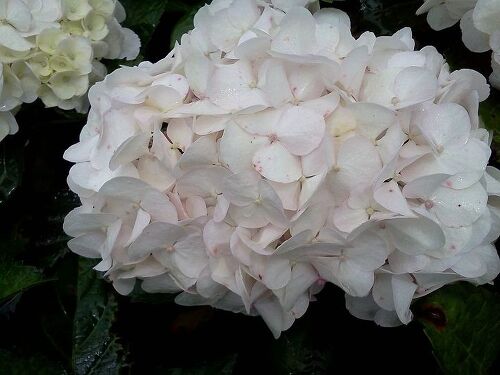 Heavenly indeed! One of these are going to make it to our daily morning inspiration posts on facebook. Now how choose...

Four Season, have never been able to grow Hydrangeas. Maybe too hot, sunny, not enough food? Whatever. I gave up but yours make me want them again.

If you've got a shady spot, Sherrie, try one of the native oakleafs. They won't work for me so close to the beach, but I'd definitely give one a try where you are.

Douglas, I have to chime in, oakleaf hydrangeas are great. I have been noticing them around town this spring. Here's a photo for anyone that doesn't know what they look like. Oh, don't prune these unless they get too big, they have beautiful flowers, foliage and bark. There are dwarf selections too.

double flowered selection of oakleaf hydrangea

Erica! I have an Oak leaf hydrangea in my yard. The blooms start out white, progress to a mauve and turn copper in the fall! The leaves turn a lovely burgandy too! It grows on old wood so leave it alone. ENJOY!

Live in NY.Good light in Spring especially in pm , out front where I'd plant them.Was told not to get them from grocery store just a nursery.Any special treatment to feed em?

Patty, you should definitely buy them from a good local nursery as not all types of hydrangea are hardy in New York. Morning sun and afternoon shade is generally ideal, but the farther north you are the more sun they can take. Good drainage is crucial. And make sure they have enough room. Depending on the type you plant, allow at least 4 X 4 feet.

Here are my Hydrangeas when they first started to bloom this year. The sun will get really hot this summer but they somehow keep on blooming. I water them a lot. They would be better off when there is more shade and water near by I think but I won't disturb them.

Im in the Summerville SC area transplant from northcentral Ohio...I had georgeous hydros in Ohio and they bloomed all summer in direct sunlight and became a bush typle blue plant as tall as my chest.....but here...?...how and where do I plant them...so hot and so much sun Im sure they will bake...

This is the first year in Fl I have been able to grow them.Donot know how to post a pic here.Iput them in pots instead of the ground to.Am shade and pm sun then shade again

One year mine were blue and the next year they were pink. What is it that you can add to the soil to determine the color?. I trimmed it down in the spring. I usually do it in the fall. I saw on t.v. where you need to water even though it has rained because of the heaviness of the leaves. It is difficult for the rain to get directly into the roots. It's good to take the water hose and water directly into the roots.

do not over fertilize after first bloom until the fall. I use Coffee grounds or acid powder to make them bluer, - pink will be pinker in alkaline soil; will turn blue with ascitic powder from your hardware store but my plants thrive on coffee grounds and turn blue as blue can be, East coast here. Do not over fertilize, use miracle grow beginning in spring and once in fall.

Kathy, here is a publication by the Georgia Extension on Hydrangeas that you might find helpful on understanding how to change the color of the big leaf Hydrangeas. http://www.caes.uga.edu/publications/pubDetail.cfm?pk_id=7829

We moved here will be 2 years in April.. I had the mother bush that started over 60 years ago.. when we moved I had to take it with me. My mother is no longer with us and I left that place and moved.. when we left we had to transplant them.They were not that showey last year.. but I'm hoping they are more root bound and will do better this year.. they are some of nature's most elegant beauties..

Hydrangeas have been in my life always. We moved those hydrangeas from a farm I lived on for the first 8 years of my life. I do not know where mother got the 'mother' bush. She moved it from that farm to where I lived until I married the wrong man... LOL.. at 18. The happiest years of my life........ Mother always wanted to have a pink one. She never could get one to grow pink. I've heard different ways to do it.. she tried just about all of them.. She put so much Lyme on them, they turned purple.. beautiful blooms they were. When I moved back into my old home place.. I lived there for almost 10 years and then tragedy happened, as it always will and I moved again.. We moved it to where I live now, along with some that mother had rooted from the mother bush. She would find an old limb underneath the bush and lay a rock on it and next Spring, it would have taken root and she would let it live that way for about a year.. then she'd transplant it. She had about 10 or more hydrangea bushes from that one mother bush. I look at it everyday and I swear it better bloom this year. I can't wait.. thanks for returning my message. I know you are waiting.. for the Spring time.. So am I.. I love winter but I don't love the extreme cold... thank you, nancy still

MaryAnn, your Hydrangea from Ohio did well in the sun but would suffer in the south because it's hotter here. It's a location thing . Down here in Mississippi we have to have them in, at minimal partial shade. I had mine in the ground for 6 years before I added Moonooer to the surface of the dirt around them. WOW! It's just like Morning Glorys. Up North they're an annual but around here (South) they are almost a plague. They come back every year.

always have enjoyed these! Wonder if they could be a container plant ... perfect light conditions on my balcony.

Displaying these gorgeous pictures just isn't fair to us Northerners. My hydrangeas are buried beneath a combination of dirt, leaves, leftover evergreen branches, and chicken wire to hold it all together and as of two days ago, 6 inches of snow! But come May these bushes will be in full swing. I have paniculata, oak leaf, mop heads and the everblooming summer variety. The hard part with any hydrangea is the pruning issue. There are different types and you need to careful you don't prune at the wrong time or you'll lose your blooms. I've purchased plants from highly rated nurseries and from big box stores...some have flourished, some have died. Years ago I asked my brother (a top ten grower in Massachusetts) why some of my plants had died despite having perfect growing conditions. His very technical answer...sometimes plants just die!

@Beth G : Beth, if you have room for a large container, like a half whiskey barrel, you could probably pull it off. See this for some caveats: http://hydrangeashoh.wordpress.com/2009/03/13/growing-hydrangeas-in-pots/

I just found one of my favorite tv hosts and my favorite flower on the same post! I really miss your shows Erica! Yours was my most favorite of all the garden shows. I have just moved to AZ so don't think I can grow hydrangeas in a pot, sun is just too hot. Before in Iowa, I grew all kinds of hydrangeas. PREV
NEXT