Hello,
are there any ideas what can be done with the damage to the legs of the table!
Thank you!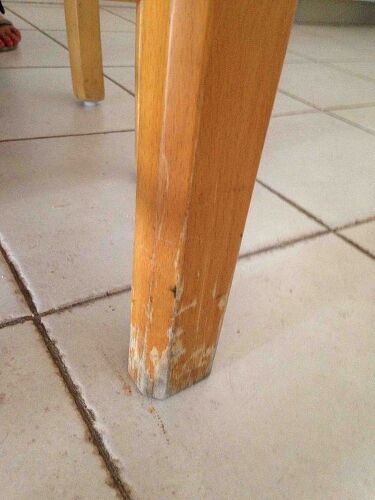 Assuming you don't want to paint, or strip and restain... Try Howard's Restor-a-Finish. It is a wipe-on product that revitalizes and restores wood finishes. It contains a little bit of stain so you will have to pick the color closest to the finish on your table. Any hardware-type store like Home Depot, Lowes, Ace etc., should carry it and a can generally costs less than $10.00. Restor-a-Finish won't 100% fix the problem but you should see a huge improvement.

Depending on your home's style...and how little effort you want to put in...there are some cute crocheted Chair Socks photos floating around Pinterest these days!

Try the restore a finish if you want to keep the look you have. But if you want to refresh the piece, I would sand the damaged area to smooth and then just paint all the legs. A wood finished top with painted legs is a pretty look.

I wood sand it and paint it black,or a matching color to the room.............since this is a problem now, it will be a problem if you just restain it. this way you can touch it up with the black paint so it will always look nice.

For a really radical change you could take off three to four inches of the damaged wood. Place a transition block just larger than the diameter of the existing leg. Below the transition block add new furniture legs that are usually used for couches or chairs. Stain to match.

You might want to consider sanding the lower 4-5" of each leg and then paint those sections with a gold paint or even a fun color paint !!!

Clean and sand then glue use 1" leather strips and wrap or brade around the legs then use a sealant over the leather

thanx to all of you! we didnt take the table eventually, but all of your ideas made me want to take it just to fix and renew it... have a great day!

If you like the colorblock look, you can sand a little and paint the bottom portion of the legs in a color that either matches or is complimentary to your existing decor. PREV
NEXT