What Should I Store In This?!
A few years ago, I found this awesome cabinet by the side of the road and promptly brought it home and cleaned it up. This picture is from my old apartment, where I had it in the kitchen and kept cat food/treats and kitchen linens in it.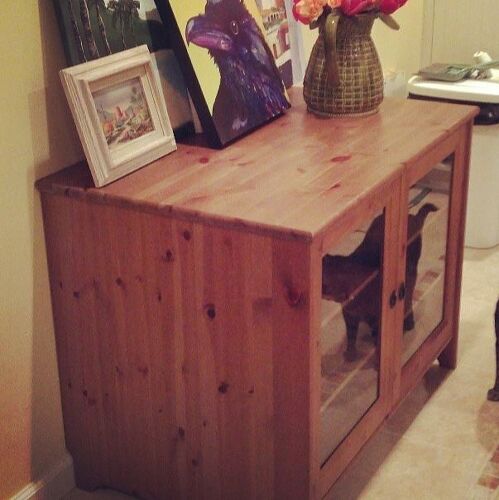 In my new house, it's in a room I'm currently using as an office/expanded closet. Right now, I have all my shoes in it (in baskets and bins), but I'd rather move my shoes somewhere I can see them all easily.
I need ideas on what to store in here! It's pretty deep, as you can see. There are three shelves and they're maybe like 8 inches apart. Please give me your ideas!!
I actually have the same cabinet. Its Leksvik (sp.) from Ikea. We purchased it as a media cabinet when we were in a corporate apt. for a while. However I could see it as a hutch with pretty white dishes in it and some lace also, swedish farmhouse style.

If you have collectibles, this would be a nice cabinet to display them in. You could also store large ceramic bowls and platters, rather than taking space you may need in the kitchen. Post pictures of what you decide to do.

You could store just about whatever you need to store. Small boxes could hold Christmas decorations or craft supplies to even extra dishes...those pieces you seldom use! If you want it closed off to hid clutter, just put some of that film over the glass! This is a very usable item!

Since it is already being an office/craft helper-how about large baskets or labeled bins for loose crafting and office supplies

How about spray painting some tins and baskets, to match? Add blackboard paint to the tins for labeling contents and then you can hide all sorts in there! Or I also love the idea of pretty white china....I only ever buy white so I can mix and match...seems to suit any occasion too.

If you decide to keep the rustic look-I remember seeing someone on Hometalk had used something to make the glass look old and wavy - mod podge maybe......

Geez, I never find anything neat like that beside the road. I think you could put it like in the dining room, with large platters, serving wear and maybe some tablecloths Things that you need handy, but use once or twice a year. PREV
NEXT