When should I stop feeding the hummingbirds?
We have several feeders in our yard and enjoy seeing the hummingbirds fight and fuss over them. I do not want to cause a delay in their winter migration. They are very familiar with our yard and use the feeders all day long. When should I stop feeding them?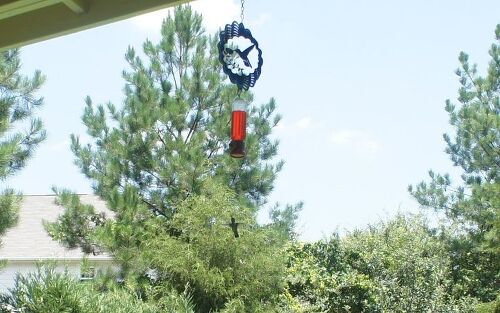 we have banded many hummers and you should always leave up a couple of feeders.if there is a bird that is not strong enough to make the trip it will need those feeders,especially when the flowers are gone.i keep some up year around.hope this helps.

@Joanne - I've seen programs where people have banded hummers. That enables them to track, keep tabs on which ones return and also report on other banded hummers that show up as well. But, how does one become an official bander and how in the world do you catch these guys. I would assume some sort of net must be used???

There's no need to put away feeders, it is recommended to keep a feeder out all year. Mother nature has handled the migration, no need to worry. I use 1 part sugar and 4 parts water, no color.

Yeah - same here!! Although parts of Ga. can get some pretty cold weather occasionally too! Maybe those in more temperate zones can leave theirs out but after September they're pretty well gone.

I live in the Kansas City area and I always stop in Oct.. I have read Nov but it just seems too cold then

I'd be the first one to tell you to always keep the feeders out - but if the sugar water is frozen what good will that do?

I see my birds start to disappear about the last week of Sept. I live in the high country of Colorado and Winter comes in Oct. PREV
NEXT