When should I stop feeding the hummingbirds?
We have several feeders in our yard and enjoy seeing the hummingbirds fight and fuss over them. I do not want to cause a delay in their winter migration. They are very familiar with our yard and use the feeders all day long. When should I stop feeding them?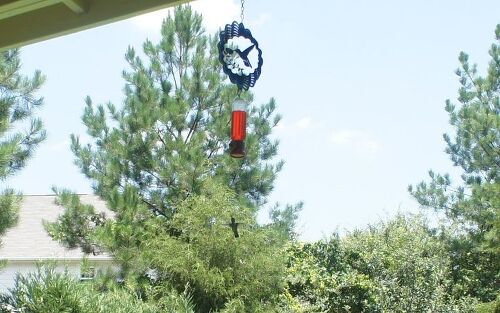 Donna - there is absolutely nothing to the myth about stopping feeding hummers or anything else that migrates. They have their own built in system and know when it's time to go. As you're in Ga. your weather will stay warm longer than here in Va. but there will still be the "just passing by" stragglers migrating from further north. Keep your feeders up as long as you have traffic at them. I don't take mine down til usually mid-late Sepetember. Right now we have three and our deck is a virtual flight path!!

WOW Jan - that's absolutely incredible!! Did the little guy make it thru the winter? I can't believe one could survive w/the way their metabolisms work - and I know it gets colder in CT than in Va.

now something like that would make me worry about the little guy all winter long! I keep my feeders up until there are absolutely no one coming around...

I heard the same thing about the delay in migration and wondered if it were true...I keep mine up til I quit seeing them coming around tho and I am in GA as well...

I heard that once there is food they will stay until the cold comes. By that time it is too late for them to migrate. I am with you Marg... I definitely don't want to be the reason for these little guys demise. It would break my heart. They can't take the cold weather.

OK people - you can just google when to take feeders down so here's the scoop!! I copied & pasted this so just sharing the information!!! **When To Take Feeders Down** We have found one of the biggest misconceptions about hummingbirds is the belief that if you do not take your hummingbird feeder down they will not migrate. This is absolutely false! In many areas hummingbirds start to migrate even before the flowers and insects start to wane. Males generally migrate several weeks ahead of immatures (new hatchlings) and females. Migration is done according to changing day length or photoperiod. Actually, migrating hummingbirds may be helped by hummingbird feeders that are left up until at least two weeks have passed since seeing your lasthummer.

Every year I keep one all year round in a case, some hummingbird do migrate thru here late to find the feeder for it's energy to migrate. they usually leave early October here to go to south till next year. Good to see my 4 same hummer birds here very year and take some pixies every year to post on my fb wall.....

Thanks for that, Susan and thanks for asking the question Donna J. I had been meaning to ask that very question but for a different reason. I haven't seen any more hummers around since I refilled my feeder. I changed the food from a just pour in the feeder kind to a just mix with water kind. I wasn't sure whether they were being snooty and didn't like the cheaper mix or if they had actually migrated. The ants don't seem to mind. I think I'll change it out again and see if any hummers are still around and don't mind the budget mix.

Teresa, are you buying your nectar - then mixing w/water? If so, make your own. NOW, it's up for debate but you can use either 1 part regular white sugar added to 3 or 4 equal parts water. THE IMPORTANT PART is you should boil your water - it removes flouride & chlorine if your have city water. If you have a well - WELL, boiling it probably removes microbes or something. I don't know - just boil it OK??? LOL Mix your sugar in until dissolved & let cool. Refrigerate any left over. I have 3 feeders going so not usually much left over. Also, DO NOT use any red dyes - that's up for debate too but every site I've ever read says to not use dyes.

Thanks Sherrie - I'm certainly no expert but I do have a real "thing" for my hummers and wildlife in general!!

To keep your ants away Teresa....put Vicks on the flowers and string you hang it by....i was using vaseline for years which works great for the ants as well, but the vicks also keeps the bees away...(someone on here - cant remember who - told me about the vicks in my hummer post!) Hometalk ROCKS!!

Teresa, I too agree with Susan. It is important to boil the water before making the mixture. Once your feeder is attractive in color you do not need to get the colored food. You can paint the outside of the clear feeder in red. That would attract them. They are still around my yard. I even have some ruby throat hummers. They are my favorite in the summer then I go to the cardinals for the winter. I consider them my destressors.

@Angela L - we're talking Vick's salve here? The smelly kind you rub on your chest when getting a cold??? The smell isn't a deterrent to the hummers? Now that is amazing because truthfully, plain ole vaseline doesn't do squat and neither does vegetable oil. Another thing you can do is add colorful streamers from your feeders - they like bright colors and will come to investigate and then their curiosity will lead them to the nectar ports. And thank you Marg & Donna J. Yeah - I love my cardinals too, one of my favs!!

I forgot to share this one. I use a paste made with shortening (or vaseline ) and cinnamon to keep the ants away. Ants do not like cinnamon and we know what the grease does to them. And yes, HOMETALK ROCKS!!!!

Cinnamon - gosh you'd think that would attract ants instead of repelling them. All I know is come tomorrow morning I'm slathering something all over the areas the ants use as highway!! This year we've had these absolutely enormous redish brown ants. They actually climb into the feeder - then drown. I don't see how they get through the ports their so big. Oh well . . . in order to attract & accomodate one part of mother nature we have to battle & try to deter another!!

living in Michigan, I put the hummer feeders up May 1, and put them away Oct. 1. I wouldn't be able to leave them out all winter, they would be frozen solid almost instantly on some days.

it's a very sad day for me when I take my feeders down for the winter because I adore my hummingbirds. I just put out my other feeders for all of my other birds that like to stay in the winter. I don't leave them up all summer because there is plenty of mother nature's food available. My other birds are my ray of sunshine through our brutal winters.

@ Susan S....YES! the Vicks salve my mom used to smother me in when I had a cold as a child! LOL....I thought the same thing at first, that the smell would deter the hummers, but it doesnt deter them at all....they are still coming strong, and the bees and ants stay away!

Donna J & Susan S, I got tired of ants and other bugs on my sugar/water feeders and decided to grow plants for the hummers & butterflies. I have quite a large bed where many hummers & butterflies visit daily. Better yet, most plants are native to this area so they are probably healthier than drinking sugar water.

Sherrie S, that's a good idea. I don't have enough sun in my yard though. I had some things that are known to attract hummers in the sunny spot, near my mailbox but that is so far from my window, I would never see them. @Angela L. Thanks for the tip! I will pick up some Vicks this weekend! If I can't find any, I will try the cinnamon and vaseline. (thanks Donna) Susan, I didn't think about the boiling thing when I added water to this mix I bought. That could be the problem. Thanks for that!

Where I live in southern Alabama it is recommended that you keep feeders going all year for those hummers who don't make the "last flight out of dodge". I do this and it is true. There are quite a few that stick around and this allows them to stay alive throughout the winter here.

We add a drop or two of orange extract. That also helps to attract them. Good to know about the vicks as we have a ton of wasps around the feeders as well. I will try this..

Or you could do it the old fashioned way and plant trumpet vines, red bee balm, foxgloves, honeysuckle, hollyhocks, butterfly bushes ... Our yard is loaded with nesting hummingbirds and butterflies and I don't have any feeders out.

We put our hummingbird feeders away in September. They fly south around the middle of September and return in early Spring. We are located at Lake of the Ozarks, MO. Our other bird feeders come out in October and stay out all Winter.

@Debbie R (Coleville, CA) Do you add the orange extract to sugar water? I'm not sure why anything would need to be added if it's sugar water. That alone will attract the hummers. I've never "researched" putting any other additives in sugar water but EVERYTHING I've ever read always warms about NOT putting food dyes into their feed as it could cause genetic deformities and I've also heard it has caused growths on their beaks. I'm not challenging you in any way, just a new one to me and I was wondering. As to attracting hummers the natural way - believe me, I wish I had an abundance of the right type of flowers to keep them going all summer long but since I don't, I'd rather supplement them w/feeders than only getting a a few weeks from unreliable blooming flowers/ Besides, like Teresa said, some of my flowers are way too far from any windows to be able to see & enjoy them.

if you have and Skin-So-Soft oil, put alittle on a paper towel and rub in on the feeder holes. The birds can smell and the bees won't go near them. I've been doing this for years; really works. PREV
NEXT