How should I finish this dresser? Answered
I am in the middle of converting a dresser into a TV stand. I plan to leave the top three drawers out so I have space to put my cable box and decorative items. To do this I have to add a shelf to hold them. So my thoughts initially were to cut out the back two supports that run vertically to add the shelf in one piece. Now I might add it in separate prices and not cut the supports out. Next delima I am having is to whether or not to add tile to the top. I have sanded it and added wood filler where needed but the top of the dresser got water damage from the previous owner. It kinda bubbles in a couple of spots. So what are your thoughts, opinions or what would you do?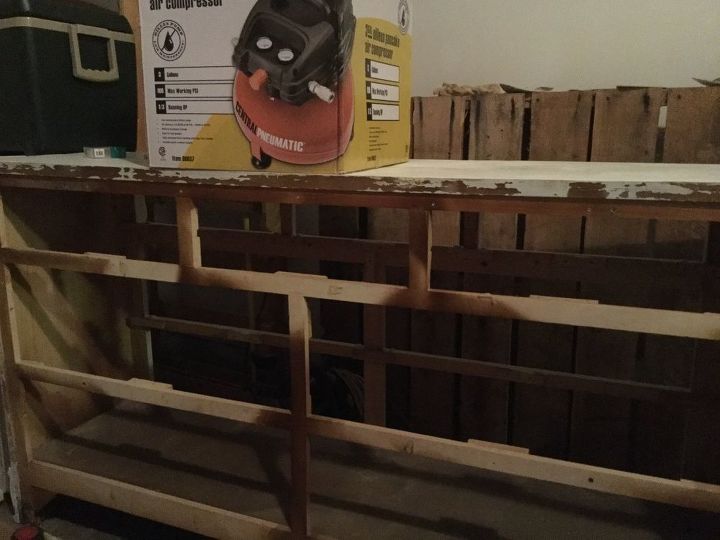 Related Discussions Rhonda
on Jan 06, 2019
I need advice on how to replace a toilet seat, please. What do I need to know when looking for a new one? Gloria
on Sep 24, 2017
How do I finish the Shelves. How do I prepare the back of the shelves to hang them up on the walls. Miz22391442
on Jun 28, 2018 Eileen
on Jan 06, 2019
We would like to give our huge basement an update without breaking the bank. I decided (and convinced husband) that we should paint the walls except for the one behin... See more

Anthony Goad
on Mar 01, 2014
We bought a house and the walls in the basement were stuccoed by what I would believe was a five year old. It is very thick and its not level. Its so "pointy I have a... See more

Lynda Grainger
on Jan 22, 2017
Years ago I bought an old Franklin sewing machine in a lovely carved cabinet. It served as a TV stand for a while, but when I downsized I mounted the TV on the wall.... See more

Porta Verde Studio
on Nov 06, 2013
We have distressed, stained and used poly on this antique trunk and then added legs. The paper was stripped from the interior and then lightly sanded, stained and cle... See more