Does anyone know what these holes are for? Answered
I bought this bar and I don't know what these holes are for. I tried putting bottles of wine or alcohol between the two sets, doesn't work. I,also, tried using them for glass or shot glass holders, once again, no go. Does anyone know what they're for? Thanks, in advance, for your knowledge!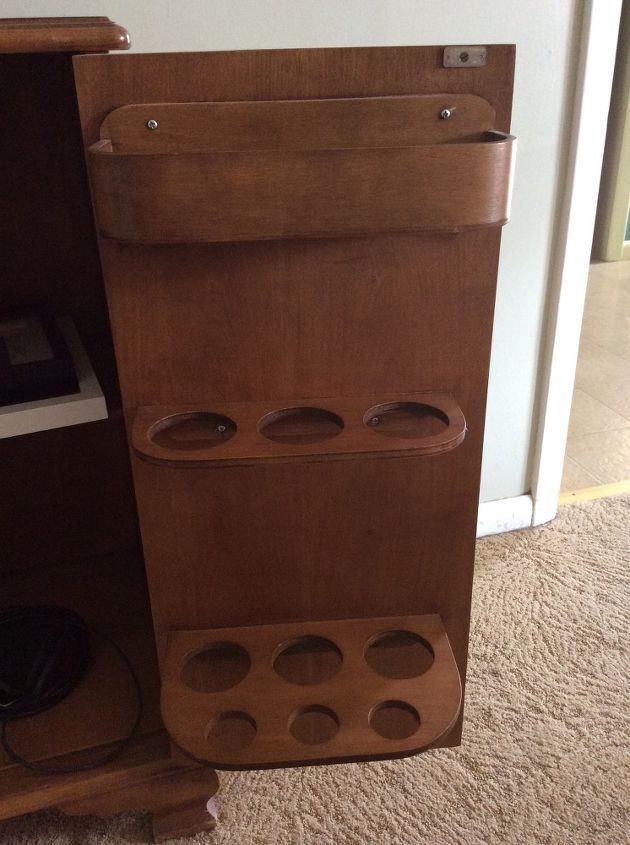 Elaine 82
Answered on Feb 28, 2022
This a copper pot with hinged lid, like a lunch box I bought it but do not know what it may have been used for or why it was made. Any ideas? Bri15302166
Answered on May 14, 2021
hello! Does anyone know how to make dollar store flowers look a little more realistic. I put them out in my yard. I mix them in with my real plants so that I have flo... See more

Pluckys
Answered on Sep 28, 2015
I am trying to restore an old spring horse. The mane and tail need to be replaced but I am not sure how to do it. Any suggestions.

Josie Blixt
Answered on Feb 20, 2023
I have an Eskimo carving of a bird with a long thin neck (very slender). While it was being transferred the neck broke. The carving is made of deer antlers.
Sandy Mattes Cerveny
Answered on May 31, 2017
The markings on the back are hard to figure out. It looks like a 3 leaf clover with the number 1 next to it, a laurel wreath circling that. On the outside of that th... See more Lesa Dean Terry
Answered on May 16, 2023
I live in north Alabama.
Jeanine Wester
Answered on Jul 12, 2023
I have a lamp labeled Frederick Cooper Chicago, but I cannot find a picture of one like it anywhere online. I don't know if it's worth anything (some are very expensi... See more