Finished - Mahogany Buffet - http://www.facebook.com/ShabbyDazeNJ
This tired piece was stripped, sanded and painted with Annie Sloan Old White - sanded again and lightly distressed. I used Minwax Mahogany to stain the top and covered the paint with stain as well. The finishing touch...two coats of AS wax to seal and shine.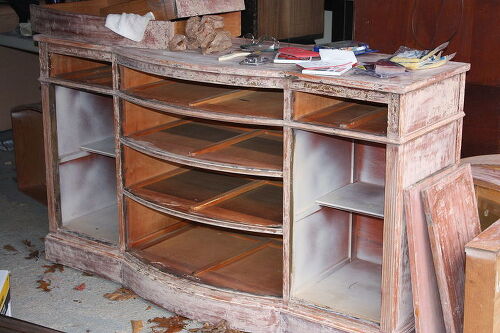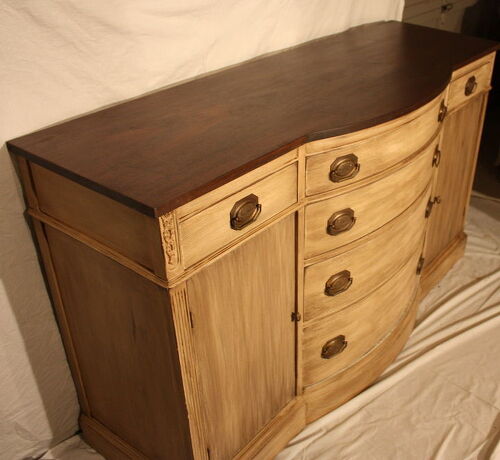 How do you strip the stain? I think I may need to on one of the chairs. I don't know which route to go ASCP or strip any advice?

Lots of hardwork provided for a superior finished product! Kudos for you.... me, on the other hand would worry about my manicure ~ ! (chuckles~~)

Thank you everyone! Yamini - It depends. I used Citristrip on this piece. It was caked with different finishes, poly's, etc. According to nearly everyone if you use ASCP you won't need to strip or prime. That is counterintuitive for me so I always sand lightly and prime at the very least. I love the chalk paint. Try it.

This is one of my preferred finishes and color schemes. Before I saw the new application I thought this would look great in a stain brushed cream paint and medium to dark toned top. Imagine my surprise when I clicked forward to see that your finish matched my idea for it. I love happy endings. lol

A bit of trouble here at Shabby Daze. I was distracted by my pesky life while I was working on this piece. I didn't get to the doors until a couple of weeks after finishing the rest. The more I look at it the more I can see differences between the two doors and the rest. I won't offer it up for sale like this. I've stripped down the doors and will try to get them stained to the same tone as the top. What do you guys think? Top and doors stained dark mahogany and the rest as is? Or a total redo?

What a great suggestion Sheila - I've already stripped doors though. Perfectionism is exhausting. I'm checking out graphics fairy right now. PREV
NEXT