Please Help Me Pinpoint Age & Origin of This Wooden Rocking Horse Answered
Several years ago, I walked into an antique mall in search of a small farm style table and walked out with a wooden rocking horse instead. (Total impulse buy but I was completely smitten--and still am--because I had never seen one like it.) Ever since, I have periodically searched the internet trying to find some info about this style rocking horse. The only rocking horses I can find that even remotely resemble this horse are on United Kingdom websites and typically those horses are shown with the slider style base rather than the rocking base my horse has.

There are no identifying markings on it that I can find. It is large enough to accommodate a 3 year old child (and maybe even a small 4 year old). From the floor to the back of the saddle measures 26 inches, from the floor to the tip of the ears is 36 inches and from front tip to back tip of the rockers, it measures 41 inches. It appears to be solid wood (it's very heavy!) and the wood grain is quite pretty. I suspect the mane and (whimpy) tail are real horse hair. The saddle, bridle and breastplate are real leather. The English style stirrups are some kind of metal but not stainless steel like real English irons.

I doubt this rocking horse is antique, or even vintage, for that matter. I think it's probably more of a contemporary creation. I'm curious to find out if this rocking horse is mass produced, or whether it is handcrafted. Although the rocker base is somewhat simplistic, the horse almost seems too perfect to be handcrafted. Has anyone seen a rocking horse like this one? Can anyone tell me about it or direct me to a knowledgeable and reliable source that might be able to pinpoint its age, manufacturing origin and possible value? Thanks!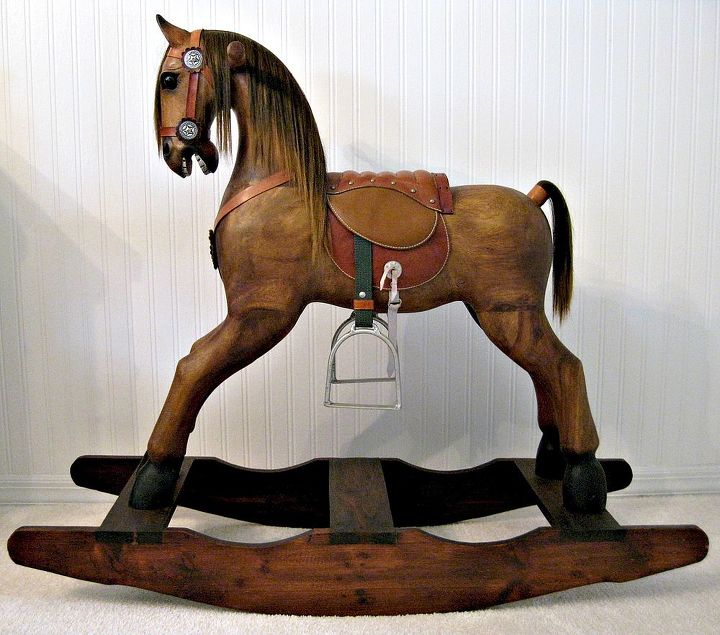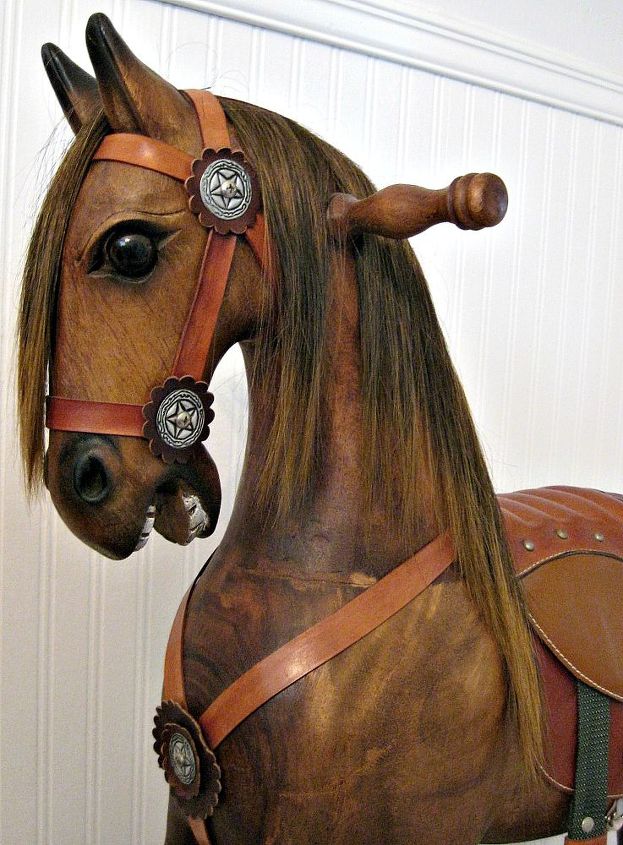 Related Discussions

Culpepper Carpets and Interiors, Inc.
on Mar 26, 2012
Just turn them upside down and open them, then insert a roll of paper towel and tada, you have yourself a brand new paper towel holder that is not only beautiful, but... See more Snance
on Oct 13, 2016
The item is solid wood, standing aprx. 26" high x 16" wide, no exterior holes or outlets, side crank handle turns four wooden paddles inside with various size holes o... See more

Susan
on May 03, 2015
I am looking for the discontinued Pulaski Royale collection nightstand, Neiman Marcus/Horchow also sold it, but called it the Royalty collection. I have looked all ov... See more

Dawn Williams
on Oct 31, 2016
I have a HUGE mason jar. I would like some ideas on what to put in it for decorations, other than flowers.

Confessions Of A Junkaholic
on Oct 19, 2013
I'm a picker and came across lots and lots of these beauties. I took home several boxes of these purdies and are using for different projects. However, I want to find... See more

Anne Fitzpatrick
on Nov 03, 2016
I have an 80 year old set of Noritake china dishes that were my Mother's. We are downsizing so I am thinking of selling them but am not sure who to trust. I've looked... See more Melissa
on Jan 24, 2014
Our new house has a sunken conversation pit in front of the fireplace. It's about 6X6 and has three steps into the 'pit' and booth-like backs on each side. My adult... See more