Cast iron stove doors - what to do with these lovelies?



Answered
We had an old cast iron wood stove in our garage, but never used it because the bottom was rusted out, so hubby took the pieces to the scrapyard. However, I kept these fabulous doors and feet! I thought about creating recycled wood frames and hanging the doors up as wall art, but I wanted to see if any other creative folks out there could help me think of other options? As for the feet, I may use them under a large potted plant, but I am open to suggestions about those too. I can't wait to see what great ideas pop up!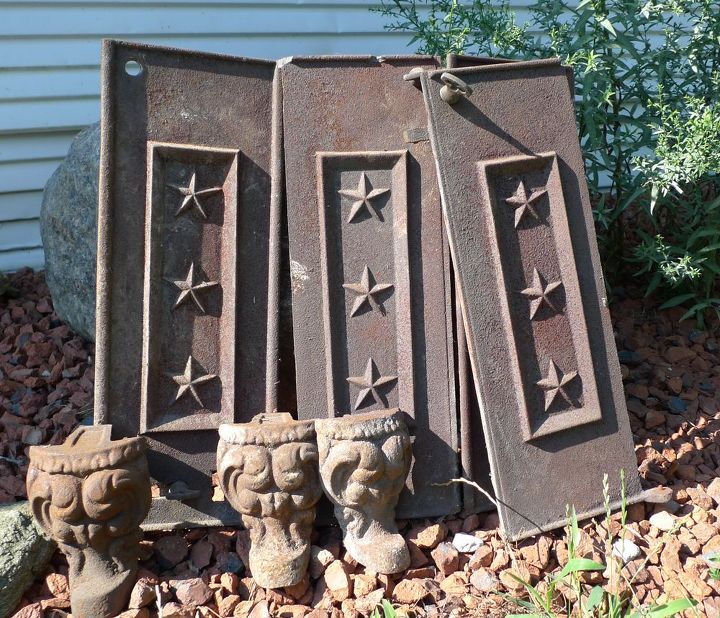 Related Discussions

Samantha
on Apr 20, 2016
So there are three glass cabinet doors with lead design, or whatever you would call it, taken from the old kitchen of my dads place. They're in good condition still a... See more Shawnna
on Sep 07, 2015
I bought a closet door at a yard sale. Any ideas what to do with it? My creative mind has gone blank.
Kim Biles
on Jun 27, 2021
Have a full view storm door that we took off. Just hat to throw away any ideas.

Debbie Woody
on Jul 13, 2015
I just removed my 11 year old shower doors that don't work very well. I was hoping to use them in a recycling project. What can you do with old shower doors?

Lyn
on Nov 02, 2018
I need to make a room divider. For next to nothing! I saw on market place antique doors for $5 each . but they were solid wood and I imagine heavy. Any ideas or sugge... See more
Dawn Ochoa
on Jul 16, 2017