 Answered
Have 2 sets of stackable desk trays that are used for paperwork. Have no use of them for desk but don't like to toss or give to thrift store. Anyone have an idea how to use them. They are similar to these shown. I have black and gray ones. 4 each.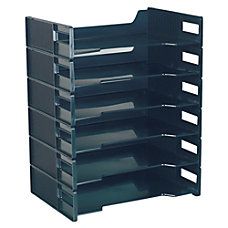 Related Discussions

Rachel
Answered on Aug 26, 2023
I bought a house and there is a really ugly phone that is attached to the hole in the entrance way.

Julie Moyna
Answered on Sep 22, 2023
Anyone know what I can do with all this beautiful glass? Such a waste! I thought these on eBay and this is how they came the man didn't even use any sort of wrappin... See more Sandra Quigley
Answered on Aug 20, 2021
I have old dollies handmade by my grandmother. I don't want to throw them away and don't want to display them on my furniture. Any suggestions on how to frame them ... See more Lise charbonneau
Answered on Sep 12, 2019
I have a set of 16 places of these cream dishes gold rim (22K) not kidding. I don't want to throw them out but not sure what to do with them. Not dishwater safe or ... See more Linda
Answered on Jan 23, 2020 Rene
Answered on Sep 22, 2023
I have a bunch of extra lids from pots and pans I no longer have. Do you have any suggestions as to what to do with them? They are glass lids.
Karen
Answered on Jun 26, 2015
I have a plastic deckbox and 2 plastic cabinets. They are stained and they will not come clean. What can I do with them? Paint? How and what to use....any other ideas... See more