How do you keep squirrels out of your yards and bird feeders? Answered
My third favorite craft project last year was adding BLING to glass jars & vases with self adhesive rhinestones. I found them in Dollar stores, Walmart, JoAnn Fabrics & Amazon.com. Then I would add a candle or fill jar with candy.
My second favorite craft project is recycling beautiful Christmas cards. 1) I cut them in same size circles, matching then gluing them together to make flat Christmas ornaments that I added to each Christmas card I sent out. 2) I buy large frames with mats from thrift stores, spray paint them in contrasting Christmas colors; lastly attaching the Christmas card & VIOLA! a Christmas gift to remember & you won't recycle or re-gift!!!
My first & very favorite thing to do is collages using cutouts from those small novelty magazines we all get in the mail. I have a huge pile (& need more) of cutouts. I divide them in to groups so I'm not always going thru them when I begin the next project. I use thrifted, painted or repaired frames, same size cardboard spray painted black, & a few tiny embellishments of rhinestones, stickers of birds, hearts, crosses or dogs & cats.
I have given one of these to every family member & friends. It's extremely time consuming, but well worth the chuckles that keep on giving.
I usually divide the cardboard into 4 imaginary areas of themes: comical, their profession, their relative/friend status to me (mom, aunt, cousin, etc.), their hobbies, Christian quotes, what pets they love, etc. My parents are so lucky, they have 2 from me crafted decades apart & they still enjoy them! (I only have one photographed; the other one is a huge Christmas collage from many Christmas Cards.)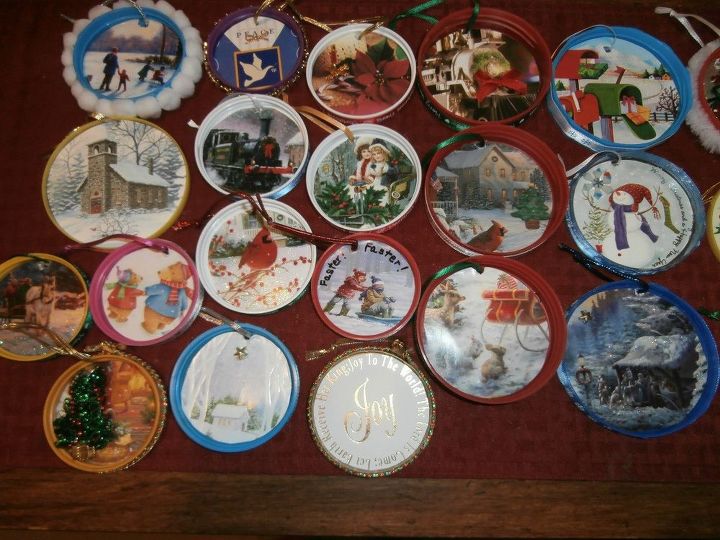 Recycled Christmas cards in plastic jar lids; some were embellished.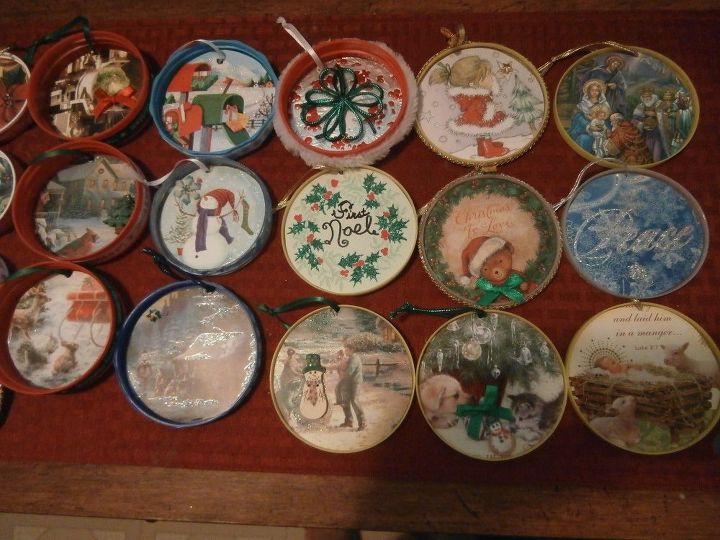 Recycled Christmas cards in plastic jar lids or glued 2 back-2-back & just add ribbon hangers!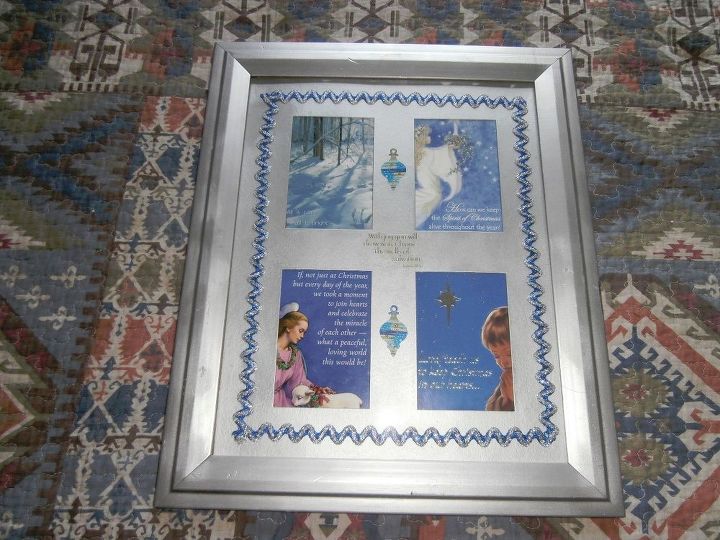 This was an ugly plain wooden frame & mat I spray painted silver, added silver & blue rick-rack, blue themed cards & adhesive or rub-on embellishments. Beautiful!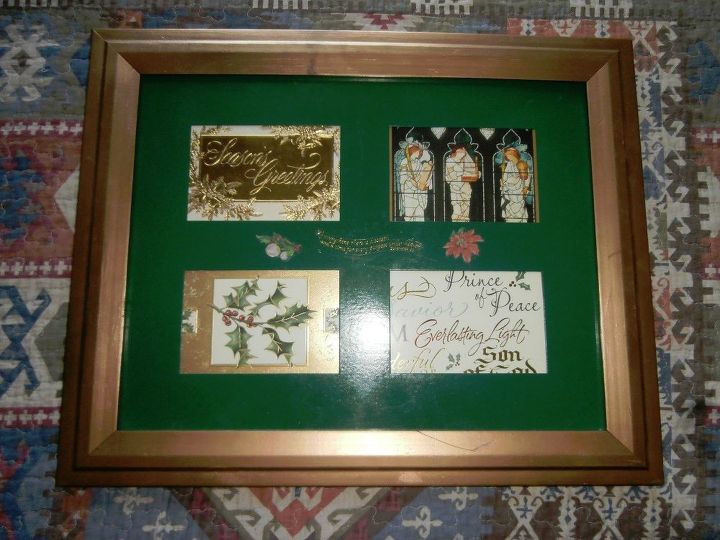 Another ugly plain wooden frame w/spray painted mat; color them is gold, green & cream. Again, added adhesive or rub-on embellishments.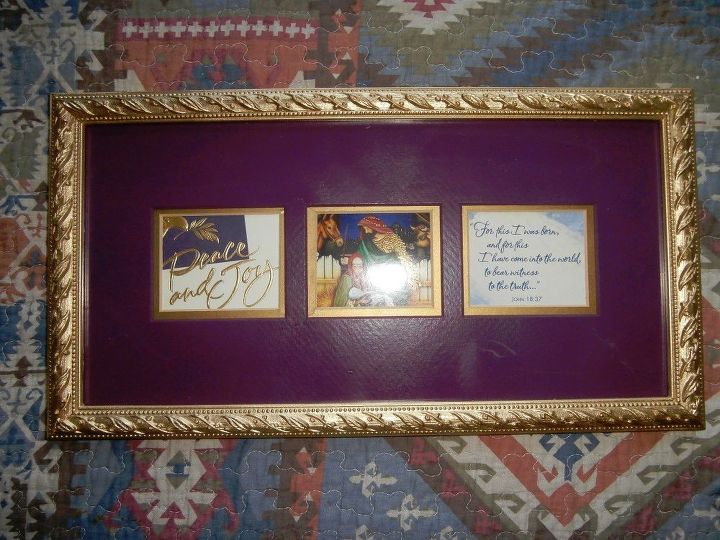 I spray painted the ugly paint peeling frame gold & the mat a brilliant purple w/gold, bluish purple & primary colors to make this really pop!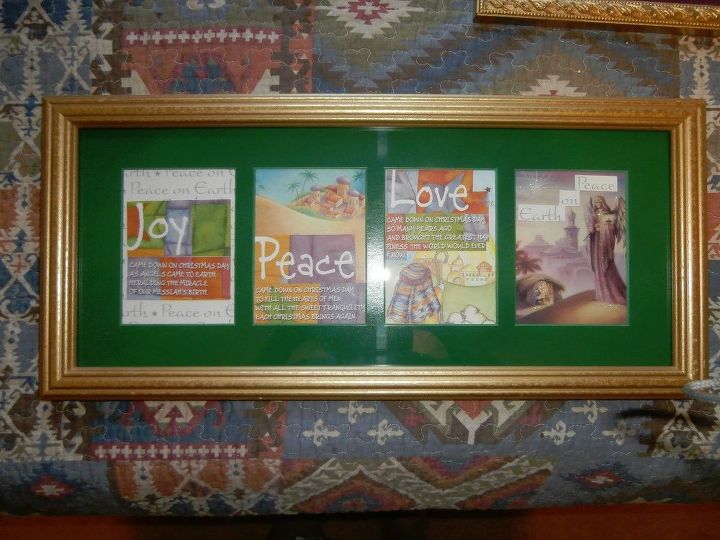 Simply spray painted the frame gold, the mat green & attached similar colored cards!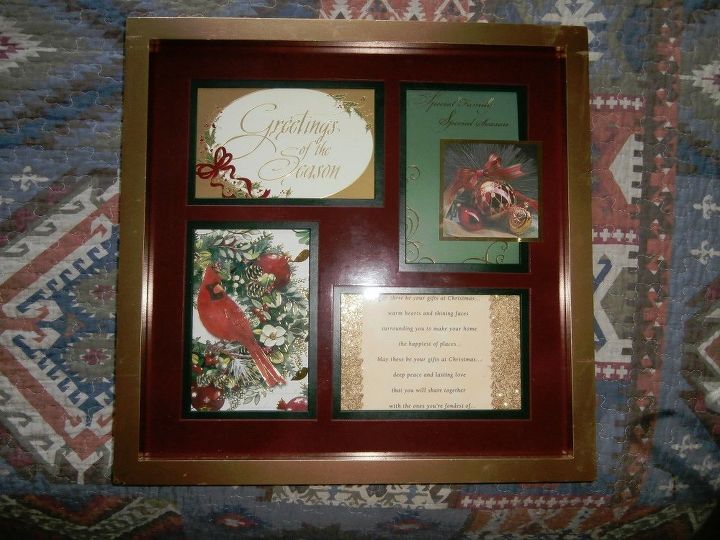 I spray painted the frame gold, the mat burgundy w/contrasting dark green inner mat; attached metallic gold, red & green Christmas cards. (I love when I can cut some of the image that extends into the mat; looks so CHIC!)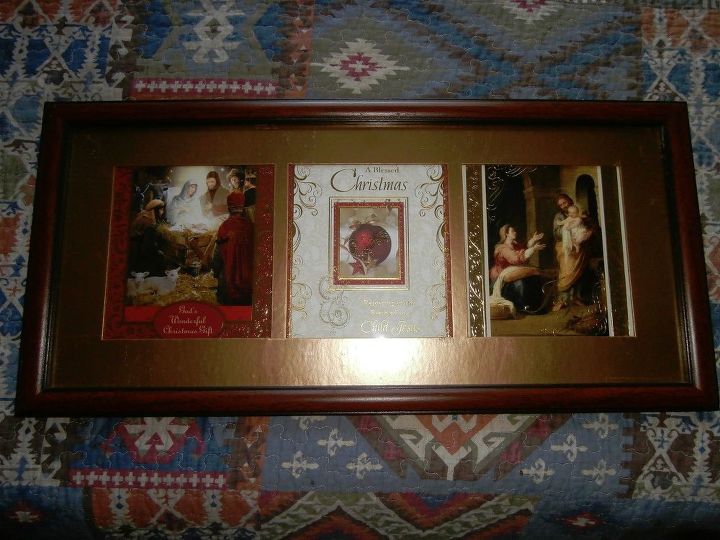 I didn't spray paint over this lovely dark wood frame. I spray painted the mat gold & used metallic gold & richly colored cards; I also cut the decorative edging from cards & later attach them to matching color themed cards, as I did in the 1st & 3rd frames w/in the mat.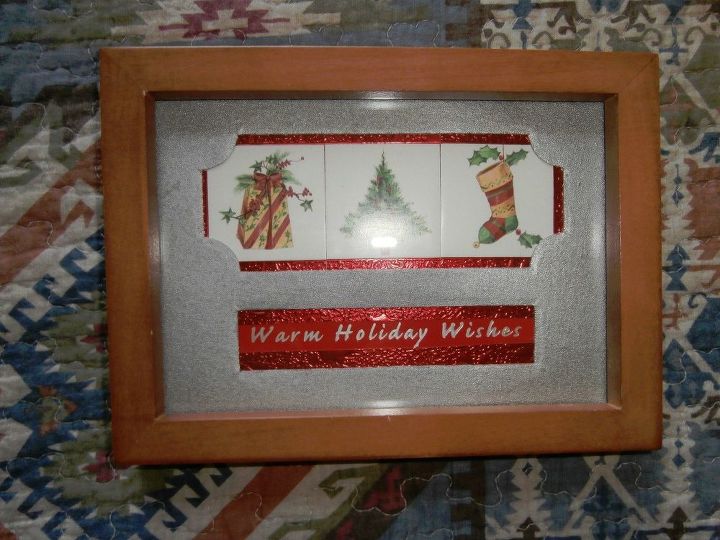 This is the smallest one I crafted: 5x7. I only spray painted the mat silver; then used red metallic themed pieces of Christmas cards I matched together. Lastly, I created "warm holiday wishes" by piecing together decorative trims & Christmas phrases!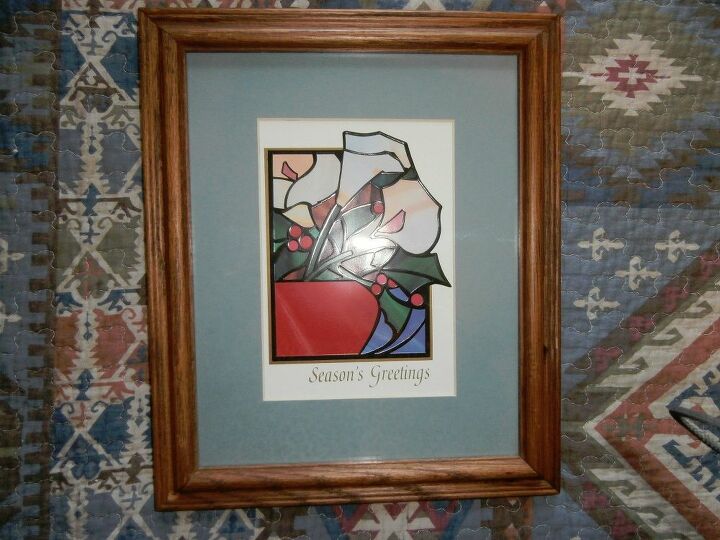 This one is very simple but elegant. I just spray painted the mat a dark sea foam green & added "stained glass" looking Christmas card.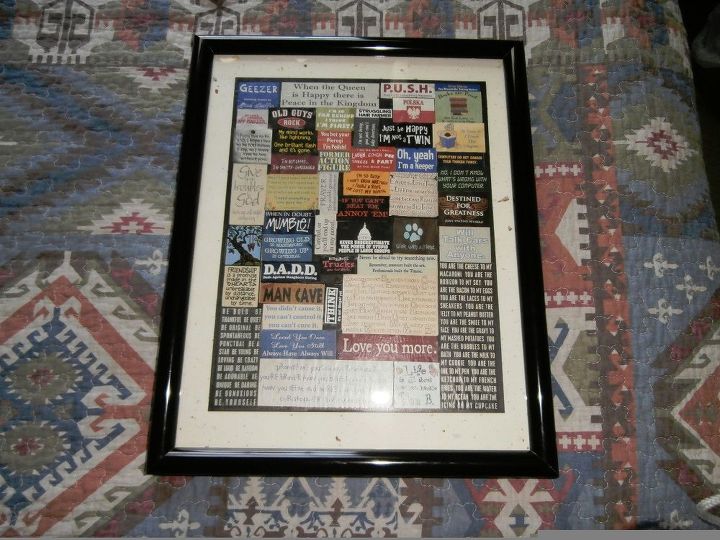 This collage was made for an ex-male friend. It's themes refer to parental status, children, his polish heritage, love, computers & Christ! (I kept it!)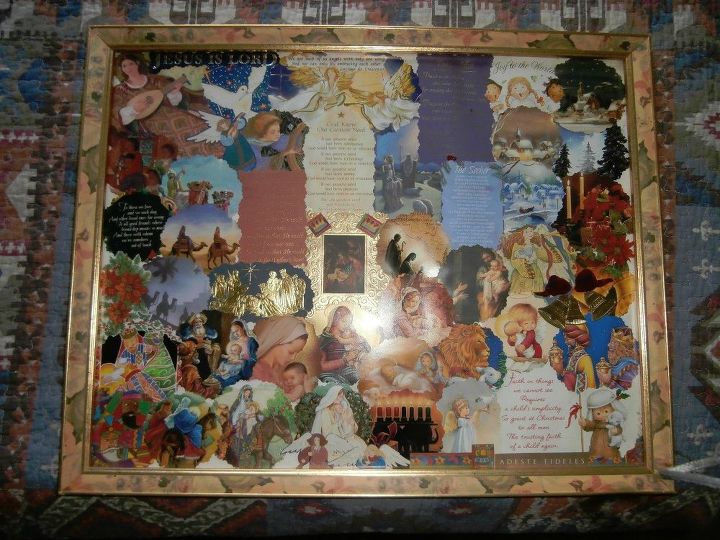 Recycled Christmas cards cut into various shapes & glued, slightly overlapping. This was my all time favorite collage. Enjoy!