Related Discussions Betty Rhodes
on Feb 04, 2021
There is two nail holes in the wall in one of my bathroom's where a shelf was hanging. The shelf fell and left the holes along with a skinned place on the wall. I d... See more

Marie DeSalvo
on Dec 29, 2017
I have one block wall in my basement that has bowed .is there an inexpensive way it can be fixed? A S Brown
on Jan 20, 2019
what is the most cost effective way to add insulation to finished walls without deconstructing them, the rooms on the outer portion of the house radiate heat in the ... See more

Chris Stacey
on Sep 04, 2018
Water damage is involved from previous owner.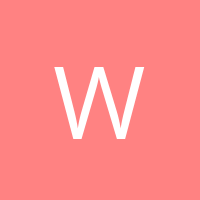 Wendy
on Nov 21, 2017
Our wallpaper has been up for 30years and the seams are starting to peel

Kerry Ann Bruno
on Aug 24, 2017
We have a corner brick wall hiding behind some sheet rock. it divides partially the kitchen and the living room. (I suspect at one time there was a wood burning or ... See more
Donna Falcone
on Apr 26, 2017
We had it fixed By a professional all as well as many tries by us. Any solutions?