soot or creosote on chimney exterior? Answered
Soot on exterior of chimney, not only on the cap, but rain washes it down to vertical pipe and the pan. Runoff from the pan carries it down to the stucco below and we can't get this stuff off! (Chimney or stucco)
Any ideas for how clean off the soot in the first place? Ideally I could clean the top of the vertical pipe and the pan, that would reduce the soot running off the stucco anyway.
Have talked to a contractor about this. The pan has to be replaced anyway, and he will put in a new one with slightly larger overhang to help reduce the washing down onto the stucco. But I would like some advice about the soot and trying to prevent it or clean it up in the first place.
Contactor offered to paint the vertical pipe, that would give us a fresh start there, but should I ask for a specific kind of paint? If it is painted I need to be able to clean it off anyway?
I could ask the contractor to also replace the top cap, but I don't know how much this will help the soot / creosote problem. Cap is otherwise solid not rusted out and seems to keep the rain out.
Lastly we will repaint the stucco. But I need advice because I can see that the soot will just keep on washing down, eventually darkening the new coat of paint on the stucco. So I hope you can advise me on ways to clean this properly, or perhaps prevent soot from washing down from now on.
thanks
SW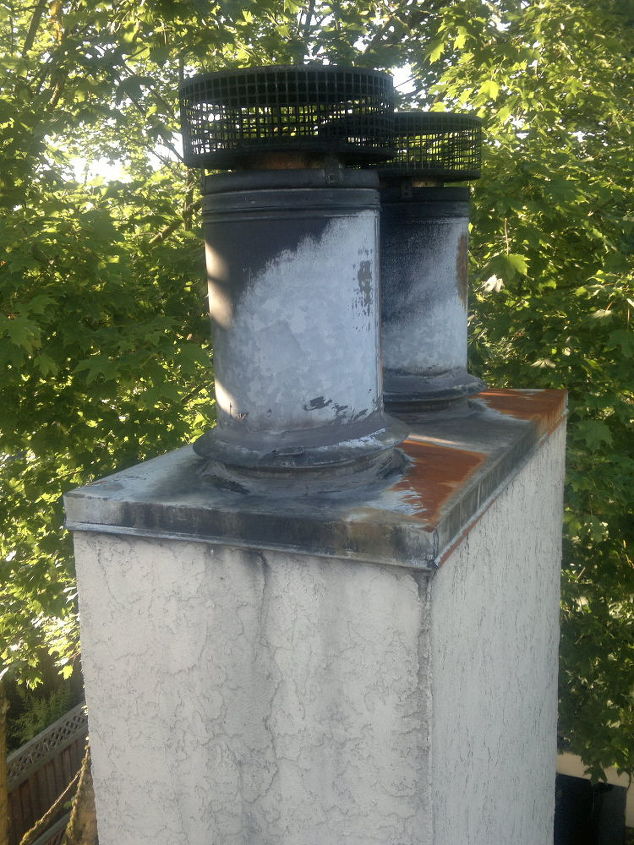 Related Discussions Kbh29473432
Answered on Sep 05, 2023
What is the best way to clean hardwood floors in the kitchen?

Abby
Answered on Sep 10, 2023
How to clean paint brushes with paint thinner?

Silvia Yanira
Answered on Sep 16, 2023 Maggie
Answered on Sep 16, 2023
How do I wash pillows to remove the smell of smoke?

Abby
Answered on Sep 17, 2023
Vinegar seems to be the answer to everything. So how do I use it to clean my mirror?

Lea Grossman
Answered on Aug 06, 2023
I made a thick soup for winter and by accident left it on the fire for too long. Now my soup pot is basically ruined! Any hacks to help me clean the burnt pot? Need t... See more

Hillela G.
Answered on Jul 28, 2023
I LOVE spray paint projects. My problem: the cleanup!How can I get spray paint off my hands after crafting?Thanks!!